Vandy Vape persues another collaboration to deliver a remarkably designed rebuildable dripping atomizer, the Vandy Vape Phobia RDA. Vandy Vape teamed up with Alex from VapersMD in a collaborated effort to produce one of the most stylish compact drippers this market has ever seen. While others brands focus on trendy high-selling products, Vandy Vape has made an effort to focus on innovation and creativity on what it manufacturers — a clear example: Pulse Mod/RDA, Iconic RDA, and now the Phobia RDA.
More About The Phobia RDA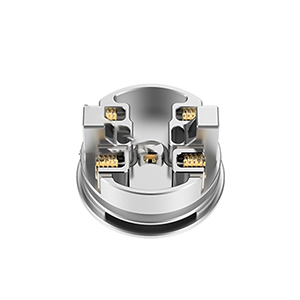 The Phobia RDA delivers exceptional quality and durability, constructed out of superior 303 stainless steel. Aside from its exceptional quality, the Phobia RDA features a compact 24mm diameter design and extraordinary appeal. In fact, it's available in stainless, black, gold, and rainbow finishes, as well as featuring a replaceable wall sleeve design. The Phobia RDA carries a traditional dripping look, but aside from its outer exterior and multiple 810 ULTEM drip tips, there's much more to this rebuildable internally.
From the inside, the Vandy Vape Phobia RDA sports a spacious build deck that provides the capability of single or dual coil configurations. The build deck offers a unique postless design using four terminal openings that are secured on the side via M4 hex screws. Along with a deep juice well and a direct-to-coil chamber effect, you'll find that the Phobia will meet all of your expectations. Its airflow system alone is something worthy enough to brag about, such as the dual internal airflow system, which includes two bottom tubes and two slanted side tubes – connecting it on the outside are dual bottom external air slots. This dripper will fascinate you in every way and it's very versatile, boasting the ability to use with standard 510 devices or squonk-ready with the use of its included 510 squonk pin. If you enjoy postless deck designs such as the Pulse BF 24 RDA, we're sure you'll get a kick out of the Vandy Vape Phobia RDA!