For years Vapetasia has been blessing us with an outstanding arsenal of vape juice. Each of them has been expertly crafted to deliver the best tastes. Continuously evolving, Vapetasia branched off into the disposable category to reach even more fans and to ensure that their amazing flavors can be enjoyed at the utmost convenience.
The new Vapetasia Killer Fruits Disposable Vape is the latest disposable vaping device on the market and it features blistering tastes directly from the famed Killer Fruits collection. If you've been searching for an all-day vape with the most spectacular flavors, these disposables will definitely do the trick.
Vapetasia Killer Fruits Disposable Vape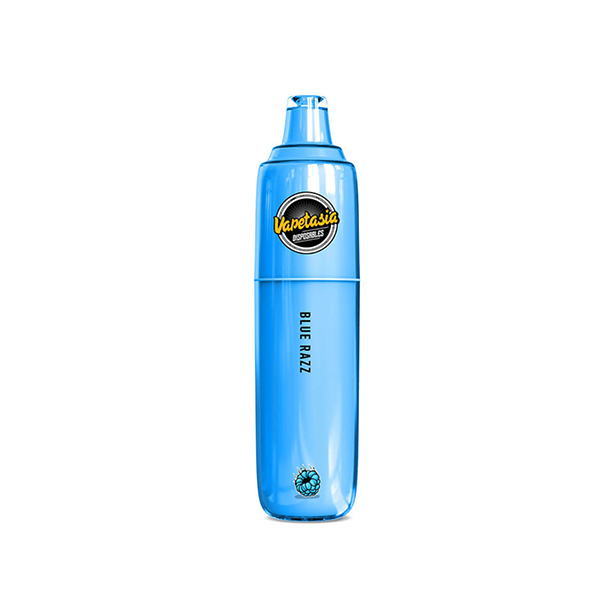 Carrying a small footprint, the newly released Vapetasia Disposable Vape is a super compact and portable vaping device that makes mobility a breeze. The device, while fairly compact, manages to house a large integrated battery that will provide the perfect amount of power and longevity. It couples with an even larger vape juice capacity of 10mL, packing in as much room for flavor enjoyment as possible. The large capacity is filled with 50mg of salt nicotine and comes in 3 flavor options, which include Blue Razz, Straw Guaw, and Trapple, which are best-selling flavors in the Killer Fruits collection by Vapetasia. Due to its combination of battery size and its vape juice capacity, you can splurge in the most flavorsome tastes by enjoying as many as 2500 puffs per device. Each device comes pre-charged, pre-filled, and features an automatic firing mechanism that allows for convenient, effortless vaping.
Vapetasia Killer Fruits Disposable Vape Flavor Preview
There are 3 remarkable flavors that exist within this collection. Each device contains a magnificent vape juice blend that brings you the perfect flow of ingredients, including propylene glycol, vegetable glycerin, 50mg of salt nicotine, and a perfect mixture of flavors to create the most appealing taste.
Blue Razz
Coating your airways with a remarkable mix of tastes, there isn't anything more fascinating than Blue Razz. It is a classic blend of flavors that combines blue raspberries to deliver just the right tartness. Menthol is added in to further refreshen your tastes, leaving you with a cool and thrilling vape that will continue to linger on your palette.
Straw Guaw
Plastering your taste buds with a brilliant concoction of flavors, Straw Guaw is definitely one you won't want to miss out on. It is a delicious trio of flavors that come together to ensure you're pleasantly satisfied. The tasty vape consists of ruby red strawberries, a tropical mix of exotic guavas, and the cooling sensation of menthol to excite your tastes with each puff.
Trapple
Delivering a combobulated mixture of flavors, Trapple is one of the most excellent apple flavors you'll ever come across. This amazing blend is a stretch of marvelous flavors, including bright red apples, delicious gold apples, tangy green apples, and a bone-chilling ending of menthol. It leaves you and your taste buds astonished with an explosion of apple flavor.
Conclusion
If you're looking for a new disposable vape to add to your collection, you cannot go wrong with the Killer Fruits Disposable Vape by Vapetasia. It offers convenience, portability, performance, and a delightful blend of tastes that will definitely become your favorites.