Volcano Ecigs announces the LavaBox, a new box mod that sports a unique and beautifully crafted design and is powered by Evolv's DNA 200 chipset.
Just when things begin to slack off, Volcano Ecigs announces yet another game changing device, the LavaBox 200W DNA powered box mod!  For those of you who didn't know, the Volcano company is known throughout the industry as being one of the brands that flipped the vaping market upside down when it introduced, at the time, a high dollar variable voltage device, for a very low-cost.  And, that device was called the LavaTube, which is now a product that has its only placement in the history books of vaping.  The LavaTube helped drive Volcano to success, since they offered the LavaTube series at an affordable price.  It was truly the cheapest and most reasonable route for vapers to experience the variable voltage function (during this time, variable voltage was still a rather new and expensive feature).
Now, they're at it again with a game changing device.  There can honestly be 1000's of DNA200 devices on the market, and Volcano's version will more than likely shine above the rest because of their close attention to detail, the unique and very "cool" designs they're known for offering, and they also come packed with quite the loyal following, meaning everyone you see will be carrying that device.  If Volcano can keep up with the same tactics that they've used in the past, which means pricing the LavaBox at an unbelievably low price, then they're sure to take yet another placement in vaping's history book.
Do you think they'll cause havoc right as the DNA200 devices all throughout the market hit the shelves?  Only time will tell.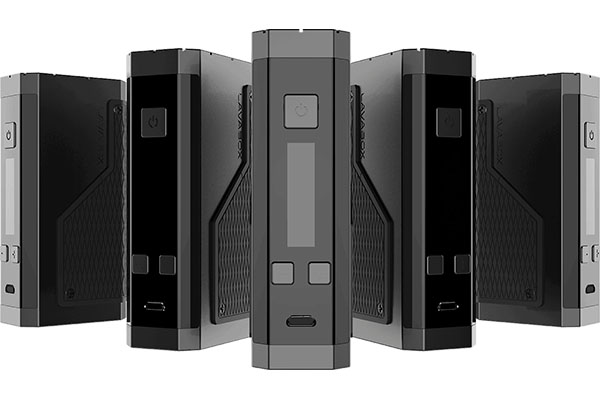 Vapers and vapettes all around the world, meet the LavaBox, a box mod that has a unique and beautifully crafted design, while being powered by Evolv's latest DNA 200 chipset.  This device boasts a remarkable appearance, one filled with smooth edges, a black matte finish, and a rubber grip that not only ensures a perfect grip to your hand, but also adds a touch of excitement to the LavaBox's body.  The LavaBox looks stunning and also has incredible power, giving it a sure path to become one of the hottest product releases this year.
It has been a long time in the works and we wanted to make sure that our first box mod was not just an average mod. We wanted to work with a new chip from the start and give it a little extra design flair than some other box mods our industry has seen recently. We are excited to provide the industry with this device and hope our customers are as thrilled as we are.
Product Information
Product initial release at ECC Trade Show – Booth 854 (Hall 6)
Available for public purchase in late September 2015
Volcano Ecigs first box mod
Uses Evolv's DNA 200 chipset
Output Power: 1 – 200 watts
Output Voltage: .5 – 9.0 volts
Output Current: continuous 50 Amps
Output Current: instantaneous peak 55 Amps
Temperature Limit: 200F – 600F
Spring-loaded 510 connection
Made of 6061 billet aluminum
Internal lithium polymer battery
Learn more about the Volcano Ecigs LavaBox here.