On August 8th, the modified risk claims of electronic cigarettes and vaping will essentially become illegal in the United States as the FDA has falsely deemed that these products are no different than smoking cigarettes.  No company can make the claim that vaping is healthier, or less harmful than combustible Tobacco and vape shops can no longer advise smokers that this technology has the potential to save their lives for fear of repercussions from the Government.  If you want to make a modified risk claim on your products, you better be prepared to shell out for research studies that are designed from the start to be unattainable, as the FDA requires research showing how each individual product you make is helpful to the population as a whole.  They don't care about research from oversea's and ex-smokers turned vapers in America don't exist according to the man in charge of over site, Mitch Zeller, the millions of us walking around are in denial because we are all still smokers.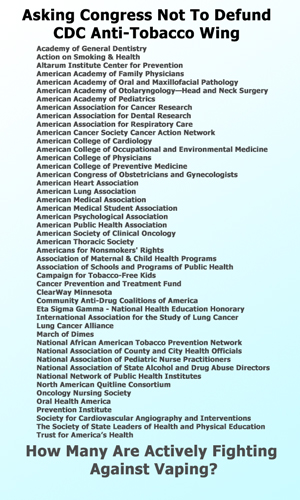 Mr. Zeller et al seem to believe that by gagging the industry the phenomenon known as vaping will disappear, future quitters will go back to the carnival ride that is Pharmaceutical Alley as they attempt in vain to break free of the money-making machine.  They believe that by effectively banning technology that has been proven to be less harmful than smoking and is being promoted by one of the worlds leading bodies of Physicians as a way to help people say goodbye to their tobacco addiction, the status quo that they rely on for funding will return — when the very people fighting against vaping are the same groups begging congress not defund their campaign for a smoke-free world, its very telling.
While this illustrious group of health care professionals are doing everything in their collective power to bring smokers back out of vape shops and into the doctors offices, they are failing to address the huge elephant in the room.
If vaping was just an industry they may stand a chance of making it go away, they can close the doors of businesses but they have a much bigger problem to worry about.  They aren't fighting against an industry that can be bullied into submission, they are fighting against an organised, educated and highly motivated community of people who came together because they bought into the idea that they needed to stop smoking and the methods being peddled by the Public Health industry — those guys in the box and a whole lot more — didn't work when vaping did.
The FDA can attempt to gag the industry but it isn't able to close the mouths of the community.  They can threaten store owners with what ever they want, it won't stop individuals telling the truth.  The Federal Agency can try to force the industry to lie to the people, but the people already have millions in their midst who know the truth about vaping and will continue to spread it for as long as they have the breath to do so.  You try to take away people's choices, especially when they whole heartedly believe that they are in the right, you will always end up with a fight on your hands.
The gag order won't work because there are already too many people who know and understand the truth, apparently better than the federal government, and until the FDA has the power to bring down its wrath on each citizen, the truth will prevail.
Pandora's box has been opened and no matter what they try it's never going to close again.