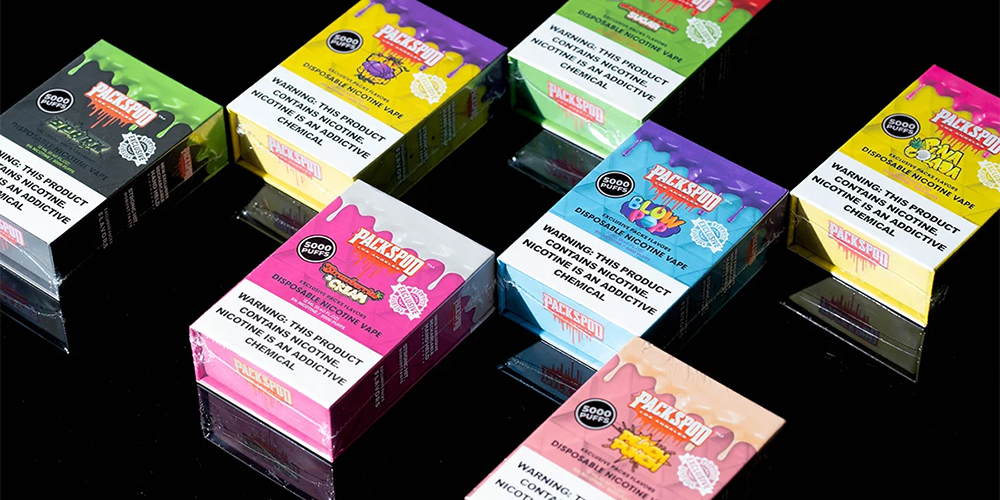 Just when we thought disposable vapes couldn't get any better, Packwoods introduced the Packspod 5000 puff disposable vape, and it's truly remarkable. It boasts a flawless design and an eye-catching color scheme, offering a vaping experience like no other. With a selection of 12 enticing flavors, you're sure to find your favorite.
It's no surprise that this device has quickly become a top choice for many vapers. Keep reading to learn more about it, as we've gathered some essential details. By the end, you'll understand why this device is truly amazing and stands out as an exceptional disposable vape.
Remarkable Battery Life
One of the most crucial aspects of any vape device is its battery life. The Packspod 5000 puff disposable vape comes with a powerful 1400mAh battery, allowing you to enjoy approximately 5000 flavorful puffs. This outstanding battery life is a standout feature.
What's even better is that when it eventually runs out of power, you can easily recharge it using a common type-C charging cord, something you likely already have at home. This ensures that you get the most out of every puff, making it one of the device's main advantages.
In terms of the tank, the Packwoods disposable is built-in and holds a generous 12ml of 50mg salt nicotine e-liquid. This means you'll experience more nicotine, a smoother vaping session, and quicker nicotine absorption. Overall, salt nicotine in disposable vapes delivers a more satisfying vapor, making it an excellent choice for those seeking a delightful vaping experience.
User-Friendly Draw-Activated Feature
A key highlight of this disposable vape is its draw-activated mechanism. When a disposable is draw-activated, it activates when you take a puff from the mouthpiece. As you inhale through the mouthpiece, the sensor detects the change in air pressure, activating the heating element, vaporizing the e-liquid, and producing vapor.
In contrast, button-activated devices require you to press a button to activate them, which can be somewhat cumbersome. Many vapers favor the draw-activated feature because it's more user-friendly and straightforward to use. It offers a natural and intuitive vaping experience, similar to puffing on a traditional cigarette.
So, if you're on a journey to quit smoking or if you're a first-time vaper looking for a hassle-free experience, draw-activated vapes are the way to go, and the Packwoods vape stands out as one of the best choices in this regard. It's designed for ease of use and provides a seamless vaping experience for all.
Exquisite Design
If you're tired of using devices that all look the same, you're not alone. We, too, are vapers who seek not only better performance but also a stylish appearance in our next vape device. Sadly, such distinctive designs are not common in the market, as most products tend to look alike.
However, the Packwoods Packspod 5000 puff disposable vape has finally arrived, and we highly recommend getting your hands on it to experience the difference it brings.
Its design is truly unique, featuring a sleek drop-shaped body with an ultra-slim mouthpiece on top. It fits perfectly in your hand and allows for a day of enjoyable vaping.
What's even better is that it comes in a range of vibrant colors that are sure to brighten your day. These colors are thoughtfully chosen, and regardless of your choice, you're likely to fall in love with it at first sight.
High-Quality Coil
The coils in a disposable vape are crucial for heating the e-juice and producing the vapor you inhale. Without premium coils, the ultimate vaping experience is hard to achieve.
This compact yet powerful device delivers rich flavor and hundreds of delightful puffs. Its innovative premium coil technology ensures excellent aroma and impressive vapor cloud production.
Every puff will be smooth and consistent in intensity, eliminating concerns about throat irritation. With this disposable vape by your side, that worry is a thing of the past.
Packwoods vape is truly remarkable, offering an affordable solution for exceptional vaping. We highly recommend it to anyone in search of a high-performance device. Give it a try, and you'll quickly see why it's becoming one of the best options on the market.
12 Delicious Flavors to Explore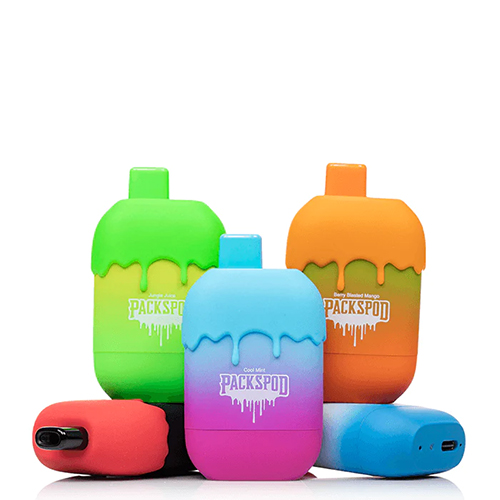 The impressive array of flavors offered by the Packwoods Packspod 5000 puff disposable vape is one of its standout features. With 12 different flavors to choose from, there's truly something for everyone. Let's take a closer look at these enticing flavors:
Arctic Banana: Experience a delightful combination of cool menthol and luscious bananas, creating a sweet yet refreshingly cool flavor.
Cherry Pop: Indulge in the mouthwatering taste of black cherries, offering a flavorful experience you'll savor with every puff.
Miami Razz: Relive the nostalgia of a classic blue slushie with this flavorful blend, delivering the beloved blue razz flavor from your childhood.
Cool Mint: Fresh mint is an unbeatable flavor. This lively, enjoyable, and revitalizing option combines icy menthol with the sweetness of mint, leaving your taste buds feeling refreshed.
Sweet Guava: Savor a smooth and distinctive flavor that you'll want to puff on whenever you have the chance. This unique blend offers the delightful taste of sweet guavas, making it incredibly satisfying.
Grape: Embark on a flavorful journey where the delicious taste of grapes takes center stage. This delightful flavor profile is not easy to master, but Packwood has crafted it to perfection for your enjoyment.
Sweet Cloud: There's nothing quite like a sweet vape that you can enjoy at any time. Letting your taste buds revel in a plethora of sweet flavors is a truly pleasurable experience.
Watermelon Freeze: Get ready for a fantastic flavor that gets better with each puff. This delectable creation combines juicy watermelons with a refreshing menthol twist.
Orange Burst: Fill your senses with a burst of citrus like no other. This captivating blend reveals the vibrant essence of oranges, making it an irresistible choice for an all-day vape.
Berry Blasted Mango: Just when you thought you'd found the best, you stumble upon this intricately crafted vape. It's a delightful fusion of berries and succulent mangoes, creating an explosion of flavors you won't forget.
Jungle Juice: If you're seeking a taste of the wild, this jungle juice blend will satisfy your cravings. It's an all-day vape that captivates anyone's palate from the first inhale.
Kiwi Strawberry: Immerse your taste buds in this delectable flavor that improves with each breath. It's a fiery combination of sweet kiwis and juicy red strawberries that will leave you craving more.
In Conclusion
If you're looking to try a new device and experience top-tier premium disposable vapes, the Packwoods Packspod Disposable Vape is a must-consider option. It's a feature-packed vape that's both convenient and portable while delivering all the fantastic benefits of an unmatched vaping experience. What more could you ask for in a vape device to make it amazing?