Continuing the Releaux Series, Wismec has recently released the all new Wismec Reuleaux RX GEN3 Mod, a triple 18650 battery platform that's capable of pushing up to 300 watts! The Releaux name has become a name that every vaper has heard, and with that the Wismec brand has become just as popular. What's so special about these Reuleaux mods is that they were one of the first to deliver a triple 18650 battery platform, high wattage, and all at a low price which made it more affordable for consumers to experience. It looks like the Reuleaux RX GEN3 Mod will continue that same path.
GET THE WISMEC RELEAUX RX GEN3 MOD HERE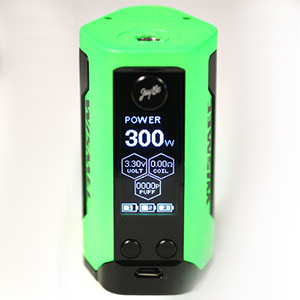 The Wismec Reuleaux RX GEN3 Mod starts off with an awesome design, depending on what you choose, you can own a black, red, brown, grey or green GEN3 Mod. The front facing of the mod features an intuitive 0.96″ OLED display screen, the mod itself is the color you choose, while the back is black to deliver a nice color scheme. The side of the device says Wismec, which is a nice touch as well. With the Wismec Reuleaux RX GEN3 you can enjoy its nice and soft poly-angular frame, an over-sized firing button, two adjustment buttons, a hinged battery door, and a micro-USB port that's used for firmware upgrades.
As for the internals of this remarkable device, the RX chipset will allow up to 300 watts of vaping power, as low as 0.05Ω in resistance, and a temperature control feature that will allow you to take advantage of Ni200 Nickel, Titanium, Stainless Steel, as well as a TCR mode and preheat function. Additional features includes safety features such as a battery balance charge system, dual circuit protection, and onboard reverse polarity protection. It may not seem like much is offered, but this is pretty much what you got from other Reuleaux mods. It's meant to be big, hold many batteries, offer huge power, yet minimal features that sets it in line with what most other devices are being offered on the market. And, it still holds a low price of only $54. Like others in this series, you simply can't beat it.