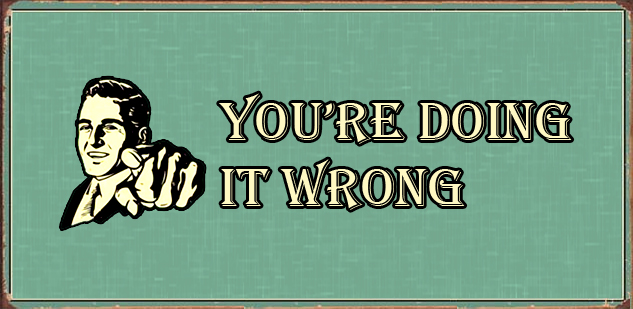 On your journey through vaping or the initial start-up, you've reached times where things just wasn't going right and ultimately you were unsatisfied. Chances are you've had these moments when you first started and if you're here reading this now, you've managed to work through them from dedication and motivation. Continuing your journey, I would like to list a few "you're doing it wrong" situations and explain them to help you have a better experience carrying on.
Every time I fill my clearomizer (or cartomizer) it leaks.
You're doing it wrong: You're getting e-liquid in the center hole when refilling your clearomizer. This is a common mistake by many, especially when you're new to vaping. When you're filling your clearomizer, be sure not to get any e-liquid in the center hole. The center hole is where you get your airflow from. A way to prevent this is by tilting your clearomizer slightly when filling it. This will allow the e-liquid to flow down the side of the clearomizer without reaching that middle hole. This is also a common mistake when filling a cartomizer as well.
I break my charger when I go to charge my eGo.
You're doing it wrong: You're screwing the eGo on too much. I've seen and heard of this happening too many times. When you're screwing your eGo onto the charger, be sure not to screw it on too tight. Just when you feel it start getting even the slightest resistance, back off on the threads just a bit so you don't over tighten it. These type of chargers are small and made of plastic, so they are very prone to breaking.
I get a burnt taste from my new cartomizers.
You're doing it wrong: You're filling the cartomizer wrong. Us more experienced vapers went through the same aggravations with cartomizers. They work great, but when you first start using them and having to initially fill them yourself, you may get a bad taste. And, though you're filling your cartomizer the way you may have been instructed, that way is wrong. To vapers that know all about this, we refer to the right way as 'the condom method'. Here's how you do it… take the rubber piece that covers your cartomizer (the clear piece that covers the cartomizer) from any outside elements and fill it halfway. Now, take the white piece out at the top of the cartomizer (of course) and insert the cartomizer slowly into the filled clear rubber piece upside down (threading facing upwards). By doing this, it forces the e-liquid into the filler material so that the filler and coil are good and wet. Let the cartomizer sit for a moment, then pull the cartomizer out and insert a drip tip (mouthpiece) and blow through the center hole to remove any excess e-liquid from the airflow hole. Other known reasons are not having enough e-liquid, an old gunked up filler material in the cartomizer or applying too high of voltage.
If you're having trouble with vaping, it's always because you're either doing it wrong or product malfunction. Vaping was designed to work, and it does, so before you give up and become too frustrated with your unsatisfied situations, take a step back and access the situation and use the Internet to search for answers.