When it comes to the best menthol vape juice flavors, you're hard pressed to find something worth your hard-earned dollar, but we've got you cover on this list.  What's fascinating is that there were so many of us that preferred menthol flavors when we were smokers, and now it's a struggle finding a good menthol flavor now that we're vapers.  It wasn't always like this though, I promise.  In fact, when I started vaping back in 2011, nearly every e-liquid manufacturer had a slew of different menthol flavors available.
However, somehow everyone started jumping on the tails of other brands that didn't offer this, and many have lost sight of flavors that give them the most satisfaction.  Come on, you simply can't beat that refreshing and cool feeling that overcomes your mouth!  Anyhow, here's a list of the 5 Best Menthol Vape Juice Flavors that I have personally vaped and continue to vape.
Note: The flavors listed are in no particular order and only reflects the authors opinion.  Visit the next page to see the next best menthol vape juice flavor.
1. Beast Eliquids – Tygr Spit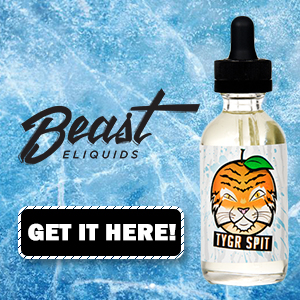 Beast Eliquids is a relatively new brand that's recently emerged with the industry's first all menthol line-up, meaning they're placing all of their focus and energy into serving menthol vapers specifically.  What I love most about this brand is that they didn't just focus on one type of menthol vaper, those focused on many, providing a total of three different menthol types.
What's even more pleasing is this vape juice flavor specifically, Tygr Spit.  The Tygr Spit flavor offers a touch of menthol for those menthol junkies that don't like that ice-cold feeling, but still enjoys the refreshing taste of menthol.  Moreover, Tygr Spit has this unique flavor about it that keeps you coming back for more.  It's said to be a composite of juicy tangerine squeeze for an exhilarating citrus blend.  This vape juice flavor is only available in a 60mL glass bottle and it has a 60% VG and 40% PG ratio, while being available in 0MG, 3MG, and 6MG nicotine strengths.