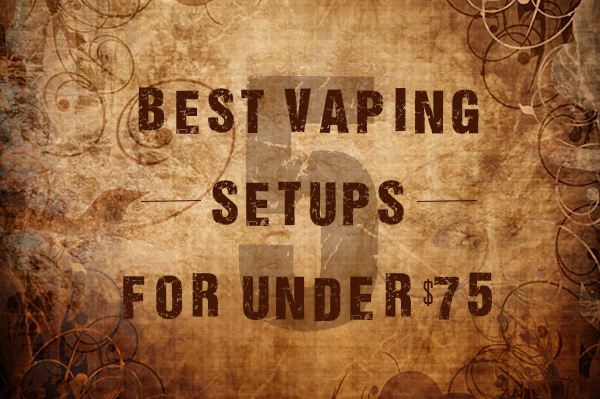 Today, we are looking at the 5 best vaping setups for under $75.  We have been slowly but surely working our way up the ladder of amazing new mods this week and we are still nowhere near the $100 start-up cost that my soon to be ex smokers have been telling me about.  It was put to me that to start vaping, a person must part with at least $100 to get a decent set up.  We started at below $20 and have worked our way up through a series of articles to the $50 -75 range of mods.  Each of the kits below would be a perfect all day vape for an experienced vaper or beginner alike.
Note: Products listed below are in no particular order.  The products chosen for this list are over $50 and below $75.
---
1. Kanger Nebox TC All-In-One Starter Kit
The Nebox is Kanger Tech thinking outside the box.  Actually in this case they were thinking inside the box, as everything is hidden inside.  At first glance it may appear confusing, as in place of a 510 connector for your tank you find a drip tip.  This sleek compact device holds a secret: it houses a massive 10 ml tank to keep you vaping for hours.  Powering up to 60 Watts or switching over to temperature control coils is a breeze for this little beast, as it operates on a single 18650 battery.  You can charge the device using the built-in micro usb port or if you are on the go with just a couple of twists you can switch out with a fresh cell, keeping you vaping for hours more.  With its large fire button and responsive settings, once again Kanger Tech has proven that if we can think of it, they can put it in our hands.
Price: $69.95
Kanger Nebox TC All-In-One Starter Kit: GET IT HERE
---
2. Kanger Subox 50W Mini Starter Kit
While it may not be the newest kid on the playground, the Subox is a hard device to beat.  This may be a miniature device but every time you hit that button it delivers one hell of a punch. Whether using the direct lung hit 0.5 Ω OCC or the 1.5 Ω for mouth to lung, this has the power to satisfy most vapers.  Powered by a single 18650 cell, the magnetic cover makes changing the battery as simple as possible, keeping your down time to a  minimum.  Sitting on top of the Subox is its perfect partner in crime, the color coordinated Sub Tank mini.  With improved airflow design, this 4.5 ml Pyrex tank will deliver the perfect combination of cloud production and flavor all day long.
Price: $63.95
Kanger Subox 50W Mini Starter Kit: GET IT HERE
---
3. Joyetech eVic VTC Mini 60W Starter Kit
The VTC eVic-VTC was a popular device and its bite sized counterpart promises to deliver the same power and performance in a much more compact unit.  The mod is powered by a single 18650 cell and will fire up to 60 watts without question or switch over to variable temperature ( all the way up to 600°f ) using Ni200 or Titanium coils.  This Starter kit comes with not only VTC Mini base unit but also sports a color coordinated eGo One Mega tank system to match. With adjustable airflow and removable 510 drip tip the tank should keep you happy, but as with any other device you can switch it out for anything on the market, as long as the coils you use are between 0.1 – 3.5 Ω.
Price: $59.95
Joyetech eVic VTC Mini 60W Starter Kit: GET IT HERE
---
4. Eleaf iStick 60W TC Full Starter Kit
Following hot on the heels of the iStick 40W TC, Eleaf's latest addition in the ever popular Series is the iStick 60W TC.  Offering 60 watts of pure power or the industries latest temperature control technology, which supports both Nickel 200 or Titanium coils.  Ergonomically designed to fit perfectly into any hand, without causing fatigue, this single 18650 device will be a delight to use.  Simple function buttons are separated by a super bright OLED screen.  To complete the package the iStick 60 W TC has been partnered with the Eleaf Melo 2 tank system, boasting massive adjustable airflow and the ability to fire both standard and Temperature Control Coil systems.  Built from Stainless Steel and Pyrex glass, the tank perfectly finishes the modern sleek design.
Price: $53.95
Eleaf iStick 60W TC Full Starter Kit: GET IT HERE
---
5. Aspire Odyssey Mini Starter Kit
Sleek, sophisticated and well designed are understatement when it comes to describing the Aspire Odyssey Mini Kit.  The 50 W Pegasus mini mod runs on a single 18650 cell which can either be charged in place via usb or switched out if you are on the go.  It features the industries latest innovations, in terms of temperature control and wattage modes and by itself would be a steal at the listed price. Tactile buttons easily control all the functions and the OLED screen is bright and easily readable.  To top off an amazing mod, the company has partnered each of the 3 colors with a matching Triton mini tank.  Top filling action on this 2 ml tank make it easier than some to refill on the go and it is compatible with a huge range of coil systems currently on the market.  Stainless Steel construction with Pyrex glass give this tank a familiar feel but the adjustable airflow and wide array of coils will allow anyone to find their perfect vape.
Price: $74.95
Aspire Odyssey Mini Starter Kit: GET IT HERE
---
Conclusion
Without coming close to the $100 price point for a device, I have been able to provide you, and my soon to be ex smokers with a huge array of tools to carry forward.  If you are looking for the super high-powered devices, we will be getting to those soon enough, but if the 60 watt range is all you are going to use, do you really need a 200 Watt box.
As always, enjoy your vaporizer and vape safe!