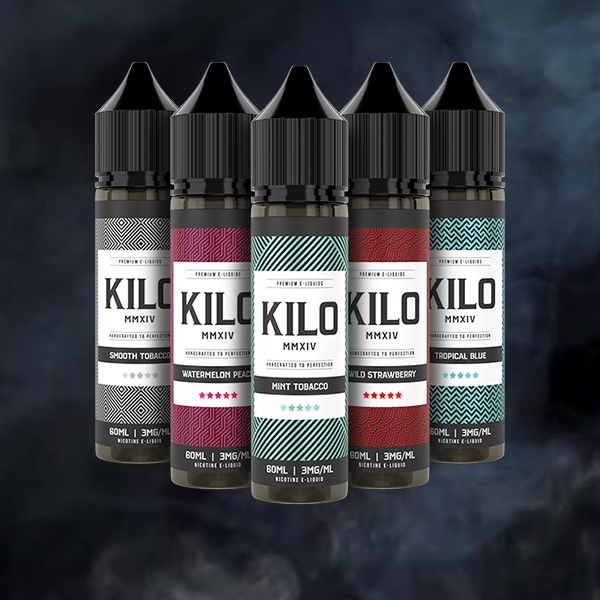 If you are a veteran of vaping, you may remember when Kilo Eliquids first brought its products on the market back in 2014. The Southern California based brand quickly emerged victorious in the world of premium vape juice by presenting a wonderful collection of expertly crafted flavors. However, there are still many of you that aren't yet familiar with this iconic brand, which is why we're going to share 5 things to know about Kilo Eliquids.
Things To Know About Kilo Eliquids
1. Established In 2014
Kilo Eliquids was one of the few large brands that launched onto the market as early as 2014. Unlike many of the brands you see available today, Kilo Eliquids was created years ago, becoming one of the industry's most successful vape juice brands and winning several awards due to its originality, iconic style, and its fascinating range of balanced flavors. Something interesting about Kilo Eliquids is the "MMXIV" that often follows its name. The mix of letters is actually Roman Numerals that means the year 2014, which is when the brand was established.
2. Kilo Eliquids Once Consisted of 45 Different Flavors
With so many brands on the market that offer two to 5 flavors to makeup its whole collection, it's probably hard to believe that Kilo Eliquids once consisted of 45 different flavors. While its quality is quite impressive, Kilo has gained immense popularity from its range of flavors. In fact, it has won several awards for its unique taste and complex flavor combinations. The unfortunate news is that due to the PMTA, Kilo and its many iconic vape juice flavors will no longer be available
3. A Full Range of Vape Juice Collections
Kilo Eliquids is a very intricate brand, and far more complex than anyone would imagine. It is a brand that goes beyond the norm by introducing a full range of vape juice collections. It has perfectly categorized each of its flavors to ensure that you are able to locate the collection that best suits you, and allows you to explore its range of specific flavors catered to your specific tastes. For instance, for those who enjoy creamy or milky blends, the Kilo Moo Series is a great option. For those wanting tastes of mouth-puckering tart, there is the Kilo Sour Series. There are many collections within this brand, such as the Kilo Original Series, Kilo White Series, and Kilo Black Series. The variety of collection may remain on the market for months to come but soon will diminish due to the requirements Kilo have endured as a result of the PMTA process.
4. Premarket Tobacco Application
Ensuring that its products remain on the market for the foreseeable future, Kilo Eliquids has complied with the FDA and has submitted its PMTA. As a result of the PMTA, Kilo Eliquids has eliminated many of its collections down to one. It now offers 8 flavors, available in freebase, and salt nicotine. The freebase vape juice comes in a 60mL bottle with nicotine strength options of 3mg and 6mg. The salt nicotine vape juice comes in a 30mL bottle with nicotine strength options of 36mg and 48mg. Many of its older flavor options still exist on the market today, however.
5. Kilo and Its 8 New Flavors
Kilo Eliquids has undergone a major overhaul when it comes to its branding and flavor options. Some of the flavors use older recipes, while others are completely new. While you may love the old brand, this is the new Kilo Eliquids: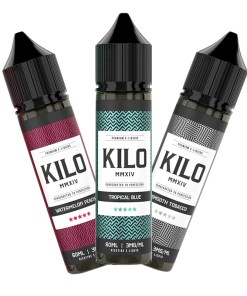 Smooth Tobacco by Kilo Eliquids is an outstanding blend that utilizes its signature tobacco flavor. It consists of mild tobacco notes, which results in a smooth, yet slightly bold tobacco flavor that you can truly call an all-day-vape juice.
Kilo Watermelon Peach
Watermelon Peach by Kilo Eliquids brings together a magical vape juice blend that we're sure anyone can get down with. It combines both ripe peaches with some deliciously fresh watermelon flavor, creating a perfect vape.
Kilo Wild Strawberry
Wild Strawberry by Kilo Eliquids is yet another fascinating blend that exists within the new line. It boasts a tasty single flavor blend that gives way to wild strawberries. The flavor is incredibly sweet, fruity, and delivers that sun-ripened taste.
Kilo Mint Tobacco
Mint Tobacco by Kilo Eliquids utilizes Kilo's signature tobacco flavor once again that is both mild and smooth, then combines it with the refreshing taste of mint. Unique tobacco flavor and a menthol aftertaste are what this blend is all about.
Kilo Tropical Blue
Tropical Blue by Kilo Eliquids provides an amazing flavor experience that you simply won't be able to get enough of. It offers a clash of ripe mangoes and delicious blue raspberries. It is a truly refreshing experience that you'll call a favorite.
Kilo Mixed Berries
Mixed Berries by Kilo Eliquids us just what you would expect, and exactly what your taste buds are craving. It is a tasty blend of mixed berries that is incredibly refreshing and delicious from beginning to end.
Kilo Jungle Berries
Jungle Berries by Kilo Eliquids goes beyond the norm and recreates its berry flavor by bringing together a delicious mix of fresh berries with a mouth-puckering hint of tart to create a thrilling vape each time you take a puff.
Kilo Fresh Mango
Fresh Mango by Kilo Eliquids will be one of the best mango flavored vapes you've tried yet. It is a single flavor blend that provides the sweet and refreshing taste of mango. It's incredibly smooth, tasty, and will go down as one of your favorites.