If you are at all familiar with Humble Juice Co., you are well of their massive collection of vape juice. They've won award after award for their iconic flavor creations and have ultimately become the industry's highlight brand since its inception for three specific reasons: the flavor options, the quality, and the low cost.
Due to it filing the PMTA and receiving its acceptance letter, Humble Juice Co has buckled down, crafting new flavors and following the requirements of the FDA to ensure its brand and products remain on the market for its customers. Humble Juice Co vape juice is available in a 60mL bottle and comes in strengths of 3mg and 6mg. Here's a look at the new flavors of Humble Juice Co.
Humble Juice Co has now released the Humble OG Disposable Vape, a compact, convenient, and portable vaping device that delivers many of the same great flavors with as many as 3000 puffs per device.
Humble Juice Co New Vape Juice Flavors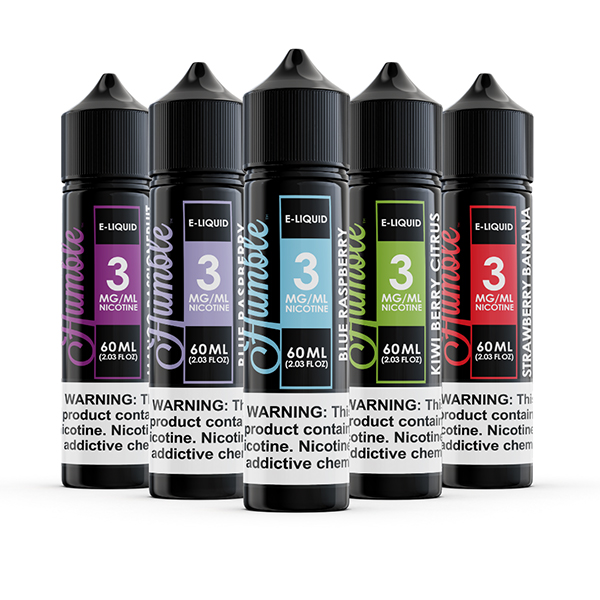 Watermelon by Humble Juice Co. offers a satisfying blend that recreates the classic taste of watermelon. It is a single flavor, yet tastes incredibly complex with every puff you take. From beginning to end, you will enjoy every smooth and relaxing draw from this seedless watermelon vape juice.
Banana Bread by Humble Juice Co. gives way to a delicious vaping experience. It brings you the classic taste of banana bread, using a combination of bananas and buttered bread. It is the perfect dessert vape that we're sure your tastes will be thrilled to experience.
Creamy Crunch by Humble Juice Co. is a uniquely blended vape juice that combines a variety of exciting tastes to create a one-of-a-kind vape. It is ultimately a cereal flavor, using oats, cream, and honey, all mixed into a bath of milk. It offers that creamy crunch taste that you would expect.
Vanilla Almond Tobacco by Humble Juice Co. is just the flavor your taste buds have been yearning for. If you are a tobacco flavor fan, this brilliantly crafted blend combines a flavor concoction of rich tobacco, vanilla custard, and mere hints of toasted almond flavor, which we just know you will love.
Cherry Limeade by Humble Juice Co. gives up this delicious taste every time you take a puff. If you know the classic taste of a cherry limeade, you will be quite familiar with this blend. It brings together oranges, strawberries, cherries, and a dash of lime to recreate the delicious taste.
Berry Delight by Humble Juice Co. is the perfect vape juice for anyone who enjoys the taste of berry flavors. This tasty combination mixes together with a hefty helping of cream and mashes it with a delicious berry mix, creating another all-day-vape juice that anyone can get down with.
Jasmine Tea by Humble Juice Co. is a fascinating flavor creation that we just know people will love. It is the perfect blend that embodies the taste of a true jasmine tea. It uses a creamy flavor combined with jasmine tea to recreate the remarkable taste many have come to know and love.
Strawberry Sour by Humble Juice Co. is a flavor that many will find incredibly delicious. It is one of those types of vapes that once you try it, you simply just can't get enough. It blends together strawberries, watermelons, and a sour twist that sure puts a spin on things to keep you coming back.
Creamy Fruit Bar by Humble Juice Co. is an amazing variety of flavors that bring together delicious mixed fruit, a layer of oats, and throws it into a batch of yogurt, yet formed into a creamy fruit far. It is a wild vape for sure but we're in the belief that you'll love every moment of this vape juice.
Sweet Citrus by Humble Juice Co. offers the sweet and tangy flavor that everyone has been searching for. It is a vape juice that will excite the tastes and keep you coming back for more and more. This tasty vape provides a citrus sorbet flavor, which is sure to soak on the tongue and leave a lingering taste of deliciousness.
Roasted Nuts by Humble Juice Co. provides a phenomenal flavor that you'll surely call one of your favorites. It is a special blend, which recreates the taste of caramelized roasted nuts. It uses both caramel flavor and nuts to offer you the sweet taste that you simply cannot get enough of.
Smooth Tobacco by Humble Juice Co. is a classic flavor that any tobacco fan will appreciate. It is simply a tobacco flavor that offers a smooth finish with every puff you take. From the moment you take that first pull, you will immediately taste mild tobacco that hits your throat in the smoothest way.
Cherry Limeade Menthol by Humble Juice Co. is the same cherry limeade flavor, yet comes with a cooling twist to keep you refreshed. This delicious flavor combines oranges, strawberries, cherries, and lime, along with a hefty dose of ice-cold menthol. The taste is great and you will feel refreshed.
Chill Menthol by Humble Juice Co. offers nothing more and nothing less than the remarkable taste of pure menthol. This fascinating menthol vape juice will be sure to leave you refreshed with your senses opened and your mouth feeling brand new.
V.P.N Mix by Humble Juice Co. is a vape juice that we would love to tell you tastes amazing, but it doesn't. Well, it actually doesn't have a taste at all. That's right! This blend uses a combination of vegetable glycerin, propylene glycol, and nicotine. It is a flavorless vape juice that allows the option to vape without flavor or to mix in your own tasty combination.