Due to the success of the Egge, 7 Daze has gone to work immediately to develop its next biggest release, the 7 Daze Ohmlet. Much like the Egge, the Ohmlet has a unique design, totally different from anything you've seen on the market. It maintains a small size, dishes out great tastes, and performs well. There are many parts of this device to appreciate, it is the puff count that will impress you the most. It has a massive capacity, large rechargeable battery, and an enormous puff count to keep you vaping and enjoying longer sessions between charges. Let's check it out.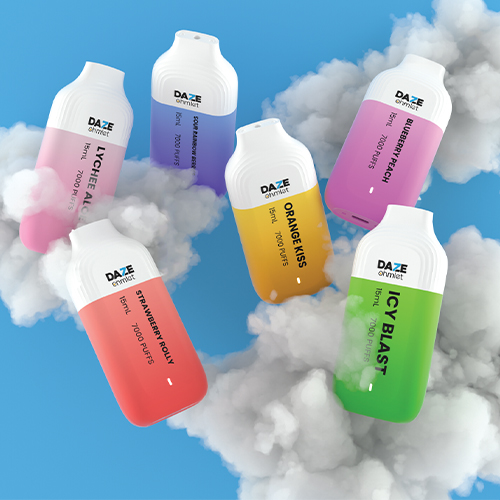 What Is The 7 Daze Ohmlet Disposable Vape?
The 7 Daze Ohmlet is a new disposable vaping device that features an unorthodox design. While it certainly maintains the compact size users yearn for, which bodes well for convenience and portability, it manages to allow enough space for a large battery and massive integrated cartridge. Within the device, you'll find a large integrated rechargeable battery, which uses an onboard Type-C port for fast charging. You'll also discover that the 7 Daze Ohmlet Disposable Vape features a massive 15mL vape juice capacity, which is extremely impressive for a device of its stature. What people are most astonished by when it comes to the Ohmlet Disposable Vape is the incredible puff count. It delivers up to 7000 puffs per device, beating out all of the competition and giving you plenty of vape sessions as it's coupled with a rechargeable battery. And, the flavor creations are just as note-worthy, boasting a line of up to 10 different flavor options. As an added bonus, the Daze Ohmlet Disposable features a built-in mesh coil to further enhance its performance and flavor output.
7 Daze Ohmlet Flavors
Orange Kiss
Boasting a magnificent taste, this delicious blend will definitely become your most favored flavor yet. It combines a zesty orange with aloe, creating a crisp, citrus experience that you'll want to puff on every chance you get.
Blueberry Peach
If you're looking for an all-day vape, this soothing blend is the one you should pick. It is a tart blueberry blend that comes together with juicy peach, making for an extremely enjoyable vape every time you take a puff.
Lychee Aloe
Experience an overload of tastes with this awesome pairing, which will surely satisfy you. These two flavors come together to create another blast of a vape, giving you tastes of lychee and juicy peach flavor.
Icy Blast
Exciting you in every way, this mentholated blend presents a blast of coolness. The pleasing cool flavor will become an all-day vape, leaving you blowing out ice-cold clouds of vapor.
Pineapple Peach Whip
Offering you another amazing trio of tastes, this is a blend that will never grow old. Ready your taste buds with a symphony of flavors that consists of pineapples, peaches, and lychee flavors.
Sour Rainbow Berries
Slather your taste buds with a delicious mixture of tropical flavors. It is a tropical sour mix that will delight your tastes and ensure you're pleased from one puff to the next. This delicious blend will recreate your favorite candy flavor.
Strawberry Rolly
This all-day vape juice blend will become one of your all-time favorites. It is a tasty strawberry flavor that comes with an amazingly sweet taste. It's a mixture that will easily turn into a flavor that you cannot go without.
Tropical Gummy
Overload your mouth with a perfectly concocted blend of flavors that pair together a tropical mix and pineapple flavor. This delicious mixture of tastes all comes together to create a tropical candy flavor.
Watermelon Grape Orange
If you want to experience a symphony of tastes, this trio will become one of your favorite vapes. It is a complex combination that consists of mouthwatering watermelons, grapes, and oranges.
White Grapeberry
Nesting in your taste buds, this is one blend you have got to try for yourself. This dazzling concoction of flavors will leave you pleased from one puff to the next, leaving you with a grape berry medley.
While the 7 Daze Ohmlet Disposable is a great option to consider, there are many vapes online that will definitely provide a great experience. From the Flum Pebble to the Elf Bar, you'll discover many that offer great tastes, amazing performance, and long battery life. Take a look at some of your options when looking for a disposable vape so that you can decide what is the best device for you.