Growing into one of the industry's leading choices for alternative products, Galaxy Treats is creating a galactic experience all of its own. Its products will set you off into space and provide an effective experience that is worthy of its praise. Through a variety of products using hemp-derived cannabinoids, Galaxy Treats is the brand to turn to for premium cannabinoid-driven products. In this blog post, we're going to share our complete Galaxy Treats Delta 8 Gummies Review, giving you insight into its effects and taste.
Galaxy Treats
Galaxy Treats is a premium alternative products brand that has created a variety of products using some of the most popular cannabinoids. Its product list includes Galaxy Treats Blast Bars HHC Disposable Vape, Galaxy Treats Blast Bars THC-O Disposable Vape, Delta 8 Cosmic Krispies, and Galaxy Treats Moon Babies Delta 8 Gummies. Though the brand is fairly new, it is the spawn of one of the industry's most recognized names in vaping, Streamline Vape, a manufacturing company with an extensive portfolio of products, including Juice Head, Khali Vapors, Bams Cannoli, Nirvana, Party Brands, Hello Kanna, and Galaxy Treats.
What Are Galaxy Treats Delta 8 Gummies?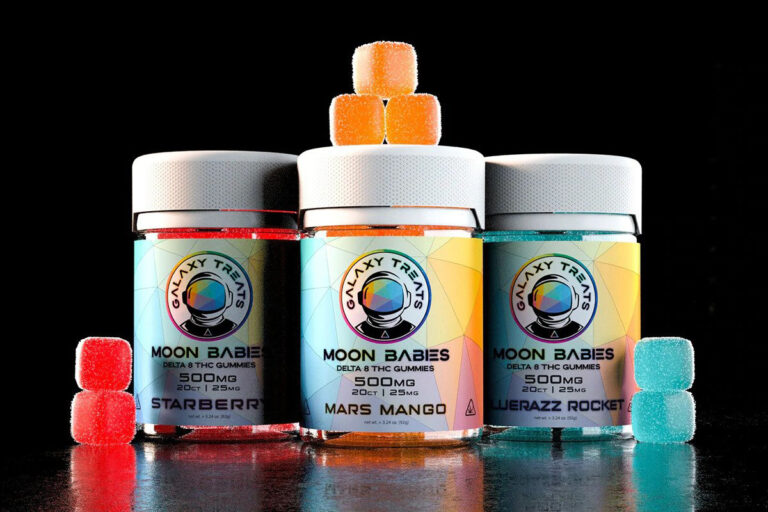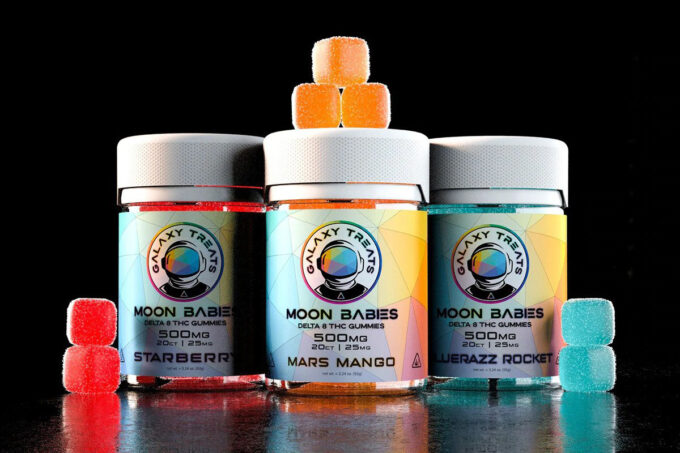 Galaxy Treats Moon Babies Delta 8 Gummies are deliciously crafted gummy candies that feature a highly effective infusion of premium Delta 8 distillate and a variety of tasty flavors. Each bottle contains 500mg and each piece is 25mg, giving you up to 20 gummies to enjoy. The gummies will provide uplifting effects and a heightened level of euphoria, showing the true power of the Delta 8 cannabinoid. You can experience the gummies in a few different flavor options, including Bluerazz Rocket, Mars Mango, and Starberry.
Galaxy Treats Delta 8 Gummies Flavor Options
Bluerazz Rocket
While calming and a good way to mellow you out, Bluerazz Rocket delivers a stunning taste that comes from a blueberry flavor, sharing the sweet and tart taste you would expect.
Mars Mango
Promoting uplifting effects that will motivate you, Mars Mango is just the blend you'll want to experience, as it is all about the taste of tropical mango flavor.
Starberry
Sending you into a whole new space, Starberry provides the luscious taste of strawberries, giving you a mesmerizing treat packed with Delta 8.
What Are The Effects of Delta 8 Gummies?
Delta 8 Gummies are highly effective and very potent, as the experience tends to last longer and generate more effects than other delivery methods, such as vaping. During your time using Delta 8 gummies, you'll experience both a mind and body change, giving you a sense of calm, yet motivating you to tackle the tasks that await. Although a full dose (1 gummy) may be too much for some, cutting it in half will provide effects that is just enough to take the edge off. If you are looking to experience Delta 8 in the most convenient, enjoyable way, Galaxy Treats Moon Babies Delta 8 Gummies are an awesome choice.