Choosing e-juice is all about selecting a taste and flavor that you like. But more importantly, choose a product that will calm and give you comfort. Normally, quality ingredients improved preparation methods, and better or stronger flavors are what you want in your ejuice. 
Most users prefer premium e-liquids from reputable brands since they are well-researched and made in a clean environment. They often come with lab test results that display the purity of the ingredients and integrity of the end product.
While premium e-juices are expected to be the best, we know it's not always the case. Anyone may claim their products are of high quality, so it's up to you to do your research. But with our list of the top seven premium e-juice products you should try in 2020, we can save you the trouble.
Best Vape Juice Flavours 2020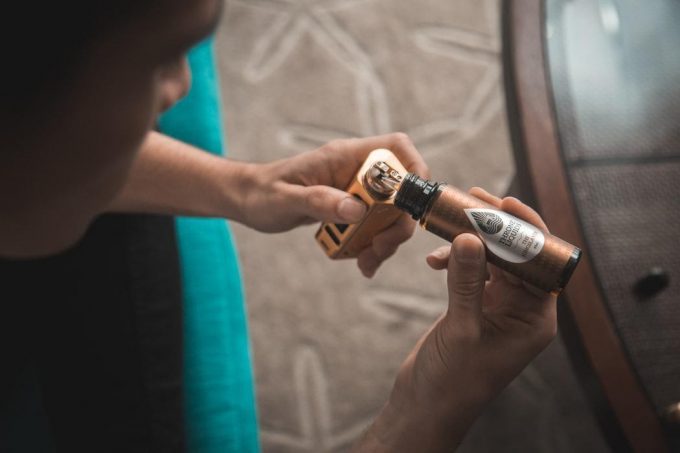 The e-liquids that we're going to look at have the best PG / VG ratio, use quality ingredients, and come from well-known brands. Since the goal is to enjoy the taste and maximize your vape experience, we guarantee that this cheap premium vape juice feels so good and leaves a pleasant aftertaste. 
So, here are some e-juices that will not disappoint regardless of their flavor:
1. Castle Long Reserve
When it comes to ejuice, anything from Five Pawns is of superior quality. They make refined e juices with the best flavor that you can't find with cheap ejuice. Castle Long reserve is a great vape juice to try. The ejuice delivers precisely what it claims on its description.
Castle Long reserve sells for its well-blended flavors. Their advanced art in mixing each element makes the ejuice standout with a product that blends harmoniously, giving an overall deep, rich, and ample flavor. The e-liquid is simply a premium stellar product from a reputable brand that's worth your money. 
2. Cookie Butter
Cookie Butter deserves a place in the list of the best e-juices. It takes the standard flavors and transforms them into a powerful vapor that hits the spot. The ejuice is the perfect way to enjoy the excellent taste of cookie butter spread without extra calories.
Cookie Butter is made by Vape Pink and comes in 100ml with a 70/30 VG/PG base. If you like the taste of oatmeal cookies, then you'll love the ejuice. It's made from freshly baked butter cookies blended with creamy cold milk and brown sugar, delivering delicious flavors. 
3. Blue Raspberry
Blue Raspberry is the perfect way to vape CBD oil for full CBD benefits. Despite its name, it does not leave your tongue blue. What you get with every inhale is the fruity blend of sweet blue raspberry, tart, and juicy blueberries.
How CBD has processed impacts the overall quality of the CBD oil. CBDfx uses cutting edge CO2 extraction methods to deliver high quality, pure, and safe products. The oil is mixed with other ingredients to get high-quality vape juice. So, if all you need is a vape juice that provides solvent-free CBD oil, you can't go wrong with Blue Raspberry.
4. VaporFi Catch Ya Latte
Catch Ya Latte e juice is a coffee-inspired vape juice that continues to amaze vapers. It has a 30:70 PG/VG ratio, and the primary flavors are caramel, hazelnut, steamed milk, and espresso. VaporFi Grand Reserve is the manufacturers leading ejuice collection with Catch Ya Latte is one of the latest premium flavors.
You can turn your vaping experience around with this e-liquid that's every coffee-lovers dream. The vapors will fill your mouth with a dominant French roast coffee aroma.
5. The Sauce LA Capone
Sauce LA Capone offers you premium e juice at an affordable price. The ejuice comes with a perfect blend of creaminess and fruitiness to offer a remarkable cereal experience. When you inhale, you'll get a surprising light and authentic fruit loops flavor. Capone is a product of well-blended sugary cereal fruits with flavors that come out in equal measures.
What's great about this ejuice is its great performance, flavor-wise. Something to note is that the e-liquid performs well on lower wattages. You can expect to get the best flavors anywhere between 19 and 23 watts. 
6. Hawaiian Pog by Naked 100
The Hawaiian Pog is an outstanding e-juice from the top products by Naked 100. It boasts of the right mix of guava, orange, and pineapple. While the e-liquid is a bit tart, the sweetness from the fruits gives it the balance and taste that most vapers like. It's an excellent opinion to try if you want a unique fruity flavor. The vape juice comes in 70/30 VG/PG ratio and medium-sized bottles.
7. Milkman Churrios
Churrios is a super sweet premium dessert based e-juice. The vape juice is a warm churro sprinkled with cinnamon sugar and blended perfectly with Milkman's signature creamy and milky aftertaste. When you inhale, the dessert vape juice delivers strong vapor that awakens your taste buds, leaving you with goosebumps.
This e-liquid offers a well-rounded flavor that you'll quickly fall in love with. Being a product from a trusted brand, The Vaping Rabbit, you can be guaranteed to get the best vaping experience. They use high-quality ingredients, maximum VG, to deliver the intense and mouth-watering flavors.
Conclusion
There's a vape juice for everyone, whether you need a dessert-like or fruity taste. The challenge is choosing a quality product that gives you the satisfaction you deserve and value for your money. Our list of the top premium e-juices offers you plenty of options that rank based on reviews. Make sure to try them out!