If you already own or plan to buy the LMC Box Mod, check out this complete guide to the LMC Box Mod, where we'll share specifications, features, and even tell you everything you need to know to actually use the mod.  The LMC Box Mod by Limitless Mod Company is an outstanding new addition to an already brilliant line of vape products.  Limitless Mod Company is already known for its Limitless Sleeve Mechanical Mod, its color changing RDA , its RDTA , its LUX Box Mod, and now the LMC Box Mod .  Many prefer this brand for its wide assortment of high-end products, and this new addition only adds to the hype Limitless Mod Company has created over the years.
CHECK OUT THE LMC BOX MOD HERE
LMC Box Mod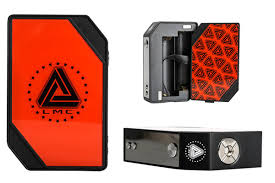 Measuring in at 23.8mm wide, 63.5mm in length and 92mm in height, the LMC Box Mod by Limitless Mod Company doesn't create that large of a footprint, even though its requires two 18650 batteries for its power.  It features a standard box shape, yet diagonal corners have been cut with a slant to offer an appearance that isn't so "standard".  What's most impressive about the look of this vape mod is its design options, which allows you to customize the device with interchangeable plates that are magnetic. Quick switch from the original LMC Logo face plate to the "Green Bandana" plate option for an entirely different look.  The LMC Box Mod also features a three button setup that's placed on a mirror finished lens that covers the mod's OLED display screen.
The LMC Box Mod is equipped with a custom chipset that provides variable wattage and temperature control capabilities.  Using both modes will allow you to range from 10 watts to 200 watts and fire down to 0.08Ω.  However, when using temp control specifically, you have the ability to use Nickel 200 (Ni200), Titanium, and Stainless Steel wire, along with ranging in temperature from 220 degrees to 580 degrees.  One feature in particular that stands out about this vape mod is its fire mode's, which gives the option of Soft, Standard, and Powerful.