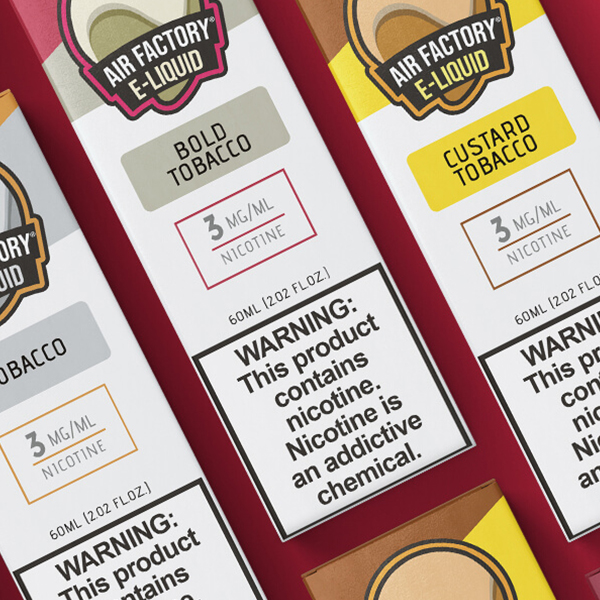 If you are at all familiar with Air Factory, we're sure you've heard or have even tried their Salt Factory collection. Both Air Factory and their salt collection has gained an extraordinary amount of attention, gaining high respect from the vaping community for its spot-on flavor creations, quality ingredients, and satisfying nicotine, whether it is using freebase or salt nicotine. As a direct result of the PMTA, which Air Factory has successfully submitted, its famed collection has changed just a bit. In this article, we're going to share those changes that relate to Salt Factory.
Packaging, Label, and Logo Changes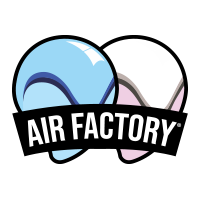 You may notice that the packaging and labels of the bottle look a bit different. In fact, the packaging and labels are very much different from what we've known. Air Factory vape juice has given the two a major overhaul to ensure the first impression vapers receive is that the brand is professional and made for adult consumers only. Warnings on display, all of the contents are visible, and the whole design has been cleaned up. You may also notice that the logo has changed as well. It is only a slight change, however, it is something that was in the mix of overhauling the brand thanks to the PMTA. The new logo still uses the iconic blue and pink balloons, yet they now have a unique wavy line to give it its own identity.
Flavor Name Changes
Creamy Crunch (Formerly Kookie Krunch) by Air Factory is an Air Factory classic blend, boasting the flavor-filled taste of a freshly baked pastry coated with a creamy glaze, brown sugar, and cinnamon. Every puff you take, your taste buds are completely satisfied, while you are pleased to no end with delicious dense vapor.
Custard (Formerly Custard Craze) by Air Factory provides an outstanding flavor that easily becomes yet another all-day-vape from the Air Factory brand. It is a combination of custard, vanilla bean, and a sweet and sugary taste that will keep you coming back for more. Each puff delivers an unforgettable and very delicious experience.
Mix Berry (Formerly Mystery) by Air Factory is an incredible flavor concoction that is super complex. It offers an amazing taste, blending together a dish of berry flavors that remain a mystery, along with a finishing taffy candy that continues to linger even after the exhale. It is a wonderful flavor that will be your new favorite.
Newly Added Flavors
Mint by Air Factory is a crisp and refreshing mint flavor that your taste buds will love. With each puff of this newly added flavor, you will enjoy its smooth mentholated taste, while your mouth feels incredibly clean, cool, and your sinuses opened up. This tasty mint flavor is all about the refreshingly sweet taste of mint.
Tobacco by Air Factory is an outstanding blend that recreates the original and classic taste of pure tobacco. With this rich tobacco flavor, you won't find any added flavors, just the raw taste of tobacco. Each puff brings you the authentic flavor tobacco connoisseurs can certainly appreciate.
Bold Tobacco by Air Factory is yet another tobacco option, yet offers the full-flavored taste of Virginia tobacco, a classic in the world of tobacco. It has a slight hint of sweetness, yet provides the classic tobacco taste you've come to know and love. The vaping experience is flavorsome, sweet, and incredibly smooth.
Custard Tobacco by Air Factory is a phenomenal blend of flavors that any tobacco enthusiast would love to try. It features a trio of custard, tobacco, and vanilla, giving a unique blend that you won't want to put down. It starts with the full-bodied tobacco flavor, it finishes with a rich custard, and undertones of smooth creamy vanilla.
Unflavored by Air Factory is a perfect addition to the Air Factory lineup, providing an unflavored option that works great for those who either don't want any flavored taste or prefers to mix in their own special blend of flavors. While it isn't for everyone, it's good to know there is an amazing unflavored option now available.