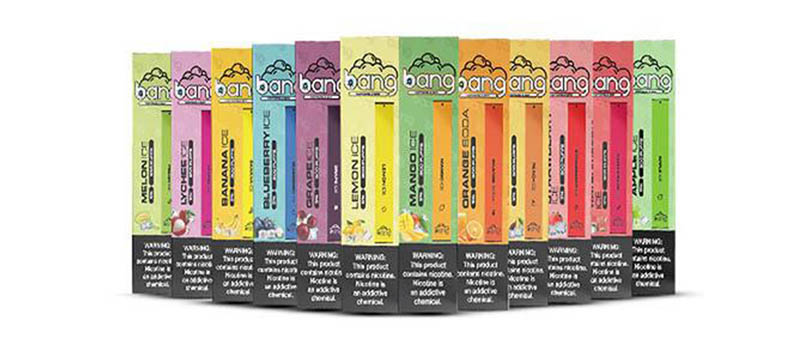 For those that are looking for the next best thing when it comes to disposable vapes, you won't have to look very far. Bang is the latest name gaining all the chatter, and it isn't just the name that has everyone talking. The new Bang Disposable Vape provides a comfortable feel, exceptional design, incredible performance, and tasty flavors that you won't soon forget.
From the first draw to the last, you will enjoy the whole Bang experience. The device itself is comfortable to the touch, compact, and very mobile-friendly, and the appearance can only be described as sleek and remarkable. As for the performance, every draw is thick and produces dense clouds with your choice of many different flavors. In addition, you'll gain exceptional satisfaction with a disposable device, as it eliminates the need to fill and charge the device.
Available in a variety of delicious flavor options, each Bang Disposable Vape has 1.3ml of 50mg (5%) nicotine salt e-liquid, pre-filled to the rim. It doesn't require filling, charging, or any maintenance. If you're looking for the big bang everyone's talking about, try the Bang Disposable Vape!
Apple Ice
Enjoy a crisp sour green apple while a smooth menthol ice undertone follows. It's a crispy favorite that no one can deny.
Banana Ice
This Banana is bangin' with ripe banana flavor and an icy undertone. It's like vaping a banana popsicle!
Blueberry Ice
A satisfying blueberry flavor that pairs perfectly with a dose of menthol. The two pairs perfectly with one another.
Blu Raz Ice
Blue raspberries fill your mouth and a chilling undertone leaves you refreshed. Loads of blue raspberries and just the right amount of menthol.
Cool Mint
The cool and refreshing taste of mint and menthol bombard your taste buds. You're left feeling refreshed after every draw.
Cherry Lemonade
Combine cherries with lemonade and this tangy mix will hit the right spot. It's a unique combination you can't get enough of.
Grape Ice
If you want a solid grape flavor with an undertone of icy coolness, look no more. This is truly a grape flavor that has been perfected.
Grape Soda
There isn't anything quite like a good classic grape soda to awaken your taste buds. Grape flavor fans all over will love this one.
Gummy Bear
You simply can't deny the delicious taste of gummy bears, and you'll experience it in every last draw.
Lemon Ice
Satisfying and thrilling at the same time, this lemon flavor mixed with menthol will send you to the moon and back.
Mango Ice
Dive into a wondrous flavor of mango blended perfectly with a cooling undertone of ice. It's a mango experience like you've never experienced before.
Melon Ice
Explore this brilliantly crafted honeydew melon flavor that is followed by icy menthol.
Orange Soda
It doesn't get any better than the good classic taste of an orange soda and ice to complete the experience.
Peach Ice
If you're searching for a delicious vape, you'll love every draw of this ripe peach flavor mixed with menthol.
Red Apple
The taste of a crisp red apple awakens your tastes, while a soothing icy menthol sends you to the moon.
Strawberry Ice
A universally favored flavor of scrumptious strawberries blended with a dash of icy as an undertone.
Verry Berry
If you can handle a burst of berries, this one comes complete with blueberry, strawberry, and blackberry.
Watermelon Ice
Fans of the watermelon flavor can rejoice as this one is bombarded by a cool and smooth icy finish.
Watermelon Lemonade
When you combine delicious watermelon and citrusy lemonade, your tastes go into complete overload.