Launching itself on the market full throttle, the Twist E-Liquid ORO Disposable Bar has quickly become the industry's hit disposable. One may ask how it differs from every other disposable vape on the market, and we've got just the answers you'll want.
Each ORO Disposable Bar features a lightweight, small, and very portable design. It stands just 95mm by 16mm by 6mm, making it very mobile-friendly. Within the shell, there is an internal battery that delivers upwards of 300 puffs. There is also a built-in tank that offers a 1.3ml e-liquid capacity. The device is draw-activated so you won't need to worry about pushing any buttons. The whole process is made simple, convenient, and with its anti-leak design, you'll never have the mess often associated with traditional vaping devices.
The best part of it all is that there are eight flavors to choose from, all made by Twist E-Liquids, one of the best and most popular e-liquid brands on the market. Twist E-Liquids has become one of the industry's most successful brands due to its ability to continuously create out-of-this-world flavors people truly enjoy. Many of the flavors that Twist E-Liquids makes are fruity, candy, and menthol flavors that are expertly crafted to please your tastes. Here's a look at all the deliciously crafted flavor options for the ORO Disposable Bar. Each flavor is available in the ORO Disposables is completed with 50mg of salt nicotine.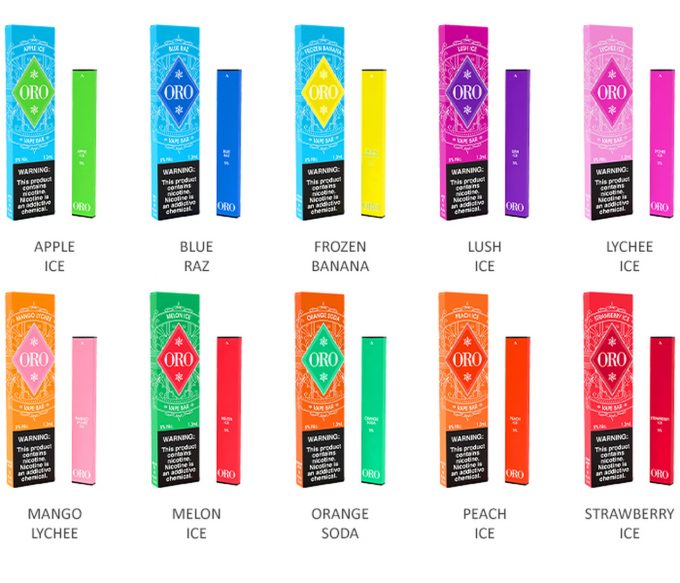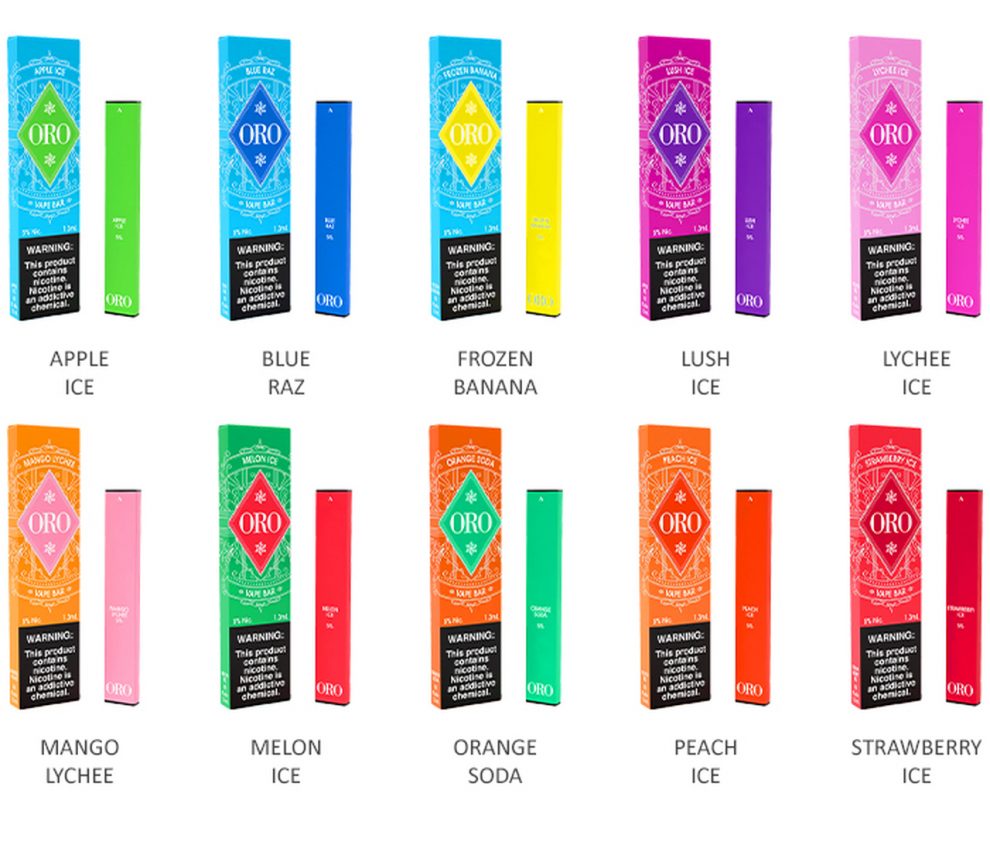 ORO Disposable Bar Flavors
Apple Ice
When it comes to flavored e-liquid, no one makes an Apple Ice quite like Twist E-Liquids. It is a scrumptiously delicious flavor that reminds you of a crisp, sour green apple. To complete the experience, an icy undertone follows not far behind.
Blue Razz
Could you imagine loads of blue raspberry engulfing your mouth to no point of return? Imagine no more because that is exactly what you get from Blue Razz, the pure taste and enjoyment of the best blue raspberry flavor on the market.
Lush Ice
With this name, you can expect something absolutely juicy and delicious, and that is exactly what you get. Lush Ice features a juicy watermelon candy flavor blended perfectly with just the right amount of icy menthol. It leaves your mouth fulfilled and refreshed.
Mango Lychee
If you are up for a truly unique flavor experience, you can't go wrong with Mango Lychee. It boasts juicy mangoes that seem as if they've come straight from the islands. They are then blended with exotic, smooth lychee that is crisp to the taste.
Melon Ice
Melon is one of the industry's favorite vape flavors and brands love using it. Melon Ice is just what you expect, crisp and juicy melons that have been splashed with cooling menthol to deliver a truly invigorating taste experience.
Orange Soda
Just when you thought flavors couldn't get any better, you discover Orange Soda in the vape form. It reminds you of the old classic orange soda, featuring all the bubbly, citrusy cola taste you know and love to quench your thirst.
Peach Ice
When you think of a peach flavor, you immediately resort to sweet Georgia peaches, and you are right on track. Peach Ice comes complete with fresh Georgia peaches that have been set on ice for a truly delicious, chilling flavor experience.
Strawberry Ice
Get your taste buds ready for a strawberry flavor as you have never experienced. Strawberry Ice is a fantastic flavor that gives way to nice, plump, strawberries that taste as if they have been freshly-picked from a strawberry farm. Add in a dash of menthol with chilling temperatures and you won't ever look back.