After dominating the market with some of the industry's most innovative vape juice flavors available in freebase and salt nicotine, Beard Vape is taking its brand to new heights with the introduction of Beard Disposables.
Many are aware that the convenient, user-friendly disposable devices have gained extraordinary popularity, and it seems as if this trend will continue for quite some time. As a result, manufacturers of the most popular vape juice flavors are integrating their most successful flavors, and even creating new ones to stuff into these little miniature vaporizers. It allows the user to enjoy the convenience and portability of a disposable device, while still enjoying some of their most favorited flavors by the industry's largest and most reputable brands.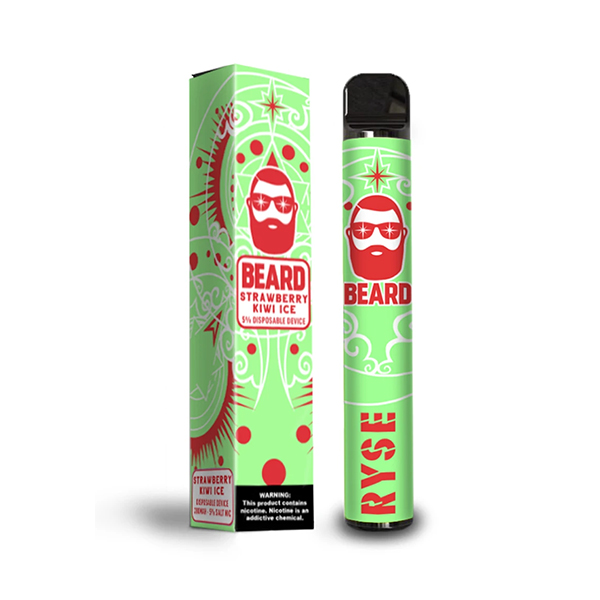 Beard Disposables Preview
The real question is, how does the Beard Disposable differ from others on the market, aside from offering a unique set of the most popular vape juice?
The Beard Disposables are bigger, better, and longer-lasting compared to other disposable devices on the market. It features an appealing design, giving you some eye-candy to look at, even if it is disposable. Though it is much bigger than standard disposable vapes, it still maintains that compact design that makes for greater portability and comfortability.
Due to the larger size, however, the pod on the Beard Disposable Vape boasts a 3ML ejuice capacity, which is filled with 50mg of premium salt nicotine vape juice available in several flavor options. Another big feature to its larger than normal size is the built-in 550mAh battery, which delivers incredible performance and provides approximately 1000 puffs per unit. This means that you will get to enjoy more of your favorite flavor for even longer without worrying about the battery going dead before you've vaped all of the ejuice — a problem that some devices on the market face.
Providing exceptional convenience for the user, each device is equipped with a draw-activated mechanism, so there are no buttons to press, nothing requiring extra attention, there is no need for instructions, and it is as easy as taking a draw and enjoying the vape! Like many other disposable devices on the market, Beard Disposables can also be used, then thrown away when the ejuice is finished. It's the easiest, mode delicious vape device on the market.
Beard Disposables Flavor Preview
Pineapple Orange Tangerine Ice
The Pineapple Orange Tangerine Ice Beard Disposable provides a tasty vape experience we're sure you'll enjoy. It offers a trio of tropical fruits that deliver an authentic taste in every puff. The flavors are combined with a cool splash of menthol to ensure your mouth and its taste are refreshed and ready for another puff.
Strawberry Kiwi Ice
The Strawberry Kiwi Ice Beard Disposable offers yet another marveled taste that we're sure you won't want to be without. Every inhale gives way to a set of freshly picked strawberries that is accompanied by tangy island kiwis. The two flavors pair with one another perfectly, especially when you add the icy cool blast of menthol into the mix.
Cinnamon Funnel Cake
The Cinnamon Funnel Cake Beard Disposable tastes just as good as it sounds. It tastes as if you're eating a deep-fried funnel cake, glazed with butter, and lightly dusted with cinnamon sugar. The entire experience is extremely delicious, and we bet it will become your next all-day-vape.
Blueberry Lemonade
The Blueberry Lemonade Beard Disposable is nothing more than your favorite traditional taste of blueberry lemonade. It combines an oh-so-sweet lemonade flavor with mild sourness and tangy blueberries to create the best representation of blueberry lemonade. After you take your first puff, you'll easily see it was a success.
Apple Ice
The Apple Ice Beard Disposable is another one of its most popular flavors that we're sure will become one of your favorites. To deliver the perfect taste of a refreshing apple flavor, Beard Vape utilized a tart granny smith green apple and combined it with a dash of chilling menthol, creating an unforgettable vape experience.