Achieving great lengths, VOOPOO has certainly come a long way in a quite saturated industry. It continues to develop some of the industry's most innovative devices, creating hit after hit. The devices and tanks it manufactures become the most popular on the market immediately after launch, especially if they fall under its popular Drag Series, which has gained the most success. That is the fate of its latest product that it's launched, the VOOPOO Drag Mini Refresh Edition Starter Kit.
The newly added Drag Mini Refresh Kit boasts a remarkable appearance using a resin inlay and several colorways, it offers extraordinary durability due to its use of high-quality materials, and it performs extremely well because of the advanced GENE FIT chip and integrated 4400mAh rechargeable battery. Combining these features and specifications together, you are in for quite the treat using the VOOPOO Drag Mini Refresh Edition.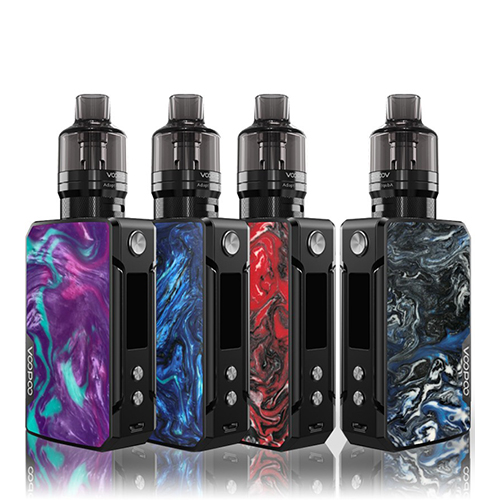 Drag Mini Refresh Edition Preview
With dimensions of 81.5mm by 48.5mm by 25.5mm, you can expect a compact device that is very portable and comfortable to hold in the palm. The Drag Mini Refresh is constructed of a premium zinc alloy material that gives it incredible durability and the toughness to handle your daily beatings.
The Drag Mini Refresh Mod's housing also looks just as good as its built, sporting several options of different colorways that use a visually appealing resin inlay design, making it an outstanding piece to look at. In addition to its external appearance, the device comes with a large firing button, two adjustment buttons, a mode-setting button, and features an intuitive OLED display screen.
Internally, this is where this device really begins to shine, despite its good looks on the outside. Integrated into the Drag Mini Refresh Edition is a 4400mAh rechargeable battery that delivers longer use between charging. It is accompanied by a built-in advanced GENE FIT chip that is highly capable of carrying out various tasks and delivering high-performance features.
As a result of both the battery capacity and chip, the VOOPOO Drag Mini Refresh can reach up to 117W. It comes with several modes as well to provide the best experience, including a power mode, temperature control mode, a TCR adjustments mode and features battery set and cloud set configurations due to the FIT chip.
VOOPOO PnP Pod Tank Preview
Included with the VOOPOO Drag Mini Refresh Edition Starter Kit is the VOOPOO PnP Pod Tank, which pairs perfectly with the Drag Mini Refresh Mod. It has a 26mm diameter, which allows for a large 4.5ML refillable pod capacity. It features a bottom fill system for easy refills and boasts a dual slotted bottom airflow control ring that will let you better define the airflow to generate the best experience.
The PnP Pod Tank utilizes the VOOPOO PnP Replace Coils to deliver the perfect performance, which consists of the 0.3-ohm PnP-VM1 Coil that is capable of supporting 32-40W, and the 0.2-ohm PnP-VM5 Coil that is capable of supporting 40-60W. For easy installation and providing even better convenience, it also offers bottom press-fit coil installation.