Jam Monster is pretty much one of the best and well-known vape juice companies out there. With their ever so delicious flavors that they provide for their customers, they have made a name for themselves in the vape industry. Each bottle that they craft and package comes with a gush of just fantastic flavor that can never get old or tiresome to vape off.
Their fruit-based flavors have gotten nothing but positive feedback to tasting like what the vape juice claims to be. The selection we have to offer from this company is their jam, butter and toast combinations meaning that not only will you get a fruity taste but with that, you get a nice rich, creamy feel of butter that's melted onto a fresh piece of toast. Also included to the mix we have their newest vape juice that they've released called Jam Monster PB and Jam, we might as well considering who doesn't love jam and peanut butter?
Jam Monster not only has the most exuberant amount of flavor in their juices but considering their 75/25 vegetable glycerin and propylene glycol ratio they have the thickest clouds that most vapors are looking for when getting that smoking satisfaction they want to achieve with every hit. That doesn't apply to smaller mods on lower settings and things but anything on an RDA or a tank that's on a high wattage setting to purposely get thick clouds, these juices were made for you.
Take time and look at our variety of their beautifully blended batch of Jam Monster Vape Juice flavors and prepare to be drooling by the end of the page. This company has been out and going strong for a reason, anything to encourage those who are serious about leaning off of cigarettes.
Jam Monster Vape Juice Flavors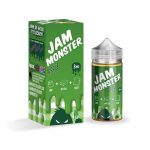 Apple by Jam Monster has a very bold and outgoing flavor. It has a perfect amount of sweet and tart just like a green apple would with a slight hint of the creamy butter and a vague taste of toast. Altogether this juice tastes just like a piece of toast with green apple jam slathered on top of it. Full of delicious flavor I can hardly see anybody going flavor blind to it if you love green apple flavors with an excellent breakfast taste to it than this juice would be on the top of my list to give a try I doubt you'd be disappointed. It's not an overwhelming taste it has just the right amount of flavor that also has an appealing scent to it as well as a nice thick cloud of vapor to add to the excitement.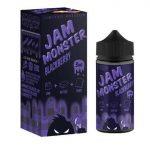 Blackberry by Jam Monster labeled as a limited edition meaning that it only has a limited supply each time of the month or year. It's specially crafted mix of flavors was set out as a taste tester to see how their consumers would react to this product. And so far it's brought them nothing but even more positive feedback. There aren't a lot of blackberry flavor lovers out there due to the earthy tartness it has that people don't want to have in there tanks. The difference in this juice though, it's not a harsh flavor it's quite exquisite with its slightly sweet and tart taste with that combination of melted butter and a perfect piece of crisp toast so it's not straight blackberry. It's very even in flavor so it's not light in flavor where you can't taste anything. You definitely will get the flavor but just not a harsh bold taste that blackberry tends to give out. This juice has actually made it be one of their top sellers that they have so far and sell out very quickly once people notice they're in stock.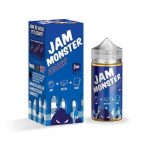 Blueberry by Jam Monster is also another one of their top sellers that they have to offer due to its exact resemblance to having a nice fresh batch of juicy blueberries. This juice is probably the most flavorful that they've crafted and it's not to the point where it's too much to handle. It just sends chills down your spin with the sweet-savory lush taste of blueberries and of course that hint of cream is still there to make things twice as better while vaping. The smell is also super delicious especially when you are indoors in or in your cars, just being surrounded by it has my mouth drooling. It's a satisfying flavor especially for those who aren't too crazy about the texture of an actual blueberry but enjoy the savory blueberry flavor it delivers.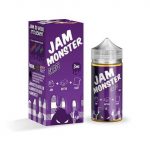 Grape by Jam Monster, you guessed it. A top seller, but the only difference it has compared to the other juices is that it is a number one seller. A good grape flavor is so hard to find, a lot of them are extremely weak in quality and taste nothing like grape at all. But this juice tastes too much like a jar of grape jam. That thick and sweet, lush jam coated a buttered piece of toast is what you'll get in your foggy dense vape cloud of vapor with every single hit. It's just true mouthwatering and is precisely the type of vape juice that anyone who craves grape is looking for. It's a classic in the food industry it's earned its title to be a classic in the vape industry.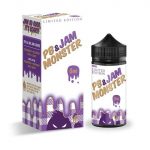 PB & Jam by Jam Monster, I can't say that it's a top seller just yet because it's one of their newest flavors that they've made. Although many have said, including me, of course, have said that this juice taste just like biting into peanut butter and grape jam sandwich. And I guess that they used the exact batch of ingredients for the Grape by Jam Monster and just combined it with a delicious peanut butter extract that makes it super amazing to vape. Top selling juice added with a nice taste of peanut butter was probably the most genius thing that has ever been made by Jam Monster, and it's an automatic thumbs up from me.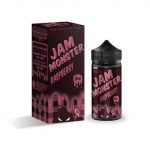 Jam Monster delivery again and again with this limited edition Raspberry juice with the toothsome sweet and tart undertone which isn't shy with its flavor as you vape it. It's incredibly delicious and has a slight floral scent to it which isn't bothersome it's Raspberry by Jam Monster has the essence of distinct flavor and only makes the flavor more realistic. It has that slight hint of cream from the butter extract which adds a trifecta blend of flavor that you can't be mad at. I've personally never tried raspberry jam but if the actual jam tasted like this vape juice I'd be excited to make my first purchase.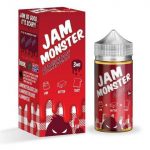 Strawberry by Jam Monster is another one of their top sellers of course because of another classic flavor that Jam Monster crafted. Strawberry Jam is one of my favorite flavored jams to add to my toast most mornings and this juice seriously imitates that exact satisfaction I get when I bite into my favorite quick breakfast. It's got the quality of succulent strawberries that's been mashed and smeared onto a buttered piece of toast which is mouth watering and one of my favorite vape juice to vape on a regular basis.
Conclusion
Jam Monster Vape Juice is the perfect brand for those who desire the taste of fruits that don't lack or disappoint when it's time to bring on the flavor and clouds. There are so many Jam Monster Ejuice flavors to choose from, and each new taste provides a unique experience of its own. You could explore the most popular fruits and even get a taste of peanut butter and jam. What people enjoy most about Jam Monster flavors, aside from the flavor, is the exceptional quality that this brand offers. Each draw tastes good, feels smooth, and will ultimately keep you coming back for more. If you want to gain the most out of your experience from this brand, West Coast Vape Supply has a Jam Monster 100ML Pick 3 Bundle, which gives you the opportunity to choose three from the many Jam Monster ejuice flavors, totaling 300ML for an unbelievably low cost.