Dating back to 2014, the true beginning of the vaping boom, Keep It 100 Ejuice has delivered in all facets of its vape juice collection, providing a hefty list of the industry's most iconic flavors, yet 'keeping it 100' when it comes to their unique and very distinct tastes. While there are several incredible lines of vape juice available on the market today, Keep It 100 Ejuice has the lowest prices on 100ML chubby bottles and packs the most flavor to keep you coming back for more.
Keep It 100 Vape Juice Flavors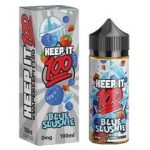 With a flavor that seems almost too saturated, the Keep It 100 brand knew it had to deliver a unique taste, unlike any other, and one that could truly deliver the magnificent flavor found from an authentic Blue Slushie. Providing both the tart and tanginess from delicious blue raspberries that are combined with sweet and luscious strawberries is the only way to craft such a frozen yet fruity mixture of ingredients as an all-day-vape. To give it the refreshingly cool taste that you desire, a menthol base is applied to the brilliant concoction, resulting in an overly satisfying vape that's sure to leave your oral senses urging you to relive the moment.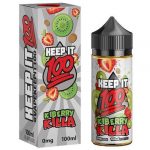 Never ceasing to amaze, Kiberry Killa by Keep It 100 Ejuice is the perfect duo of flavors to enhance your flavor experience. You may have tried some incredible succulent flavors but we promise you've never tasted these two flavors that thrive from one another as the two in Kiberry Killa. This magical combination of flavors consists of delicious saccharine strawberries for an irresistible taste, and a twist of flavorful kiwis to throw your taste buds for a loop of mesmerizing confusion. What's so fascinating about the Keep It 100 Kiberry Killa flavor is its tangy and sweet one-two combination that never vacates without leaving you utterly satisfied.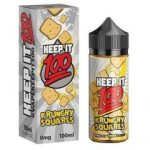 There are several distinct flavors we remember from our childhood, and cereal played a huge part in our memories. While we all had our own favorites, there were none that could outdo that uniquely satisfying taste provided by those Krunchy Squares covered and smothered in cinnamon goodness. Keep It 100 Krunchy Squares is a thrilling taste that's not only familiar but has become one of your all-time favorites throughout your younger days. From the cinnamon swirling throughout your mouth to the delicious creamy milk that mixes so well, you'll know from the very first draw that Krunchy Squares is still your favorite, even in a vape form.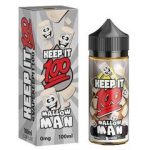 If there's one thing we all can agree on is that vaping sure has allowed us to explore the wonderful flavors of the world without taking on the extra weight and bad health that comes along with those delicious tastes. Desserts are meant to be enjoyed and savored to the fullest extent, and you can do just that with Keep It 100 Mallow Man. It's a fascinating fusion of sugar cookies doused in a creamy marshmallow fluff. Immediately after the first draw, you're amazed by the dominating base of freshly cooled sugar cookies, while the exhale offers a hint of creamy marshmallow remains. It simply doesn't get any better than this delicious dessert that you'll come to know and love.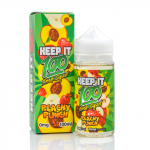 Whether you're resting on an island, feet snuggly drove into the sand and enjoying the scoring glimmer from the sun, or you're at home dreaming of it, Keep It 100 Peachy Punch is the tropical flavor that will bring you one step closer to making that dream a reality. Peachy Punch is a fruit infested concoction that gives you a true outlook on what it means to be purely satisfied. From succulent strawberries, southern peaches, to delicious apples and tangy mangos, you'll be blown away by the sheer depth of this flavor profile. Stop dreaming and bring all of your desires to fruition by enjoying the delightful taste of Peachy Punch.
If there's one thing Keep It 100 Ejuice is good at is making you relive your childhood with its wonderful collection of vape juice flavors. It has yet again brought us around full fold with Keep It 100 Pink Burst, allowing us to relive and enjoy the pink strawberry flavored candies once again. Pink Burst is an exact representation of the pink candies we chose from a stack of others, except now you'll enjoy its satisfying strawberry candied flavor again and again. Keep it 100 and give in to your sweet tooth by leaving your mouth fulfilled with Pink Burst by Keep It 100 Ejuice.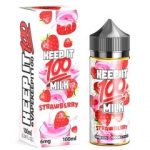 If you can recall the many times of your younger days when you sipped a strawberry milkshake only to give into your tastebuds desires, you would be here all day. Now you can reminisce and smother your taste receptors with a mimicked recipe in the vape form, included with the shivering ice cream and all. Strawberry Milk by Keep It 100 shares an exciting flavor that has gone down in history as one of the most exciting beverages of any kids childhood, delivering a shot of vanilla ice cream and succulent strawberries to result in a blend that's creamy, sweet, and oh so good. There's something about strawberry milkshakes that's captured us all, and this authentic representation of that isn't any different.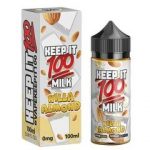 There's no doubting the marvelous taste that almond milk is able to deliver, therefore it was an absolute must to craft an exciting vape juice that included the uniqueness of almond milk and combine it with the soothing taste of vanilla. Keep It 100 Nilla Almond Milk delivers just that, a pairing of flavors that is so incredible you'll want to experience it over and over again. While Nilla Almond Milk hones in on the nuttiness of the almond milk flavor, it's quickly diminished as a stream of creamy vanilla coats your mouth for a full-flavored experience.
Conclusion
Standing before you are a delightful bunch of the industry's most popular flavors, from one of the industry's most iconic brands. Keep It 100 delivers an extraordinary collection of flavors that appeal to many tastes, from fruit to cereal to milk, you can find everything and in between. West Coast Vape Supply, one of the largest suppliers of vape juice, now offers a Keep It 100 100ML Pick 3 Bundle deal, which allows you to choose three of your most favored flavors, out of a selection of six. If you're looking for an exciting vape experience and want that all-day-vape, you'll definitely find it buried within this list of flavors from Keep It 100 vape juice.