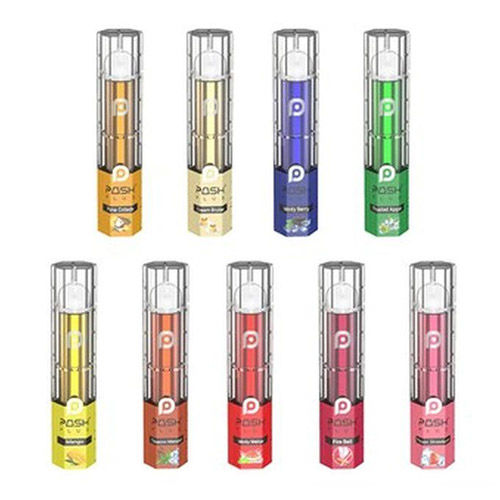 As the vapor products industry shifts gears, disposable vaping devices are taking the lead. In this era of vaping, it's all about disposables for a handful of different vapers. From the beginner vaper that is just going through the motions of switching to vaping, to the mobile vaper that is always traveling, to the experienced vaper that is just looking for something without all the fuss. It's safe to say everyone is diggin' disposable vapes. In this article, we're going to look a little closer as the Posh Disposables.
About Posh Disposables
Giving way to pleasing looks, this cylindrical-shaped tube-style disposable vape delivers all the appeal and just enough thrill. It has a lightweight design, and it's constructed with durable materials to ensure that while you are using it, it can take your daily abuse. With a metallic style and available in nine different colors, you'll find that the Posh Disposable Vape has all the pizazz you're looking for in a temporary vaping device.
What makes the Posh one of the best-selling disposables on the market is a culmination of various reasons, such as the device being completely sealed and ready to use at any time. It features a built-in 480mAh battery that is pre-charged right out of the box. There is no charging required, no maintenance required, and it is as simple as taking a draw and enjoying the flow of flavored vapor.
The best part about the Posh Disposables is its 2ml juice capacity, which provides upwards of 500 puffs, which offers more than a pack of cigarettes. In addition, the Posh Disposables are filled with salt nicotine vape juice with 6% (60mg) nicotine, for those that need a little extra satisfaction from each puff.
Posh Disposable Flavors
Cream Brulee
Created by expert flavor mixologists, Creme Brulee is a flavor that you will want to revisit time and time again. It delivers a creamy taste of cream vanilla and caramel to really satisfy your sweet tooth.
Mango
When you combine the delicious taste of juicy mangoes with refreshing menthol, you get one of the smoothing, most delicious flavors. Each draw will have you feeling as if you were sipping a cold mango beverage on the beach.
Frosted Apple
Imagine a delicious setting of fully ripe apples sliced and diced, then frozen cold to create one of the smoothest, coolest, tastiest vapes on the market. If you are a fan of apple flavors, you will love this one.
Minty Melon
We're sure you've tasted a watermelon vape flavor before but you have never tasted one like this. This deliciously crafted juiced watermelon is bombarded by an overwhelming effect of coolness.
Frozen Strawberry
If you are looking for that summertime feast of fruits, it comes in a vape form with a delicious taste of frozen strawberry. It is ultimately diced, juicy strawberries with a cooling effect to deliver the perfect resemblance of fruity drink.
Mint Berry
Indulge your tastes with this magical tasting vape flavor that combines fresh blueberries with just the right amount of mint. The two flavors come together perfectly to create a super minty refresher vape that you simply can't get enough of.
Pina Colada
While many try to recreate the flavor, very few do it successfully. Posh has created the best Pina Colada vape flavor, and it truly tastes if you are sipping a Pina Colada and resting on a summer beach.
Mint Ice
Although you'll find many flavors in the Posh Disposables line-up, Mint Ice has remained to be one of the most popular. It delivers everything you love about the taste of menthol and mint flavor. It's incredibly refreshing with just the right sweetness.