The SMOK RPM 2 Starter Kit is the next generation of the RPM Series, boasting a two-part design that delivers an incredible structure, a pleasing appearance, a multitude of fascinating features, and a performance offering that will absolutely blow your mind. The SMOK RPM 2 device is the next step in vaping and can easily become your go-to device. If you are looking for the real deal, you have found it in this SMOK RPM 2 Starter Kit Preview.
Since its existence, SMOK has continuously developed top-of-the-line vapor products, each year releasing a new and innovative device or tank to lead the way in the market. The SMOK RPM series of devices have certainly created a large shift in the market, pushing beginners and even veterans vapers to use pod-based systems, and we believe the RPM 2 will continue that trend. To give you a full preview of this remarkable vapor pod system, allow us to share all of its details.
SMOK RPM 2 Starter Kit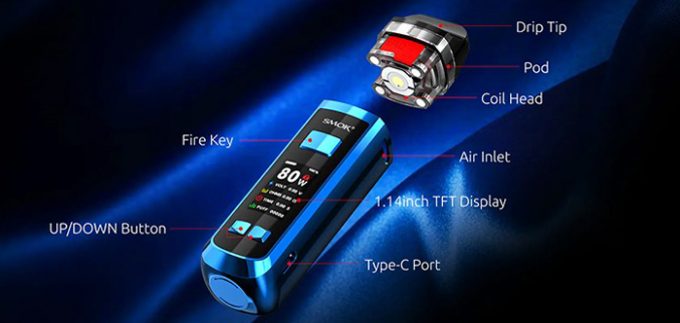 Offering solid durability and a great structure, this zinc-alloy constructed device is built to withstand any abuse you can throw its way. It stands just 108.5mm by 31mm by 28.5mm, giving a clear indication that the device is very compact and very portable. Aside from its stature, the SMOK RPM 2 looks flawless at every angle. It comes in a variety of colors to choose from that all look awesome, and the 1.14″ OLED display screen only enhances the appearance of the device. It uses a single firing button and two adjustment buttons to make appropriate changes and adjustments to features like variable wattage, a puff counter, and screen color, among more.
Additional external features included a Type-C charging port, an optional RPM Pod, or RPM 2 Pod, which offers a large 7ml e-liquid capacity, side fill system, e-juice viewing window, and magnetic pod connection. With easy bottom press-fit coil installation, the device takes advantage of the SMOK RPM 2 Coil Series, which includes the 0.16-ohm RPM 2 Mesh Coil and the 0.4-ohm RPM Mesh Coil, which allows for both DL and MTL vaping.
Internally, the SMOK RPM 2 Starter Kit is bursting with capabilities. You have the ability to range from 1W to 80W by adjusting the wattage. It also supports a minimum resistance of 0.15-ohm and has a firing speed of 0.001s. To power all of these incredible features, the SMOK RPM 2 Starter Kit comes equipped with a built-in 2000mAh rechargeable battery.
Conclusion
If you missed the gun when SMOK released any part of the past RPM Series devices, now is the time to finally get on board with one of the best performing pod systems on the market. However, if you've already joined the bandwagon and have an RPM in hand, the SMOK RPM 2 is the evolved version to grant you greater convenience, more performance, and a device that fits in the new era of vaping.