Feast your eyes on the incredible Asmodus Minikin 2 Mod, a device that delivers an awesome design, feel, and performance!  Unfortunately, many have overlooked the Minikin 2 and it hasn't received quite the attention it deserves, however today I plan to tell you just how great of a device it is in this Asmodus Minikin 2 Mod Review.
GET THE ASMODUS MINIKIN 2 HERE
---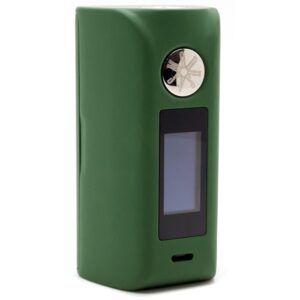 Appearance:  The Minikin 2 by Asmodus looks outstanding in appearance.  It has soft curves, a nice rounded look, and high appeal no matter which color you purchase it in.  It has this soft rubber coating on top of its chassis, there's a nice and large chrome plated round fire button with the Asmodus logo, and it also has a nice 1 inch touch screen display that only enhances the beauty of the Minikin 2 Mod.
Features:  Aside from its dual battery configuration, its one large firing button, its natural rounded contour, and intuitive 1 inch touch screen, the Minikin 2 also delivers 180 watts with its Asmodus GX-180-GT Chipset, along with a full temperature control suite that allows you to take advantage of Ni200 Nickel, Titanium, Stainless Steel, TCR and TFR modes.  Now, the Minikin 2 by Asmodus also has a magnetized battery door, a slew of safety features, and a micro-USB port that allows you to charge the device and upgrade its firmware in the future.  I also want to mention that there is a curve control that allows you to define the power curve in detail — although regular wattage mode is just as satisfying and takes less effort. But, it is there if you want to play around a bit.
Performance:  The Asmodus Minikin 2 Mod performs great, feels great, and I haven't had a single regret of purchasing this device since I received it.  In fact, it's one of my most favored mods I own, and it's also one of the best performing.  It's super easy to use, and I honestly think anyone who picks this device up will enjoy it just as much as I have.