Sharing a unique airflow design, a single coil configuration, and loads of flavor, the Geek Vape Ammit RTA is one you may want to set your sights on.  It may not be geared for the best performance imaginable from a rebuildable atomizer, but it certainly excels when it comes to delivering a satisfying vape with great flavor production.  Check out what I think about it in this Geek Vape Ammit RTA Review.
GET THE GEEK VAPE AMMIT RTA HERE
---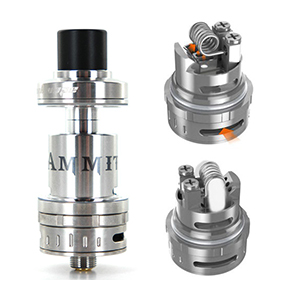 Appearance: The Geek Vape Ammit RTA offers a simple design, nothing flashy or beyond what you typically see from rebuildable tank atomizers on the market.  Really the only thing that separates it from others as far as the outset appearance goes is the large AMMIT name that can be seen through its high-temp silica glass.  If we're talking about how the internals appear, well that's a different story.  It presents a unique design with its deck, and that's all due to its single coil configuration and its unique airflow placement.  Anyhow, there isn't anything to complain about with this RTA, nor is there really anything to brag about.
Features: The Ammit RTA has a few features worth telling about, such as the top fill design, its wide bore drip tip, its adjustable bottom airflow control, its internal bottom airflow and triple side airflow, its two post single terminal per post deck, and its single coil configuration — oh, and it also has juice flow control, which I don't care much for from any take for that matter.  Now, the Geek Vape Ammit RTA does have a 22mm diameter and a 3.5mL e-liquid capacity that's sealed up by a high-temp silica glass tank section.  Other than that and a few minor details, there isn't much more to the Ammit RTA.
Performance: I have enjoyed this tank, using it, and its performance.  It's super easy to build on, super easy to wick, it doesn't leak as long as you wick it properly — although I don't see how you can mess this one up, and it provides tons of flavor while not being too shabby with its vapor production as well.  Again, when it comes to the performance of the Ammit RTA, I have nothing to complain about, but I would like to point out that this is a simple RTA to use and it does perform great for a single coil build deck.