Though the Aspire BDC eGo Clearomizer may look very familiar, its performance is more than likely beyond what you've experienced in the past. This is honestly the first time that I can say I have found the perfect clearomizer. Sit back and relax, because this is one product review you must read.
Packaging
Although pictures show us a nicely printed box to display the Aspire Clearomizer, it unfortunately didn't come with one. As you've always heard though, don't judge a book by its cover. The Aspire came in a plastic cellophane that didn't present it well, but trust me, for this product I'm more than pleased to look past its cheap way of packaging.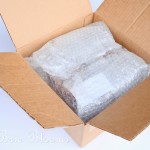 However, after actually using the Aspire, I feel that its cheap packaging doesn't deliver the justice it truly deserves.
As an additional item, I was sent a 5 pack of Aspire replacement coils. From what I understand, the Aspire replacement coil not only fits the Aspire eGo Clearomizer, but it also fits all other Aspire clearomizers, such as the Aspire BDC 510 Clearomizer, Aspire Vivi Nova BDC Clearomizer and Aspire Vivi Nova-S BDC Clearomizer. Unlike my Aspire's lack of packaging, the Aspire replacement coils come in a small black box with the Aspire logo's printed all over.
Appearance
Remember when I quoted the famous old saying, don't judge a book by its cover? – Well, that is said very firmly because it's easy to do with so many similarities to the old CE5 Clearomizers that once boomed the e-cigarette market.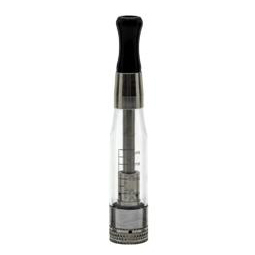 Though the CE5 clearomizers were once popular, that doesn't mean they've left a delicious taste.
The Aspire BDC eGo Clearomizer looks about like any other CE5 Clearomizer in terms of styling, but that is where the similarities end. What looks different is the internals. Instead of seeing strands of wicking material, you'll see the long post that stretches from the bottom to the top, like any other clearomizer, but at the bottom there's a small metal tube that is larger in diameter than the center post. This small metal tube is where the magic happens, it's the coil completely enclosed and not displaying any wicking material. However, there are 2 holes on each side where the e-liquid will enter to reach the coil.
Another similar piece you'll find is the mouthpiece, but there's more to it than what meets the eye. To keep up with what consumers want, which is to be able to make their clearomizer unique and not like every other, they've made the mouthpiece removable, which is a 510 drip tip. This is a great addition to a clearomizer we've all remembered as not having a removable drip tip.
Performance
For my first impressions, filling the Aspire was of course easy, and enjoying that first pull of absolutely no wicking issue was just as easy. From the start of using the Aspire, I've been nothing short of happy.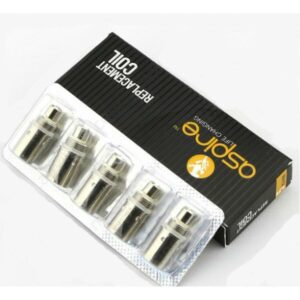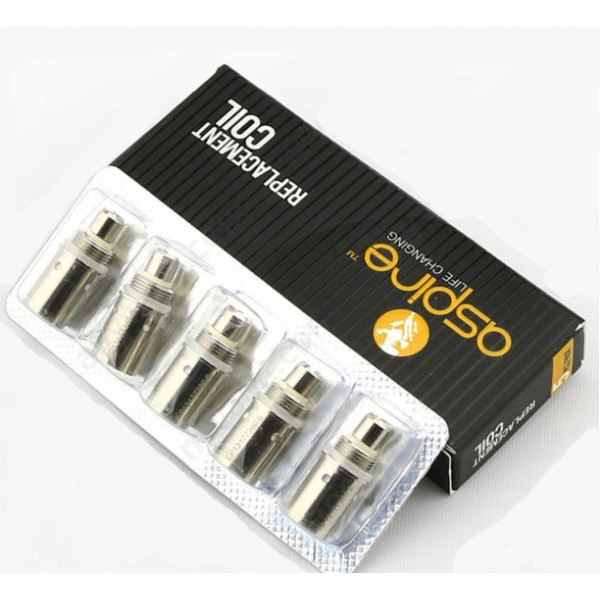 Since it's a bottom coil clearomizer I'm satisfied, but for it to wick perfectly and consistently throughout this whole time of using it, I'm completely ecstatic. To top it all off, the dual coils give me a nice thick volume of vapor to fill a room.
The airflow is perfect and smooth; not too airy and not too stiff. I don't mean to go all little red riding hood on you, but this bowl of Aspire goodness is just right. Not that there is anything different about the actual shell of the clearomizer, but I get a nice and clean taste from it. I'm leaning towards the constant and even wicking that makes it taste and vape so well. For this particular product, appearance nor packaging even matters when you have something that performs as good as the Aspire BDC Clearomizer does.
Conclusion
Overall, I'll just come right out and say it… this is the BEST clearomizer I've ever used. I have nothing negative at all to say about it. It delivers an outstanding experience, producing a lot of vapor, wicking perfectly and consistantly and a great taste. All of this with a familiar and simple appearance that just gets the job done. It looks like China finally got it, the perfect clearomizer. Need I say more?
Interested in the Aspire BDC eGo Clearomizer? Just visit www.SureVapes.com