While the Aspire brand may not have been leading the market within the last year, it's definitely setting itself up for even greater success than its already seen with its most recent release, the Aspire Skystar 210W Starter Kit. Aspire made a name for itself throughout its time with products like the Aspire Pegasus, CF Mod, Nautilus, and the more recent Aspire Breeze Pod System. Now it's taking its design and development game to a whole new level with the Skystar Starter Kit, which combines the Aspire Skystar MOD with the Aspire Revvo Sub-Ohm Tank. It's truly a pairing that you've got to experience to really understand how outstanding these two perform together. Until then, let us tell you all about it!
Meet The Aspire Skystar Starter Kit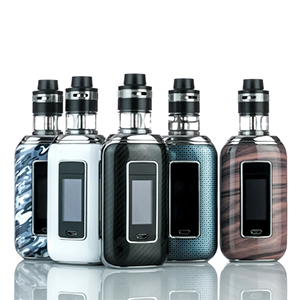 Available in five luxurious finishes, the Aspire Skystar MOD delivers a stunning appearance. Its frame is chrome while its shell is offered in a variety of different finishes, including Black Carbon Fiber, Blue Camo, Slate Blue, White, and Woodgrain Effect. It's made of a lightweight material and features a compact design. Though it doesn't compete with other larger mods when it comes to size, it does offer a large 1.3-inch touchscreen with automatic display adjustment. You'll enjoy features like an individual battery life indicator, real-time clock, and other selections. The backside of the device has a magnetic battery door that has the capability of holding dual 18650 batteries. Charging is rather easy, and quick with the 2A micro-USB port that allows you to also update the firmware in the future. Furthermore, the Aspire Skystar MOD has a reach of up to 220 watts and can fire down to 0.1 ohm. Lastly, the Skystar Box MOD comes packed with temp control, which supports ni200 nickel, titanium, stainless steel 216, and has several other features like CPS (Customizable Power Settings), preheat functionality, and adjustable TCR.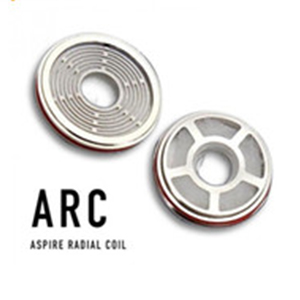 Paired with the Skystar MOD is the Aspire Revvo Tank, a highly impressive sub-ohm tank that delivers incredible flavor and loads of vapor. It's constructed of stainless steel and glass and offers a 24mm diameter. At the top, there is a drip that acts as a drip cap, and sports a large 12mm wide bore. Just below you'll get to enjoy a threaded top fill design, while the tank itself has a 3.6ML e-liquid capacity. For superior vapor and balanced flavor, the top also has a triple adjustable airflow control with 10.5mm by 2.5mm each air slot. Lastly, this incredible tank gets its wildly amazing performance from the ARC (Aspire Radial Coil) Coil Family, which is a flat coil with a horizontal orientation, using Kanthal wire and organic cotton. The coil ranges from 0.10 to 0.16 ohm and can reach up to 100W.