Advancing itself even further than ever before, SMOK continues to dominate the market with innovative and very eye-catching designs like the new SMOK Resa Stick Starter Kit. It's a clever and highly appealing combination of the beautifully crafted SMOK Stick Resa Battery and the perfectly paired SMOK Resa Baby Prince Sub-Ohm Tank. This spectacular duo delivers impressive looks and an incredible performance from a highly advanced tube style device.
Meet The SMOK Resa Stick Starter Kit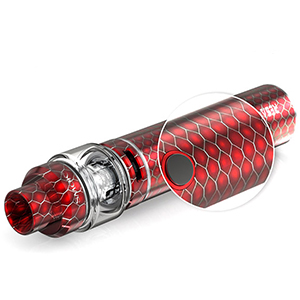 The SMOK Resa Stick Battery features a compact design, standing only 83mm tall and just 25mm in diameter. For its appearance, it uses SMOK's highly successful cobra resin design, making it one of the most appealing devices in its class to ever hit the market. Aside from its blistering appearance, it boasts a stainless steel 510 connection on the top and uses a single button for its operation. In addition, you'll enjoy a direct voltage output as a result of the built-in 2000mAh battery that's capable of delivering up to 4.2V. Alongside the battery are an intelligent battery life indicator, a micro-USB charging port, and a slew of safety features, including low resistance protection, short circuit protection, and low voltage protection.
Matching precisely, the SMOK Resa Baby Prince Tank has just as much to offer, starting from its appearance. It matches perfectly with the SMOK Resa Stick Battery, adopting the same cobra resin design and color. Furthermore, it's constructed of stainless steel, glass, and of course that resin layer, meaning it shares great quality, high durability, and it helps reduce heat. The SMOK Resa Baby Prince Tank also has a top fill design with a rotary style design, while its tank has a 7.5ML e-liquid capacity. You'll also notice a large central airflow chamber, dual adjustable airflow control at the bottom, and a wide bore cobra resin drip tip at the top. Lastly, the Resa Baby Prince Tank utilizes the new and improved TFV8 Baby Beast Coil Heads, allowing you to experience the Baby Mesh Coil and the Baby M2 Dual Coil.