While scrolling around different vape sites, I found something that really caught my eye. It was a round metal object made to hold 510 atomizers, cartomizers, clearomizers and tanks of all sorts upright. What really pulled me to this product was due to my on-going vape decor – a wall I've filled with vaping devices and accessories as a show off piece. Today I'll be reviewing Atomizer Seats from 101Vape.com.
Appearance
The Atomizer Seat is about 22mm at the top base, and around 3/8″ in height. These "seats" come in many color options, like silver, blue, pink, green, black, yellow, red and light blue. At the top of the seat is a 510 threaded hole to screw your 510 atomizers in. Flipping the seat upside down, there is a small ring around the edge and in the center, the 101 Vape logo. They're so simple, yet they look absolutely great with any atomizer you may have.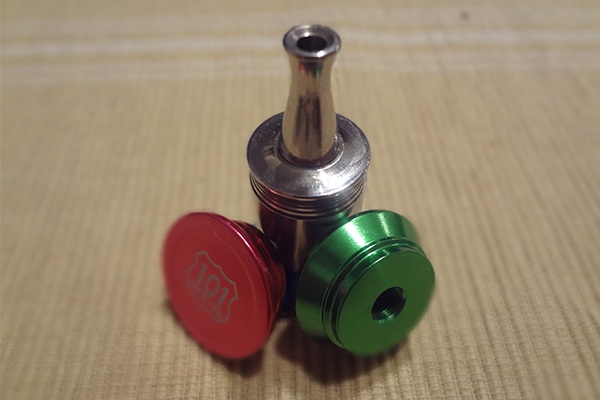 Quality
The finish seems to be an anodizing, the metal feels a bit soft and light. The 510 threading has a smooth feel and easily accepts any 510 connector (does not fit eGo clearomizers). With every atomizer and clearomizer I've used with these atomizer seats, they've screwed all the way down leaving no gap between the device and the base. The atomizer seat is also made wide enough where it will not easily turn over with even the largest atomizers. These atomizer seats are perfect and serve a huge purpose in my atomizer collection.