At this point in the life of a vaper, you've probably owned a few personal vaporizers and chances are, you've collected quite a few batteries to power them.  We all like to take safety seriously when it comes to our electronic cigarettes and with the recent media scare of this year, the batteries have really become a focal point. I for one have become more aware of things like making sure I don't leave my battery unattended while charging, inspecting the batteries a bit more often and verifying that I have sufficient vent holes in the devices I use.
The batteries we use need just as much attention while they're out of our device as they do in. For those of you who just leave your batteries lying around any way or anywhere, I've found just the perfect accessory to tighten just that much more on battery safety …and at a very low-cost!
RTD Vapor, a very popular shop in the electronic cigarette scene known for its huge selection of everything batteries and accessories was noticed and awarded "Best Prices on Batteries" in last year's GuideToVaping's Best of 2011. Being that RTD Vapor focuses so much on batteries, I had to ask why…
I wanted to provide a store that offers all of the higher quality batteries in one place. Also, providing customers with a good battery at an affordable price is very important. I am a firm believer that safe vaping starts at your battery and charger!

Randy Davis – RTD Vapor Owner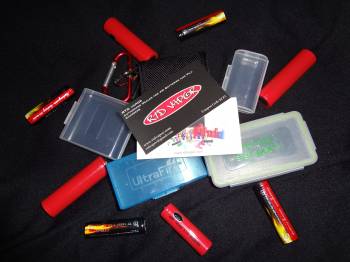 Product: I was sent 7 battery boxes with names such as UltraFire, Xtar and Cell Box. A few of these battery boxes was battery specific holding 18650 IMR, 18650 Protected/Unprotected, 14500 IMR and 14500 Protected/Unprotected. However, its common sense that you can also fit other sized batteries in some of these battery boxes.
Nylon Battery Case with Carabiner: If you're using a device like the Cherry Bomb or any other 14500 device, then this is an awesome case to have. It's a safe place to store your extra 14500 batteries and looks cool at the same time.
The Cell Box: I've found this box to be about as durable as the Xtar case. It has 4 latches on it and it also has a rubber seal on the lid to assure no way of any liquid to enter the box. Out of all the cases, I believe I like this one the best. This box is for 18 series and below batteries.
Xtar Battery Case: This case is fitted for your 18 series batteries. I like this case because it's very durable, a harder plastic than the UltraFire case and doesn't allow the batteries to slop around inside.
UltraFire Battery Case: This case is fitted for your 18 series batteries. It isn't near as durable as the Xtar case, but it's definitely built well and serves its purpose.
Clear Protected 14500 Battery Case: This case holds 4 14500 batteries, but is a bit less durable than the Blue IMR 14500 battery case, only because it isn't fitted or doesn't have it's own slots for the batteries. 14500 IMR batteries will also fit in this case.
Blue IMR 14500 Battery Case: This case is great for holding your 14500 IMR batteries. It's durable because it has its own slots on the inside. This case holds 4 IMR 14500 batteries. 14500 Protected batteries will not fit in this case.
Clear IMR 14500 Battery Case: This case holds 2 IMR 14500 batteries. The case is nice because it's pretty small and with its small size and shape makes it a bit more durable. This case will not hold Protected 14500 batteries.
Some of these cases have a much thicker plastic than others, which isn't a big deal. The point is to have your batteries stored somewhere where they aren't floating around. See below for more safety information.
Safety: You don't want batteries touching end to end for storage. Touching side to side is ok. The main concern is not to store batteries loose and floating around. This will raise the risk of a battery failure greatly.
Batteries touching end to end makes them prone to discharging. They can become unsafe if mistreated continually. Shorts, overcharging, low discharging, and improper storage will stress a battery and create an ideal environment for failure.

The biggest problem I see all of the time is people throwing batteries in their pocket or purse loose. Their pocket/purse may have change, keys or something else metal in there. The batteries come in contact with the metal and short out. This results in a thermal event that is not pleasant. A cheap plastic battery case could have avoided the problem.

Randy Davis – RTD Vapor Owner
Price: The prices are exceptionally low, especially for the reassurance in safety that you get. With the highest priced battery case only reaching a small $2.86, I feel if you're looking to upgrade your safety, this is the best bang for your buck.
Opinion: In my opinion, these battery boxes are a must have if you're looking to tighten down on safety. Not only are you organizing your batteries, but you're also adding a level of protection and reassurance for them also. The only reason I can come up with of why I haven't already purchased these boxes is because I mainly just wasn't aware of them, nor the added layer of safety they provide. I'm glad I am now aware of them and thrilled I can share this knowledge with the rest of you.
If you're interested in more products from RTD Vapor, please visit www.rtdvapor.com