As great as 2018 was, 2019 is here and it comes packed with a whole new list of sub-ohm tanks on the market. In today's article, we're going to list the Best Sub-Ohm Tanks of 2019, along with telling you why the tank made it on our list, as well as sharing the many features that make it such a great one to own. Since we're in the early part of the year, we're sure this list will change, and when it does, be sure you're subscribed to Guide To Vaping to find out. We're certain that some of you may agree or disagree with this list, but there's simply no denying the impact that all of these tanks have created thus far. We hope you enjoy reading, and we also hope you discover a new tank to add to your growing arsenal.
The Uwell Crown 4 Tank is something that everyone is familiar with, or at least should be. It's a sub-ohm tank that is constructed of stainless steel and pyrex glass materials and features a bubble glass that has a massive 6ML e-liquid capacity. There are tons of features that make this tank one of the best, which is why it's the first to join this list. It has a quarter turn threaded top refill system, self-cleaning technology, a patented pro-flavor optimization core system, and a dual knurled adjustable airflow control ring. With a large 28mm diameter, the Uwell Crown 4 Tank is exposed to a heap of features that can utilize the space, aside from its large e-liquid capacity. For instance, it uses the Uwell Crown 4 Coils, which are large coil heads designed strictly for the best performance. The tank is also available in a special edition version called the Uwell Project Sub Ohm edition, both versions include the 0.2-ohm Dual SS904L Coil that's rated for 70-80W and the 0.4-ohm Dual SS904L Coil that's rated for 60-70W. There are also optional coils that are sold separately, such as the 0.25-ohm SS304 UN1 Coil that's rated for 55-65W and the 0.23-ohm FeCrAl UN2 Coil that's rated for 60-70W.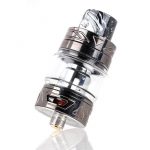 While some may disagree that the UForce 2 Tank deserves to be on this list, we think otherwise. It isn't that this tank completely abolishes all others on the market, it's that the VOOPOO UForce 2 Tank has become a super popular tank due to the rise of the Drag 2 and Drag Mini Starter Kits. These are two of the most popular starter kits on the market, and the VOOPOO UForce 2 Tank comes included. To the surprise of many, the UForce 2 Tank is actually one that's able to easily compete with the leading tanks on the market due to the variety of performance-driven coil options that it offers.
The UForce 2 Tank is a sub-ohm tank that delivers a fascinating amount of features. It has a massive 28mm diameter, which allows for a massive 8ML e-liquid capacity. Constructed of superior 304 stainless steel and pyrex glass materials, you'll find that the UForce 2 Tank meets the satisfaction of durability. At the top, it has a 14mm resin wide bore drip tip that's available in different colorways, and the bottom sports precision triple auxiliary bottom airflow control. What's special about the VOOPOO UForce 2 Tank is its design, which has a quick vent channel design for rapid heat discharge, and a short chimney, making this tank very flavor-focused. The UForce 2 Tank is also highly recognized for its use of the VOOPOO UForce Coils, that feature OCC Coil Technology, which consists of the 0.2-ohm N2 Dual Mesh Coil that has the capability of supporting 65-100W.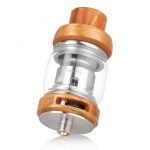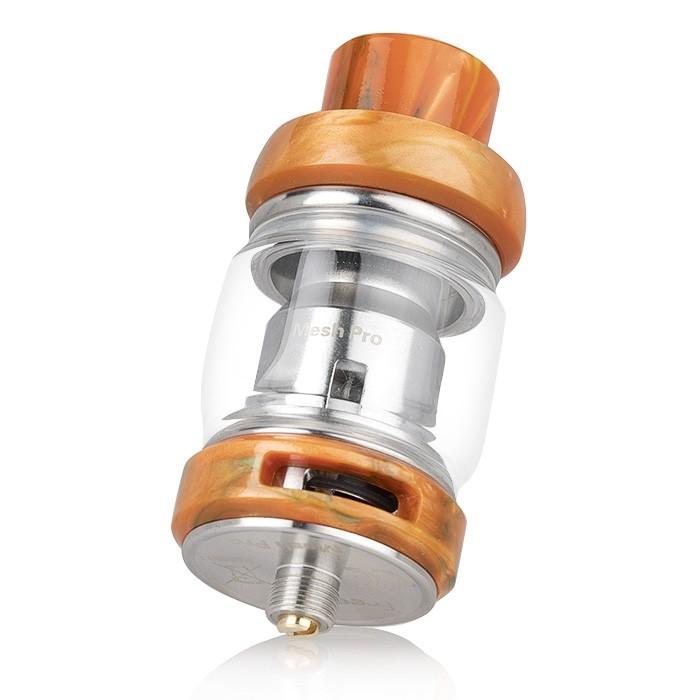 There's no doubt about it that the FreeMax Mesh Pro Tank deserves to be on this list of best sub-ohm tanks for 2019. It's not only one of the most popular tanks, but it's also one of the most favored for its flavor output. It was one of the first mesh tanks and continues to exceed expectations with each version added to the series. The FreeMax Mesh Pro Tank is just the latest version of the FireLuke. The Mesh Pro Tank by FreeMax features amazing quality, utilizing both stainless steel, resin, and pyrex glass for its actual tank portion. The tank is a mere 25mm in diameter and offers a rather large 6ML e-liquid capacity. It has a push-slide top fill system and has incredible airflow from an 18mm wide bore 810 drip tip and dual bottom adjustable airflow control. There are three editions to this tank that you can enjoy, the metal or resin version, and there's even a carbon fiber version. The most awe-inspiring part of this awesome tank is the FreeMax Mesh Pro Coils system, which consists of many coil options. Included with the FreeMax Mesh Pro Tank is the 0.15-ohm Kanthal Single Mesh Coil that's rated for 40-70W and the 0.2-ohm Kanthal Double Mesh Coil that's rated for 60-90W. Additional options include the 0.15-ohm Kanthal Triple Mesh that's rated for 80-110W and the 0.12-ohm SS316L Single Mesh Coil that's rated for 400 to 550 degrees.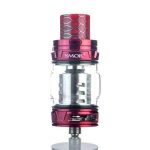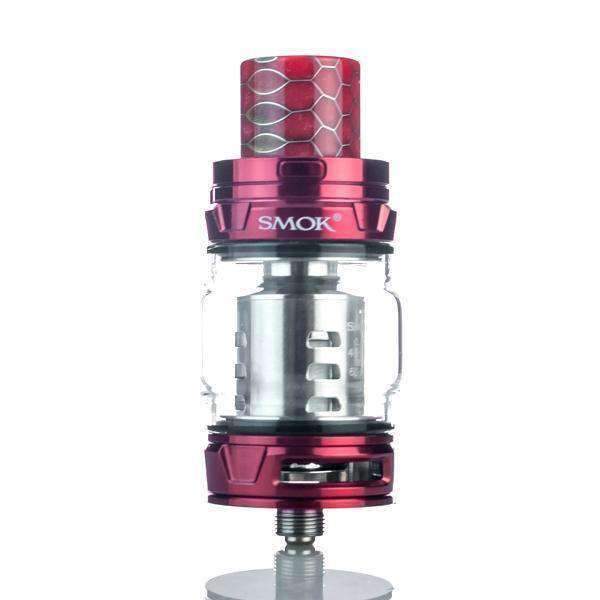 While it isn't the most popular on our list, everyone can agree that the TFV12 Prince Tank and the SMOK TFV12 Prince Cobra Edition is one of the best sub-ohm tanks of 2019. It was introduced to the market in 2018 and still to this day remains to be a leading sub-ohm tank due to the sheer performance and appeal that it provides. Even better, there's a SMOK Resa Prince Cobra Edition that looks simply amazing. The TFV12 tank offers incredible durability, utilizing stainless steel materials and high-grade pyrex glass for the actual tank portion. It has a 25mm diameter, allowing for a massive 8ML e-liquid capacity, which is mostly due to the bubble glass that it uses. The top sports an 810 Cobra resin ultra-wide drip tip, just below that is a top-fill rotary design with a lock button mechanism, and then at the bottom, there is a massive dual adjustable airflow control. Aside from the looks, the big reason this tank has become so favored is all due to the performance-grade TFV12 Prince Coils Structure, which includes the 0.12-ohm V12 Prince-T10 Decuple Coil, the 0.15-ohm V12 Prince -X6 Sextuple Coil, and the 0.4-ohm V12 Prince-Q4 Quadruple Coil.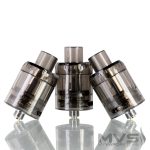 Believe it or not but years ago, disposable tanks were in, and as new non-disposable tanks emerged, the use-it-and-toss-it idea was left in the wind. Supposedly, disposable tanks are now making their way back into the limelight as a new generation of sub-ohm tanks makes their way to the market. The Sikary Nunu Disposable Tank is one that has captured tons of attention as of late, and it's for several reasons, including the ease of use, simplicity and more. Though there are many extraordinary tank options on the market that you would feel offer a better fitment into our list of best sub-ohm tanks of 2019, we prefer it to be here since it offers something different for those who want something that's easier to use, disposable, and affordable while still providing the same performance as you would get from some of the more recognizable tank options.
To give you a little bit more insight into the Nunu Disposable Tank, it has a 24mm diameter, it's just 40mm tall, and it's constructed entirely of acrylic, aside from the coil head and gold-plated contact. Utilizing the space, this tank offers a large 3ML e-liquid capacity and a top fill system that has a silicone fill port for a hassle-free experience. At the top, you'll notice a 9mm bore 510 drip tip, while the Nunu Disposable Tank also includes dual adjustable airflow control via 8mm by 3mm air slots. Doing the grunt of the work is the built-in 0.15-ohm Mesh Coil, which supports a 40-70W recommended range and delivers both incredible flavor and extraordinary vapor production. The tank is completely disposable, allowing you to fill it 4 to 5 times, then dispose of it to refresh your experience. The Sikary Nunu Disposable Tank comes in a 3-pack is available for a super affordable price.