Over the years the vaping industry has certainly changed quite a bit. Mouth-To-Lung vaping has become a popular style of vaping throughout the years, and with that, Vape Pods were sure to follow right along to enable that style of vaping. In this article, we're going to share with you the top 5 best vape pods for MTL vaping in 2018, so that you're able to identify which is the best vape pods for that restricted, satisfying vape you only receive from these miniature vape pods.
When you finish with this article, we encourage you to check out our Top 10 Best Vape Pods For Nicotine Salt E-Liquids, which has become a huge hit amongst the vaping community. The article has received over 70 thousand views from people all around the world, and they've been able to benefit from the in-depth information we provided in the article, covering some of the industry's best vape pods that were designed for vaping nicotine salt e-liquids. Check it out if you have some free time, we're sure you'll find something in the two-page list we've constructed for you.
---
The Top 5 Best Vape Pods
We've carefully selected a very diverse list of the best vape pods that will meet and exceed all your expectations. While pod systems may feel simple when you look at them or use them, there's a lot that goes into these miniature devices that separate them from others on the market. The appearance, shape, battery, pod, and performance are all features that will greatly affect your experience, so it's a must that you choose from only the best vape pods, which is sure way to set yourself up for success. Whether you're on the prowl for a refillable pod, an automatic device, one that has a manual draw, or simply one that will perform up to par, we're certain you'll find exactly what you're looking for in this list of the top 5 best vape pods for MTL vaping!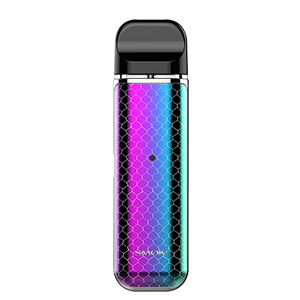 The new SMOK Novo Vape Pod Kit is the first to join this list due to its very appealing appearance combined with incredible simplicity. Often times you'll notice devices that have been designed to be simple will also be simple in its appearance as well. The Novo Vape Pod Kit breaks away from that trend, focusing on its look, its overall simplicity when it comes to functionality, and maintaining a stellar performance.
SMOK is widely known for producing some of the industry's most iconic products, and some of the best selling as well. They've gained a solid track record from all categories, spanning from looks to the way they perform. The SMOK Novo Vape Pod Kit carries the same traits, delivering an impressive appearance with cobra plated panels. Its body is rather compact as well, making the device very comfortable to hold or stow away in a pocket or handbag. Its size and appearance aren't really the parts of this device that make it such a fascinating one — it's the additional features that do. For instance, it's an all-in-one device that has a fillable pod system with a 2ML e-liquid capacity. The pod system is air-driven and has a horizontal coil atomizer that's permanently in the pod and can't be replaced — the pod can be replaced, however. What's also great about the SMOK Novo Vape Pod Kit is its compatibility with regular e-liquid and salt based nicotine e-liquid.
The performance of the SMOK Novo Kit is equally as impressive, as it's equipped with a 450mAh rechargeable battery that has the capability of delivering a 10-16W output utilizing a direct voltage output. Harnessing its power isn't much of a task since it utilizes a draw-activated firing mechanism, which results in effortless vaping. Safety has always been a concern when using an electronic device, especially one that's sitting so close to your face. For this reason, SMOK made sure it manufactured the SMOK Novo Vape Pod Kit with a full protection suite, which includes an 8-second cutoff protection, short-circuit protection, and low voltage protection.
GET THE SMOK NOVO VAPE POD KIT HERE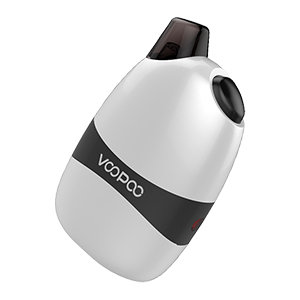 Incredibly unique to the point where it isn't like any other device you've seen, not in the slightest, you can rest assured with the VooPoo Panda Vape Pod Kit you're getting a device that's based on innovation. It's become a trend that's been glued to the VooPoo brand, as they're known for producing some of the industry's most far-fetched products. Not sticking to the ordinary style of vapor products, it has separated it from other brands on the market, giving it the edge — and that's what vapers of today often crave, uniqueness.
What's so fascinating about the VooPoo Panda Vape Pod Kit is its incredible appearance, its comfortable shape, and the appealing style that it delivers. It doesn't have the traditional box or stick shape, but instead offers a full rounded body, smooth curves, and no lines that keep it on a straight and narrow. Keeping a minimalistic look, there are 5 very subtle color options, which include Black, Champagne Gold, Gold, Red, and Sliver. While the device is automatically controlled, you must appreciate its oversized firing button, which rests towards the top of the device. This single button will allow you to choose when and when not to activate the device for use, rather than rely on an often delayed airflow activated sensor.
While its high appeal and large firing button may seem like this is all the VooPoo Panda Vape Pod Kit has to offer from first impressions, there's so much more. For instance, it being an all-in-one pod system with refillable Panda Pods is something noteworthy in itself due to the pods offering a large 5ML e-liquid capacity, which is much greater than your typical pod system. These pods are replaceable, they're bottom filled and come with an integrated atomizer coil. There are two pod types to choose from and are both included in the kit. This is one of the best features of the VooPoo Panda Vape Pod Kit, as it embodies versatility, allowing you to use either nicotine salt e-liquids or regular e-liquids to fit your preference. The Nicotine Salt Pod is 1.2-ohm, utilizes organic cotton, and can reach up to 8W. The regular E-Liquid Pod is 0.8-ohm, also utilizes organic cotton, and can reach up to 12W. Both pod types deliver an extraordinary amount of vapor and with the use of the organic cotton, you're sure to get a clean, pure, and smooth flavor output with each use.
To deliver its power, the VooPoo Panda Vape Pod Kit comes with an integrated 1100mAh rechargeable battery, which was designed to deliver all-day vaping satisfaction. Many pod systems today will often come with a small battery to ensure it maintains a minimal size, however, the Panda Vape Pod Kit still delivers a compact, appealing, and very comfortable device, and still utilizes a large battery. If the Panda Vape Pod Kit is going to offer it all, it also needs to include extensive safety measures, so VooPoo chose to include Switch Timeout Protection, Short Circuit Protection, Overcharge Protection, and Over Discharge Protection to ensure peace of mind when using this brilliantly crafted all-in-one pod kit.
GET THE VOOPOO PANDA VAPE POD KIT HERE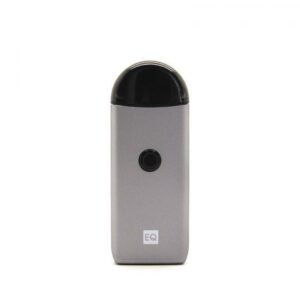 Innokin is touted as one of the best brands in the business due to several reasons. For starters, it's become an innovator in an industry that's overcrowded, and it's also gained quite the reputation for manufacturing high-quality products. Although Innokin is typically late when it comes to trendy products, it's often with good reason. It takes what's already present in the market and improves on it by giving it many of the characteristics that Innokin is known for, such as quality, design, technology, and performance. Its latest example of this is a newly released device that enters Innokin into the pod-based market. The Innokin EQ Vape Pod Kit is a fascinating all-in-one pod system that houses both Innokin's tech and its creative improvements, which is why we think highly of the brand and the new EQ Vape Pod Kit.
Creatively engineered to shock the market, the EQ comes in with a bangin' appearance that's appealing, yet simplistic in design. While its compact body may not seem like the most sophisticated pod kit available, you've got to hear what all this baby is packin'! For starters, it has an aluminum alloy construction, which is durable sound and can withstand the course of time. Aside from quality, it utilizes a magnetic replacement pod system that has a 2ML e-liquid capacity. The pod is bottom filled, has two fill ports, and it's as simple as turning the base to fill the pod. Fitting comfortably on this list, the EQ pod has a built-in Plexus EQ Coil, which is a 0.5-ohm Mesh Coil that's designed strictly for Mouth-To-Lung (MTL) users. The advanced EQ coil will deliver a stellar flavor output and an incredible vapor production, making it one of the best performing pod kits on the market. Even more impressive, the Innokin EQ Vape Pod Kit has an integrated 800mAh rechargeable battery and can be charged via the micro-USB port positioned on the device. For a clear indication of when the battery needs to be recharged, there is an LED battery life indicator on the EQ, which will display white when you have full power and red when you have low power.
Enhancing the performance, even more, the EQ is the only pod-based device that offers dual power modes, which allows you to cycle from Regular Mode that will produce 13.5W and a Boost Mode that will produce up to 15.5W. Maintaining its simplicity, it's as easy as pressing and holding the fire button to change the power mode.
GET THE INNOKIN EQ VAPE POD KIT HERE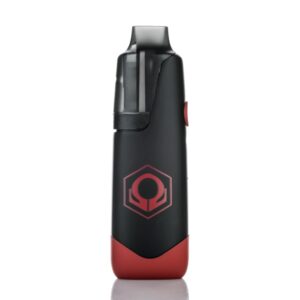 From one of the industry's most reputable brands, Craving Vapor has created yet another brilliantly executed device and this time it's the Craving Vapor Jynx Vape Pod Kit. Craving Vapor gained its fame from manufacturing one of the most iconic devices on the market, the HexOhm series of mods. They've become a well-established brand through their manufacturing capability and their ability to provide an excellent series of devices that have gone down in vaping history. Not only have they created one of the best devices of all time, but they've also created a line of e-liquid baring the name. Craving Vapor has continued to express their manufacturing talent by entering the pod-based market with a stellar new vape pod kit with an intriguing appearance, simple operation, and a performance that fits perfectly with Craving Vapor's reputation through past products.
Boasting incredible appeal from a black and red theme throughout its body, the Jynx Vape Pod Kit is certainly something worthy to look at, and own. It uses a quality lightweight material while maintaining a compact design so that the device is super portable and very comfortable to hold. The top consists of a mouthpiece that also acts as the actual pod. It's see-through, which will allow you to view your current e-liquid level at any time. The pod features a plug and play connection with a gold plated proprietary connection, and the pod is also refillable. The refillable Jynx pod system has a 2ML e-liquid capacity, ensuring plenty of vaping time between refills. The coil inside the mod is a titanium coil with a 0.25-ohm atomizer resistance, meaning it will perform extraordinarily well when combined with the Jynx's direct voltage output. Touching more on the performance while dabbling into its battery life, the Craving Vapor Jynx Vape Pod Kit comes with an integrated 1100mAh battery and can be easily charged with the micro-USB charging port equipped on the device. So that you know when it's time for a fresh charge, the Jynx also included an LED battery life indicator. Operating the Craving Vapor Jynx device is rather simple and designed to be very user-friendly since it only comes with a single button that will allow you to activate and fire the device with a simple press of the button.
GET THE CRAVING VAPOR JYNX VAPE POD KIT HERE
5. Aspire Spryte Vape Pod Kit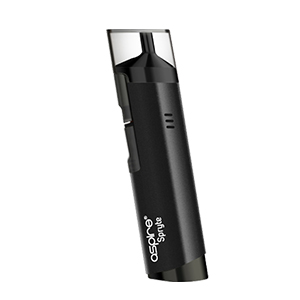 Aspire is yet another fascinating brand that exists within the vaping industry. It has become a worldwide leader for manufacturing many of the industry's most popular vapor products, and they've just recently stepped into the world of vape pod systems due to its immediate popularity and sudden growth. Aspire has also become a legend from creating its BVC (Bottom Vertical Coil) Technology Coils, and with its latest release, it adopts those favored coils by integrating them into its vape pod system, which is the Aspire Spryte Vape Pod Kit. The Aspire Spryte also already gained tons of attention and favored by many even though it has only been on the market for a short time. Its unique design, compact size, and amazing performance have boosted its popularity immensely, and now it's considered as one of the best vape pods for MTL vaping.
Perfect in every sense, the Aspire Spryte is an outstanding vape pod kit to own and use. Its appearance is unique and fresh, and it offers tons of appeal through its design and from its many finish options, which includes Black, Blue, Grey, Olive Green and Pink. The device is compact, super portable, and eliminates any hassle of carrying it with you in a pocket or handbag. It's truly the perfect on-the-go vape pod kit that lives up to the Aspire brand name. You'll first notice at the top its refillable pod system that has a proprietary connection, bottom filled, and has a 3ML e-liquid capacity that should offer longer vaping sessions between refills. To enhance its performance, the Aspire Spryte utilizes bottom adjustable airflow, which is located just under the replacement pod. What's most impressive about the Aspire Spryte Vape Pod Kit is its use of the Aspire Spryte Coil Family, which consists of a regular BVC coil head with a 1.8-ohm resistance, and a BVC coil designed for nicotine salt e-liquids that's 1.2-ohm and able to reach up to 12W. Using both coil options works perfectly for those who prefer MTL vaping, making this device a great choice if you're looking for the best vape pods for MTL vaping.
The Aspire Spryte, though very easy to use, features a single firing button with a 12W output range. It comes with an integrated 650mAh rechargeable battery and can be charged via an equipped micro-USB port. An LED battery life indicator is also present on the device, easily notifying you whenever the device needs a fresh charge. Like most reputable manufacturing brands, Aspire has also thought to include a fill protection suite to protect both you and the device at all times. These protections include automatic cut off, short circuit protection, low voltage protection, overcharge protection, and overheat protection.