In this addition to our Product Watch category, we're going to share a first look at the world's first ever top-filled squonk mod. The DOVPO Topside Top-Filled Squonk Mod is a new work of art that is the result of an extraordinary collaboration between the DOVPO manufacturing brand and The Vapor Chronicles. These two put their skill sets together and created one of the industry's most innovative devices, which is perfect for those who enjoy squonk mods and greater convenience than what's commonly offered on the market. Ultimately, what this device does is allow you to fill the onboard e-liquid bottle from the top of the device, without ever having to take it out of the mod. This not only prevents common messes and the hassle of squonking, but it removes a step in the process, which makes squonking easier and much more enjoyable.
The DOVPO Topside Squonk Mod
Far from your ordinary squonk mod, the DOVPO Topside is in a class of its own. It's constructed of several materials, including zinc alloy, aluminum alloy, and stainless steel, all used to give the device the best quality and durability. Its appearance is outstanding, featuring a brilliant curvy design and two color options of black and red. On its control face, you'll notice a large firing button at the top, a 0.96″ OLED display resting just below, some ventilation, and then two adjustment buttons that will allow you to control the device.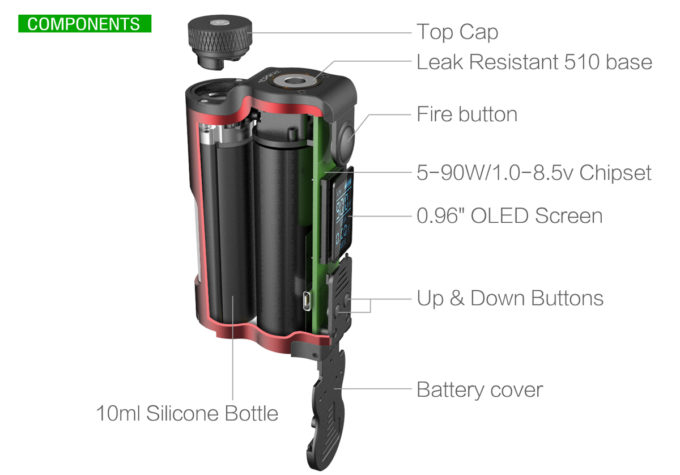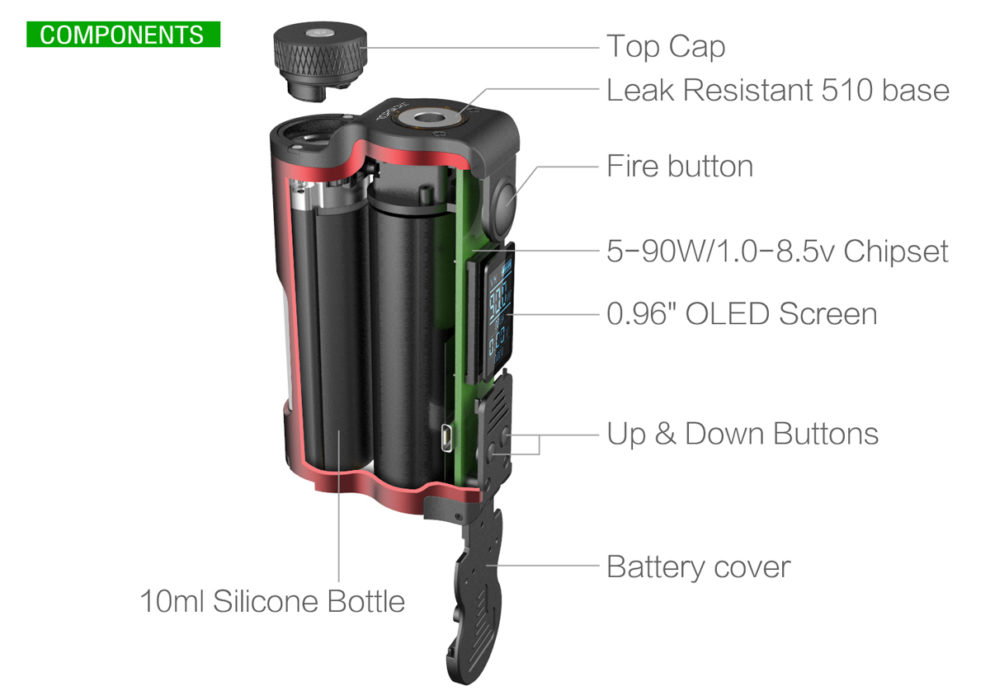 The DOVPO Topside Mod packs in several features, such as variable wattage, bypass, and temperature control mode. To make it even sweeter, it's firmware upgradeable, so you'll be able to upgrade your mod as the manufacturer releases them. The device can reach up to 90W, while it can fire resistances as low as 0.08-ohm. As for its battery, it has the capability of housing a single 21700 battery, which is plenty enough to power this fascinating squonk mod.
The most impressive part to this ground-breaking device is its ability to squonk. It's truly the world's first top-fill squonk mod. No longer will you have to remove your RDA or use refill bottles and you won't even have to remove those silicone bottles just to end up with a mess on your hands. The DOVPO Topside Squonk Mod was developed to allow you to simply remove the top cap and fill the silicone bottle with up to 10ML of e-liquid.