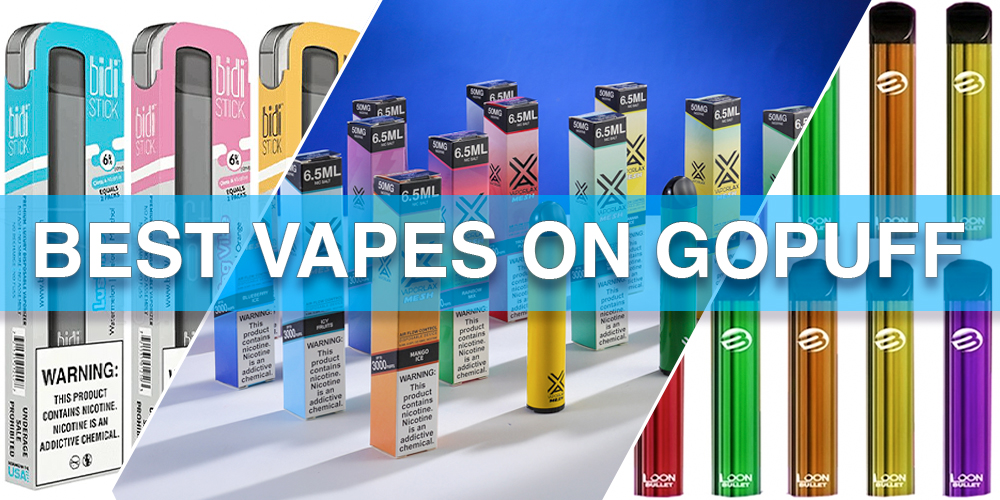 There were many changes that happened in the vape industry after the Pact Act went into effect for vape products in March of 2021. One massive change was the new requirement to ship all vape products to end purchasers via adult signature with delivery methods. This new delivery requirement forced all online vape retailers to double (or sometimes triple) their shipping fees due to the fee that is passed on to them by shippers. Due to the fear of customer loss, many online vape businesses were bought out or consolidated to survive the new federal regulations.
Around the same time, Gopuff, a quick delivery service that previously specialized in alcohol delivery, was growing rapidly each year. Gopuff saw the need for adult vapers to receive vape shipments in a timely manner, so they started to add a larger vape assortment to their customers. Gopuff provides delivery in 30 minutes or less for customers in over 1,000 cities across the United States. Since they already had a business model that required adult signatures upon delivery, adding vape products was an easy step for them. Gopuff has continued to add some of the leading vape products that comply with federal PMTA laws and guidelines. We've found some of the best vape options available on Gopuff for vapers that can't leave their home and need a quick vape.
Vapes on Gopuff
Gopuff will sometimes carry a different vape assortment based on your geographic location. So make sure to check their app for the product that you want. Certain states and cities have enacted vape flavor bans which greatly limits the options available to adult vapers in those areas. Gopuff carries disposable vapes, vape kits, vape juices, and more.
VaporLax Disposables
The VaporLax disposable vape line has a limited assortment available on Gopuff but it seems like they included their top-sellers. The Blue Razz, Crush Grape, Banana Ice, Cool Mint, Lush Ice, and Strawberry Cream VaporLax Mesh vapes are available in most regions. This mix of fruit, dessert, and mint flavors provides a nice assortment for most vapers to choose from. The VaporLax disposable vape line contains 6.5ml of nic salt vape juice and has a mesh coil that provides great flavor in every puff. 
Furthermore, the VaporLax line is known for its industry-leading quality control. Due to strict manufacturing standards, VaporLax disposables have a remarkably low failure rate. To top it all off, the VaporLax disposable line has an adjustable airflow control found at the bottom of the device that allows users to control each hit to their liking.
Bidi Stick
The Bidi Stick was once a very popular disposable vape brand that was carried in many convenience stores nationwide. They contain premium flavors and have 10 options available currently on Gopuff. It seems as though all regular Bidi Stick flavors are available on Gopuff except for the Classic tobacco flavor. Their assortment includes nine fruit mix flavors and one mint vape (Arctic).
One major downside to the Bidi Stick is that it does not last as long as some of the competition due to its 1.4ml vape juice capacity. Other disposable vape options on Gopuff like the VaporLax and Loon are prefilled with almost 5 times more vape juice than the Bidi Stick.
Loon Max
The Loon Max is another fine disposable vape option available now on Gopuff. Based out of Minnesota, this brand has largely dominated sales in the twin cities metropolitan area. The Loon Maxx contains 6.5ml of vape juice like the VaporLax disposables but has a lesser puff count and does not contain an adjustable airflow to control your hit. The Loon Maxx does have some intriguing flavor options available for purchase on Gopuff. The Bowzer Berry has a fruit punch taste, while the Blue Lightning flavor is described as a "blueberry citrus soda". The other three flavors available are Lush Ice (watermelon and ice), and two mint flavor options.
The Loon Maxx does provide a comfortable mouthpiece that is similar to the VaporLax disposable, which is superior to the Bidi Stick mouthpiece.
Pax 3
If you are looking for an option for dry herb or wax vaping, the Pax 3 is also available on the Gopuff app. The Pax 3 is a rechargeable vaporizer that is easily portable and provides up to 2 hours of continuous heating on a full charge. The Pax 3 also includes a maintenance kit that allows you to clean your vaporizer after use.
Suorin Air
The Suorin Air vape device was one of the original refillable vape pod devices that rose in popularity when nic salt vape juices became popular. The slim profile and easy-to-fill system gave vapers a way to use nic salt vape juices without the need for a prefilled pod or disposable vape. The initial price on the refillable vape kit is often more expensive than your average disposable vape, but over time vapers retain savings by simply replacing pods and vape liquids instead of the entire system.
The Suorin Air does not provide as much flavor as newer refillable vape pod models, but it still can hold its own. It is also a great option for vaping while on the go.