Giving you a range of extraordinary tastes and one of the highest puff counts on the market, their all-new Big Bar Cube Disposable Vape surely isn't a device to shrug off. It is a beastly disposable vaping device that boasts a long battery life, a large vape juice capacity, and results in a massive 3000 puff count. To make it all even better, it boasts a nice selection of flavors that have all been perfected to ensure your taste buds are thoroughly satisfied each time you fill your airways.
If you aren't already intrigued by what this device has to offer, we hope that you will sit around for a while and gather the information we provide on this device, as well as taking a moment to read our thoughts on it. We hope you enjoy this new edition to our review category, the Big Bar Cube Disposable Vape Review.
The Big Bar Cube Disposable Vape
The Big Bar Cube Disposable Vape is a bit off from the look of your traditional disposable vape. It's more compact, wider, and has a rectangle shape with rounded corners, giving you total comfort in the palm of your hand. Despite its small size, it can definitely pack a punch, as it utilizes its entire space for your vaping pleasure.
The device houses a 1100mAh battery that delivers long-lasting vape sessions. To combine with it, the manufacturers of the device allotted enough room for an 8mL vape juice capacity, which resulted in a massive 3000 puff count. When you pair this with a draw-activated firing mechanism, you are left with the most pleasing experience. None of this is enticing to you, however, without the most pleasing flavor experience to equally match it all. And, that is the next part of our review, the flavors.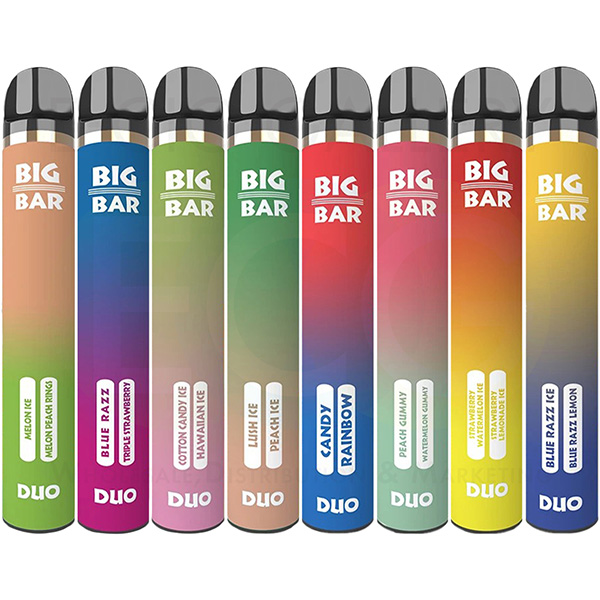 The flavor line-up in this disposable vape is definitely one you should consider, It provides the most pleasing tastes by creating complex blends that are extremely delicious. You can coat your airways with a range of tastes, which includes Cotton Candy Ice, Pina Colada, Blue Razz Lemon Ice, Tangerine Ice, Blue Slushy, Peach Gummy, Lush Ice, Strawberry Peach Ice, Energy Drink Ice, Pineapple Peach Ice, and Blue Gummy. Each wonderful flavor is combined with 50mg of quality salt nicotine, giving you not only the taste you desire but the satisfaction you deserve.
Our Thoughts
While there are many disposable vapes to choose from these days, the Big Bar Disposable Vape definitely sticks out to us. It isn't just about the unique design of the device or even the massive 3000 puff count it has to offer. It's more about the amazing flavor combinations that it has to offer. At the end of the day, as long as you are satisfied with the nicotine and you enjoy your vaping experience because of the flavors, there is nothing more you should desire, and that is exactly what the Big Bar Cube Disposable Vape offers. In our book, this is definitely one to consider adding to your rotation of disposables.