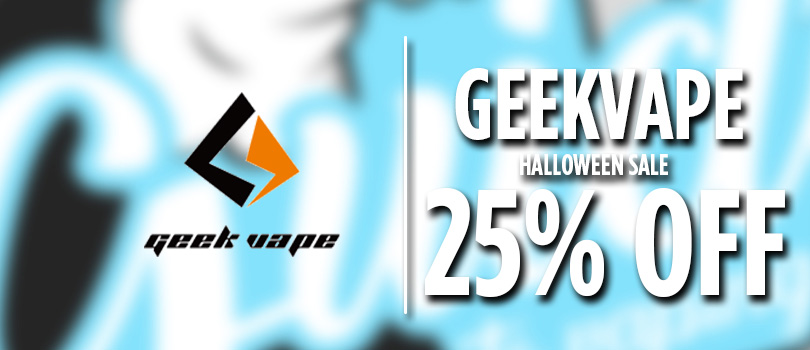 This vendor is currently running a Halloween sale that will allow you to take advantage of low prices on several GeekVape products, cutting 25% off of the already sliced prices. To give you an example, you can get the GeekVape Medusa Reborn RDTA for $21.00! When you use coupon code "geekvape25off", you'll knock off $7.00 from a product that's being sold for $28! These are smoking deals that you'll want to jump on now!
---
[mks_button size="large" title="GET 25% OFF ON GEEKVAPE PRODUCTS HERE" style="rounded" url="http://shareasale.com/r.cfm?b=258881&u=821755&m=29576&urllink=www%2Evaporl%2Ecom%2Fcoupon%2Dcode%2Ehtml&afftrack=" target="_blank" bg_color="#dd9933″ txt_color="#000000″ icon="" icon_type="" nofollow="1″]
---
Coupon Code: geekvape25off
There are many GeekVape products to choose from, all with the ability to apply this 25% off coupon code. Choose from the GeekVape Zeus RTA, the Athena BF RDA, Athena Squonk Box Mod, Athena Squonk Kit, the Ammit 25 RTA, Medusa Reborn RDTA, and much more. GeekVape has become known for its outstanding product offerings, and you now have the opportunity to get them as unbelievably low prices. I for one enjoyed using the Medusa RDTA, as it offered a new design more similar to an actual RDA. Check it out, I think you'll like it also.