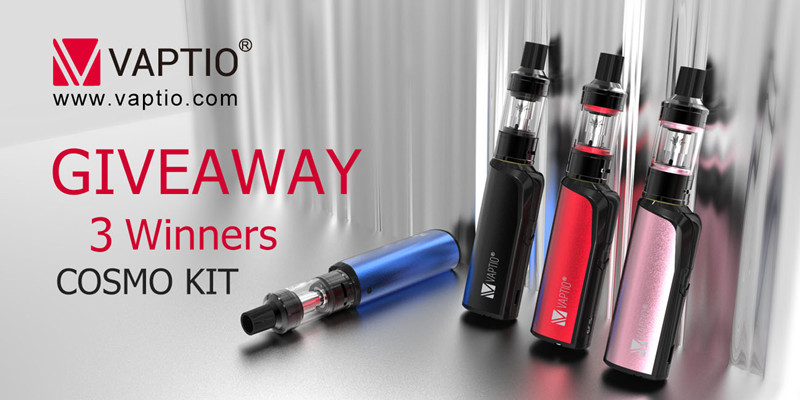 Though it's been a while, we've managed to partner with Vaptio to conduct a giveaway that will result in three winners receiving the Vaptio Cosmo Kit. Vaptio has become a long time friend of Guide To Vaping, and their products perform exceptionally well. As you're quite aware, Vaptio has become one of the largest vapor product manufacturers in the industry, and they continue to prove their worth by consistently releasing vaping products that shape the way we vape.
About The Vaptio Cosmo Kit
The Cosmo Kit by Vaptio is an awesomely compact device that you're sure to enjoy. From its convenience to its compact design to its appeal, there's definitely something about the Cosmo Kit that will gain your respect. The kit consists of both the Cosmo Mod and Cosmo Tank, which is the perfect pairing for appeal and performance. The device houses an integrated 1500mAh battery and is capable of supporting a 30W maximum output. Utilizing a selective output feature, you'll have the ability to choose between low, medium, and high, and it's all controlled by a single button. The tank is just as impressive, boasting adjustable airflow control at its base, and supporting direct-lung (DL) and mouth-to-lung (MTL) vapers. One things for sure, it may not be the largest and may not be the most powerful but it certainly delivers the convenience, comfortability, performance, and satisfaction recognized across Vaptio's entire collection of vaping gear.
How To Participate
Visit the Vaptio website: https://vaptio.com/
Visit the Vaptio Blog!: https://blog.vaptio.com/vape
Follow Vaptio on Facebook: https://www.facebook.com/vaptioofficial/
Follow vaptiousa on Instagram: https://www.instagram.com/vaptiousa/
Follow @VaptioOfficial on Twitter: https://twitter.com/VaptioOfficial
Comment on this post why you want to win the Vaptio Cosmo Kit.
Giveaway Rules
Only 1 comment entry per household/IP.
You must comment on this post.
Giveaway Info
Giveaway ends November 30, 2018