Today, I will be sharing my review of Strawberry Haze, which is member of the Black Lotus E-Liquid line.  I am generally a fiend for strawberry custard and strawberry creams, so I will happily put this in my all time top 5.  This was not a purchase, it was a product I won on a show on Vapers.tv and was eager to try on the recommendation of the host.
Quality
When it comes to the quality of this product, the company has literally thought outside the bottle.  This Canadian based company is offering high quality products for a reasonable price, allow me to explain.
Packaging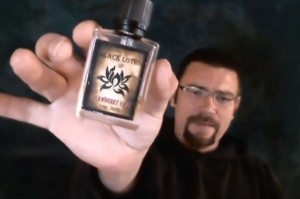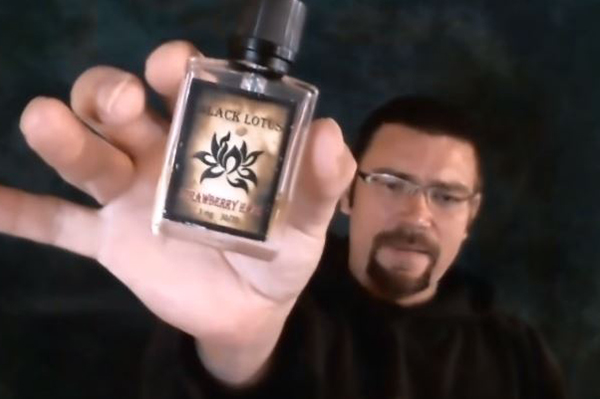 The package I received, very quickly, from Canada was a plain brown box.  Nothing special I admit, but as I opened the box I was transported to times gone by.  Nestled inside a bed of shredded paper sat a square bottle.  Staring up at me was a label with apparently burnt edges, bringing the eye to the black lotus motif in the center of the label that looks like it came from the middle ages.  When you finally pay attention to the font in red and black the illusion of an ancient elixir is broken and you remember that this is a bottle of Strawberry Haze from Black Lotus.  You pick up the square glass bottle filled with a golden liquid and turn it over to find a standard warning label, written in English and French.  At the bottom is the standard issue not for under 18 circle. It comes with a child resistant dripper that at first glance appears to be to short for the bottle, but it has in fact designed to fit perfectly into the corners to drain the final drop.
Flavor
The description on the Black Lotus website states: "This sweet flavor features strawberry, with an undertone of custard and a few other blends."
What they fail to mention is that this cacophony of flavors is so perfectly blended it is an in your face strawberry custard experience. If, like myself you are an aficionado of creamy strawberry vapes, this will quickly become a favorite and in all honesty, the product the websites understatement of this blend probably added to the flavor.
Vapor Production
The Strawberry Haze E liquid is a 70/30 blend in favor of vg and as such you would expect the flavor to be dulled in favor of cloud production, but as I already stated the flavor was phenomenal as were the clouds produced at .44Ω and 66 watts on my RDA.  Being a 70/30 blend it may be thick for some tanks but the majority of sub ohm tanks will be able to take it in their stride and produce thick creamy clouds of flavorful vapes.
As always, enjoy your vaporizer and vape safe!