The vaping market has been filled with large mods, but there's been a shift, and many manufacturers are beginning to pump out what's known as Mini Mods.  These mods are merely miniature versions of the most popular devices we use today, offering the same type of mod appearance we're used to, but with less wattage, and of course less battery life.
Although you're sacrificing power and battery life, you're gaining a much more conveniently sized device that's mobile friendly, as well as being fit for those on-the-go vapers.  However, even though these bite sized beauties won't compete with big boys that push triple digits, they still offer the latest technology that the industry has to offer, such as built-in protection features, temperature control, and appealing display screens.
This being noted, we're ready to share all there is to offer when it comes to these new and trendy companions. Get comfortable, put on your second eyes, and check out vaping's latest mini mods.  There are 10 mods on this list, which are all regulated, and are all under 65mm tall.
1. Artery Nugget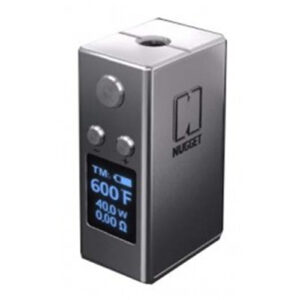 Coming in at just 55.5mm by 31mm by 22mm, the Artery Nugget is one of the smallest regulated mods in the world.  Its small stature isn't what makes this little "Nugget" so incredible though, it's that it delivers a whopping 50 watts of vaping power.  If its small form factor and ample amount of wattage doesn't entice you, we're sure its temperature control feature will.  The TC Module allows you to use Ni200 Nickel, Titanium, and Stainless Steel wire/coils.  In addition, you'll be able to range from 200 to 600 degrees, and fire down as low as 0.1Ω.
The screen is an OLED display, which is 20mm by 15mm, which offers four lines vertically.  All of this is powered by a 1000mAh battery that is just enough to deliver throughout those on-the-go moments.  Oops, we can't forget to mention it's also firmware upgradeable!
The owner of GuideToVaping.com, Blake Brown, says that out of all the mini mods, the Artery Nugget has the best construction while being one of the smallest.  In addition, it delivers the best quality as well.
Artery Nugget: GET IT HERE <- GREAT PRICE!
Artery Nugget Kit: GET IT HERE
---
2. Council of Vapor Mini Volt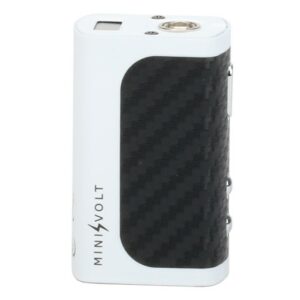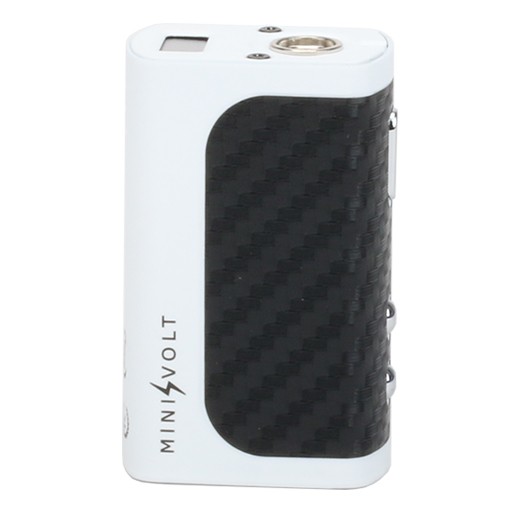 Measuring a minuscule 56mm by 35mm by 22mm, don't let the Mini Volt from Council of Vapor shock you.  It pumps out power between 5 and 40 watts with its 1300mAh power supply — this compact box is more than enough for low volume vapers.  What the Mini Volt lacks in temperature control options, it makes up for in other areas, however.
The sleek design of Carbon Fiber and rubberized coating make the device pleasing to the eye, while its 3 selectable output modes make it appealing to a wide range of people. "Soft" is ideal for mouth to lung hitters, with a slower ramp up time, while the "Standard" mode follows a more traditional curve of power.  For those who want to press the fire button and immediately fill their lungs, the "Power" option has you covered.
The owner of GuideToVaping.com, Blake Brown, says that out of all the mini mods, the Mini Volt hits the best due to that "Power" mode the Mini Volt offers.
Council of Vapor Mini Volt: GET IT HERE
Council of Vapor Mini Volt Kit: GET IT HERE
---
3. SmokJoy Air 50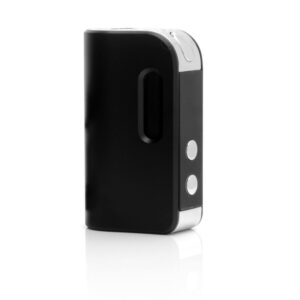 The SmokJoy Air 50 won't leave you gasping for vape as it pumps out the power of up to 50 watts.  Measuring in at 58mm by 34mm by 22.5mm, this super sleek mod will have you soaring in no time.  The outward appearance is definitely a joy to look at in black, silver or tiffany blue, but the awesome power it can deliver in both temperature control and regular power mode will be the real crowd pleaser.
Taking advantage of Stainless Steel, Titanium, and Ni200 coils like many of its bigger cousins, this palm size offering with a 1200mAh power-pack will keep even the most ardent vapers happy for a while.  Simple to use with massive buttons and an easy to read OLED screen, if the SmokJoy Air 50 doesn't catch your breath, we aren't sure what will.
SmokJoy Air 50: GET IT HERE
SmokJoy Air 50 Kit: GET IT HERE
---
4. Vaporesso Target Mini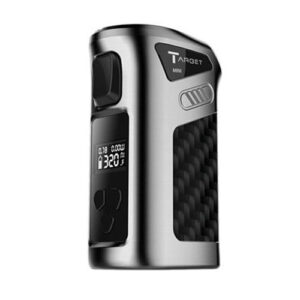 Lock and load as we pull out the Vaporesso Target Mini.  The "Junior Trigger" is super concentrated Nitro-Glycerin — it truly packs a massive punch from such a tiny footprint.  Measuring in at 58.1mm by 36.5mm by 24.2mm, this is not the smallest mod on our list, but it is one of the hardest working.
It was designed to take a kicking and keep on licking, whether you take advantage of the 40 watts of regular vaping power or knock it over into its temperature control mode — the 1400mAh cell will perform until it dies.  The screen, adjustment buttons, and firing switch are all front and center on the mod, making sure that what ever you need is in the palm of your hand.  Why weigh yourself down with a massive mod when the Vaporesso Target Mini is waiting for your orders?
Vaporesso Target Mini: GET IT HERE
Vaporesso Target Mini Kit: GET IT HERE
---
5. Vapros Mr. Mini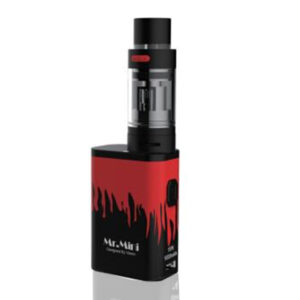 The Mr. Mini from Vapros will take you back to the early years of vaping with a very modern twist.  This "Vision" off-shoot measuring 51mm by 35mm by 25mm, is designed to take vapers back to simpler times with this 15 watt, sub-ohm capable kit.  If you want to just hit and go, without the hassle of worrying about the wattage, this stylish little box may be the one for you.
The 1000mAh built-in power supply is designed to keep you vaping while the internal makeup of the box will take you down to 0.5Ω.  Available in so many colors it'll make your head hurt, why wouldn't you have the Vapros Mr. Mini in your collection, even if its just as a backup.
The link below will take you to one of the only places the Mr. Mini was being sold.  However, they're now out of stock at the time of writing this post.  We included the link just in case in the future they restock them.  Vapros also makes a Vapros Nano 40W that is a miniture mod, but it's very difficult to find any store that stocks the product.  We wanted to note this to share all the miniture mods we could possibly find, even if you aren't able to purchase them at the moment.
Vapros Mr. Mini: GET IT HERE
---
6. Eleaf iStick Mini 20W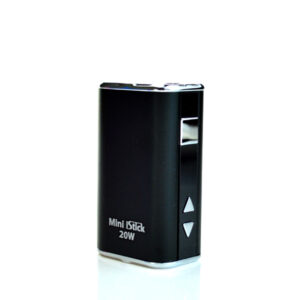 The iSticks have been around since the beginning of time, remaining steadfast in their belief that bigger isn't always better.  Pushing out the power of 20 watts, the Eleaf iStick Mini measures in at 52mm by 20mm by 23.5mm.  Fitting perfectly in the palm of the hand, you could argue that this is the grandfather of the other devices on this list, the trend setter, and the one who hung back as everyone else grew.
Designed from the get-go as an emergency vape, the device you keep close by in case your other devices died, the iStick Mini has never made any promises; other than to be there when needed.  The 1050mAh power supply will keep you vaping when everything has given up for the day, but just remember that it can't go sub-ohm. Sorry! 🙁
Eleaf iStick Mini: GET IT HERE
---
7. VPark V-Box 30W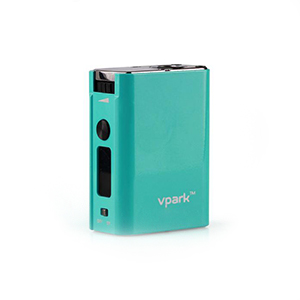 As we've seen in this post so far, less is more, and the V-Box from VPark is no exception.  Measuring in at 55mm by 41mm by 22mm, this 30 watt box mod takes minimalism to the next level. The simplistic, sleek design that fits neatly into the palm of your hand hides some nice features as it remains out of sight.
Adjustable power between 5 and 30 watts may be perfect for low volume vapers, but this device is sub-ohm capable (down to 0.5Ω) and ready to pump out the power when needed.  The super bright OLED screen helps you keep track of the battery life, wattage, and time log while the adjustment wheel makes turning up the heat that little bit, simpler.
VPark V-Box 30w: GET IT HERE
---
8. Kangside KSD Sea Wasp Mini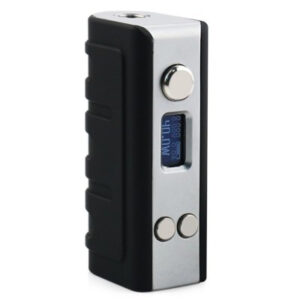 Looking for the tiny mod with the sting in its tail?  The KSD Sea Wasp Mini brings you power, control, and style in a single pint sized package.  With vital statistics of 65mm by 34mm by 24mm,  the Sea Wasp Mini delivers temperature control settings and traditional power at an unstoppable rate.  Created from Zinc Alloy with a rubberized coating, it's designed to be mistreated with the help of that thick outer skin protecting the delicate components inside.
Available in 6 different colors, there is a Sea Wasp Mini designed for every taste, but regardless of the outer look, they all perform seamlessly.  The 1500mAh internal supply is one of the largest in this list, giving you that little bit of extra life from the battery.  Whether you decide to choose regular coils, Ni200 or Titanium, the KSD Sea Wasp Mini has the setting to use them and the battery life to power it up.
Kangside KSD Sea Wasp Mini: GET IT HERE
---
9. Kangside KSD Vamo Box 25W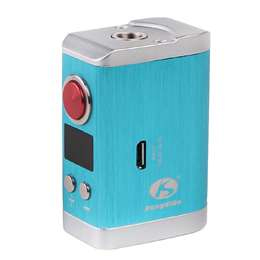 Reminiscent of a video game console from many moons ago, the Vamo 25w is the first nano box on our list to offer a removable power supply.  It's powered by a single 18350 battery, which can be charged on-board or switched out on the go, so this box has an ability not offered by its previous rivals.  We should also mention that an 18650 extension comes with this mod, just in case you want a little more battery life out of this little monster.  Measuring 56mm by 42mm by 24mm, don't be fooled by its small stature.
The Vamo promises 25 watts of power and the ability to fire down to 0.2Ω, which isn't a bad set of stats for a device that is half the size of a credit card.  The over-sized fire button and easy to read OLED screen make the Vamo a simple device to get the hang of, and it's a definite must for the collector of miniature vapes.
Kangside KSD Vamo Box 25W: GET IT HERE
---
10. Kangside KSD Mini 25W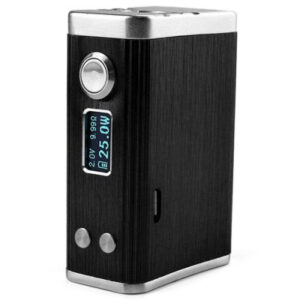 Similar in power and design to the Vamo box, the KSD Mini 25W chooses massive internal power over the replaceable 18350, but that is defiitely nothing to complain about.  Size wise, we are looking at 60mm by 42mm by 22mm, which is slightly taller than its companion, but is still one of the smallest on the market for its power output.
Sleek lines and a sharp design make the KSD Mini a great addition to any vapers kit, especially considering the aluminum alloy composition that makes this mod as light as a feather.  Working its magic between 7 and 25 watts, all the way down to 0.2Ω, this little powerhouse just wants to keep working.  As with the Vamo, the OLED screen and button layout are designed for optimum performance and the greatest ease of use.
Kangside KSD Mini 25W: GET IT HERE