Presenting that same super compact design and easy access magnetic battery door, yet offering a whopping 50 watts and temperature control, the all new Cloupor Mini Plus is simply a mini powerhouse of a device.  Continue along in this Cloupor Mini Plus Mod Review.
Appearance
When it comes to the appearance of the Cloupor Mini Plus, there's not a whole lot to say.  In fact, the Cloupor Mini Plus is rather simplistic with no real structural eye candy, other than its gorgeous metal flake infused black high gloss coating.  However, in its defense, there are a five etched lines on one side of the device, which was also on the original Cloupor Mini.  To be quite honest, the appearance remains to be the exact same as the original mini, except, again, for its thick coated paint job.  However, for those of you didn't jump on board with the original Cloupor Mini, both the Mini and Mini Plus do have rather nice and clear OLED screens, as well as three small stainless steel buttons.  And, the last portion of this device I'd like to mention when it comes to appearance, is its small stature.  The Cloupor Mini Plus is amazingly small, merely 78.5mm tall and just 37mm wide with a depth of 22mm.  To give you a better idea of how small it actually is, I've included a few mods in this image provided for your comparison.
Features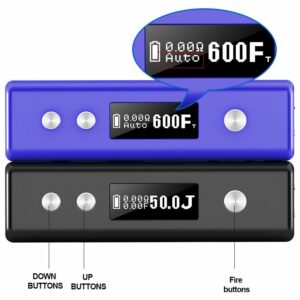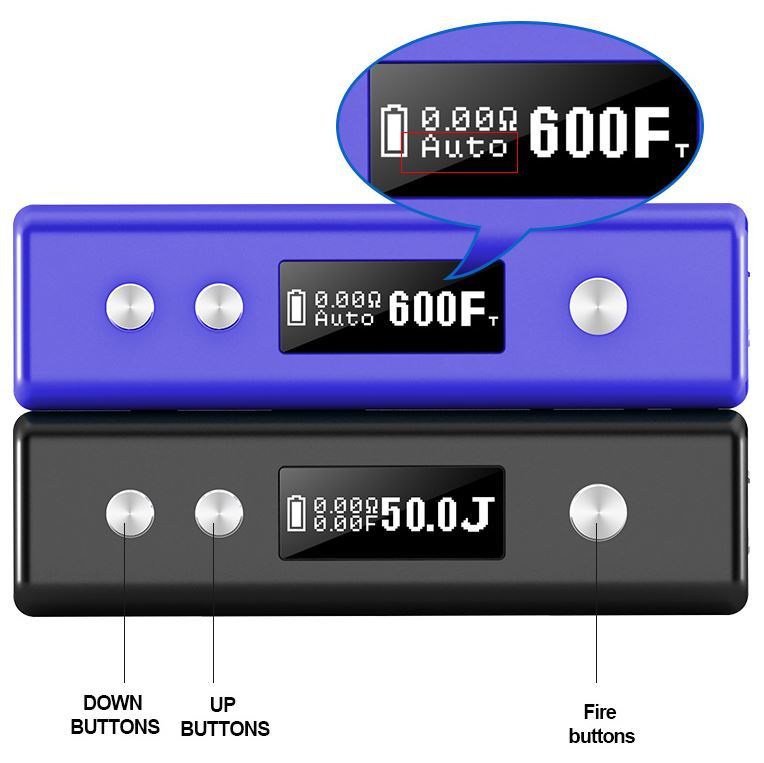 Though highly compact, the Cloupor Mini plus presents many features, making it one stealthy little monster.  The Cloupor Mini Plus features a stainless steel 510 connector, while its 510 pin is spring-loaded.  It utilizes a single 18650 battery for operation, which is incased by a magnetic battery door.  I'm huge on this battery door, as it makes changing the single battery a rather quick process.  Moreover, the Cloupor Mini Plus also has 3 stainless steel buttons that are used to fire the device and adjust its settings.  In between these buttons is a very clear and easy to read OLED screen.
As far as power, this little monster can dish out a whopping 50 watts of power, which is plenty enough for most atomizers currently available on the market.  The Cloupor Mini Plus is highly impressive though, it doesn't use PWM, it actually takes on an independent step-up/step-down circuit design, which delivers accurate power throughout its wide range of 1W-50W.  When using a standard coil, it has the ability to fire down to 0.1Ω, making it compatible with nearly every atomizer on the market, but this isn't all the Cloupor Mini Plus has to offer.  This device is also known for the technology that it houses, which is its smart-auto temperature control.  This smart-auto temperature control  will allow you to adjust the temperature, but will then automatically recommend a proper Joule.  However, if you don't wish to buy into the whole "auto" portion of the temperature control feature, you can adjust the Joules manually to your own liking.  The features on this device are up to date with what consumers demand, and it's being offered in a super compact design… I can't complain one bit.
Performance
When it comes to the performance of the Cloupor Mini Plus, I simply have not one complaint.  It offers a smooth and consistent vape, which is probably a cause of not using PWM.  Whatever is going on inside of this little guy, it's working.  As you can see in the video, paired with a decent tank or atomizer of choice, producing clouds is easy and achieving a superb vaping experience comes natural.  As for its temperature control feature, I love the way it works.  The option to just set your temperature without worrying about what Joules it's at is very nice.  Here's a video I included below more on the smart-auto temperature control feature.