Saturday, November 8th saw the first annual celebration, cloud competition and general vape meet held at My Vapor Place's Ironton, Ohio store.  While this may not be national news, this tiny speck on the vaping map is trying its hardest to become an internationally recognized brand.  As you walk in through the front door of the store, you are not met by a plethora of recognizable juice lines from all over the country, but you'll also find e-liquids that are proudly emblazoned with the MVP logo.  The store front here is tiny, as this is their secondary outlet for selling their merchandise.  Their main store is 18 miles up the road in Huntington, West Virginia, a college town that is inundated with brisk business from dawn til dusk, but for tonight's festivities they chose their smaller store for a reason.
---
The Night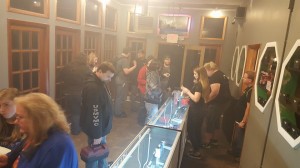 As the doors opened to the general public at 7.30 pm, most looked confused as they walked into the tiny cramped space.  From 6 pm cars were pulling into the parking lot out front, the draw of a nice cash prize for a distance competition, pulling in people from over 50 miles away.  I was already inside as the doors were open and got to see first hand the looks on people's faces when they realized that all was not as it seemed at this location.  While the store front may be tiny,  the warehousing space in the back of the house is anything but.  By day this space is a buzz with activity, as in reality this is not just a vapor shop, it is ground zero for the My Vapor Place juice line.  Over 30 flavors in every nicotine level you can think of are lovingly crafted in the clean room at the back of the building and last night, for the first time it was opened up to the general public so they could see exactly where their e-liquid was being made, and more importantly was being used to give other juice manufacturers in the area a solid reference of how they should be set up before they should consider selling to the public.  The manager, Ryan Blankenship, has said in the past that customers should be able to see where their juice is made so that they can feel confident about the products they are using.  Today his team will be in there, making sure it is once again clean to their ordinary standards, but last night the public were allowed a glimpse inside.
---
 The Competitions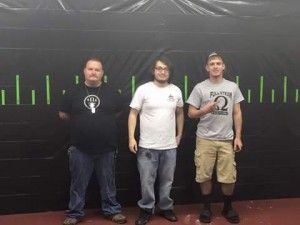 Any vape meet worth its salt will challenge the local cloud chasers, simply because they all have big heads and want to prove who is the best, ( I can say this because I am one) and last night we were issued a challenge that many wished to accept.
The rules were simple: using a single 18650 device, built no lower than 0.15 Ω, the person who could blow the longest distance got $250.  The second place got $100 and third got $50.  No back to back, just you against a measuring board and the concept worked well.  While I failed to place for the first time in living memory one of my team mates, Matthew Van Winkle from the 6Ω6 cloud team came in third place. Second went to James Hoff and first went to Nick Lovejoy, totaling $500 in prizes between them.
The other comp…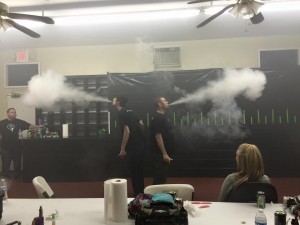 The other competition was a "run what you brung", anything goes as long as you don't blow your self up.  The cloud chasers in this area are all seasoned and know how to vape safely, and even though there were some scary box mods on the floor, everyone puts safety first.
I placed 3rd in that one, but that is neither here nor there.  For the majority of people who were there, it wasn't so much about winning, but about competing.  A great many who entered were there on the line for the first time,  finding out that not only is vaping addictive, but the building and everything else that goes into blowing competitive clouds will grip you tightly until you are the best in the room.
We were all pleased to see everyone competing and having a good time in the process.
---
The Event
In all honesty, the event was a success.  Even though we have teams who allegedly hate each other, everyone actually gets along.  We are communities within the community and at the end of the day, the rivalries end when you are done blowing your last cloud.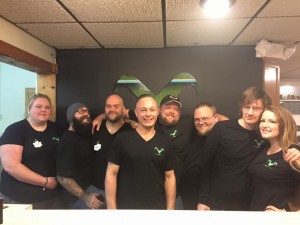 Ryan and his staff had a goal at the beginning of the evening, introduce people and local businesses to the My Vapor Place brand and to show them that, as with so many of us, our community is what matters to them.  We have here a bunch of guys and gals that will make you feel welcome, which ever of their stores you walk into, and you always leave feeling as though you are important.  They truly have a place in this community as the community is what they will always put first.  I would like to thank the staff for a well-organized event and an enjoyable evening, a great place to meet with old friends and new in an environment that will always push for the rights of vapers everywhere.
If you want to check out their e-liquid line for yourself, you can find it here.
As always, enjoy your vaporizers and vape safe!