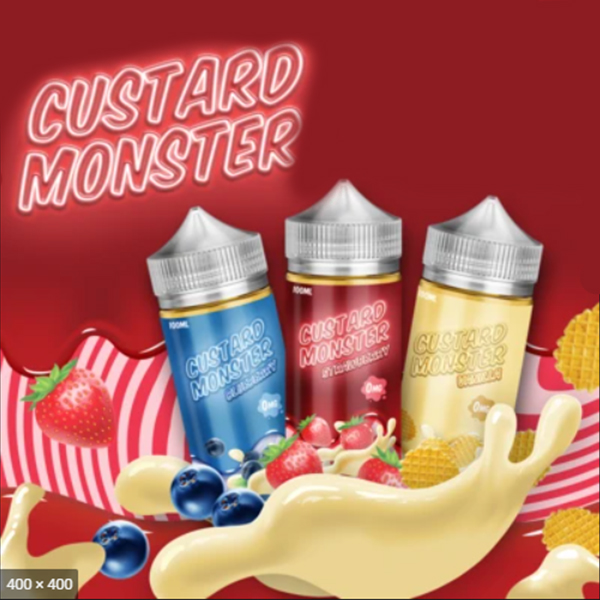 The market is filled with millions of flavors to choose from, so it is especially hard to stand out amongst the competition. That is unless you can create a trio of scrumptiously delicious flavors that are incredibly unique. This is what Jam Monster has been able to do with its Custard Monster Custard E-Liquid Collection.
As many people are aware, Jam Monster has been one of the industry's leading e-liquid brands for years. They've filled the mouths of millions of vapers around the world with expertly crafted vape flavors, and they don't see to be letting up anytime soon. Its Custard E-Liquid collection is one that didn't take double-digit products, just three to satisfy a whole crowd of people that love the magical taste of custard flavored vape juice.
Monster Vape Labs
For those that aren't familiar with Monster Vape Labs, they are the e-liquid manufacturing company that is behind some of the largest brands, including Jam Monster, Fruit Monster, PB & Jam Monster, Ice Monster, Tobacco Monster, The Custard Shoppe, Cream Team, and Custard Monster as well. It is a huge operation of professional manufacturing, creating some of the industry's most popular brands and flavors, and they all live under one roof.
Custard Monster Collection
The collection of Custard Monster consists of 100ml gorilla bottles. They are available in 0mg, 3mg, and 6mg nicotine strengths to satisfy your craving. The flavors are where you'll find this brand most intriguing, as it offers a Blueberry Custard, Vanilla Custard, and Strawberry Custard. These are three classic custard flavors, just perfected in every sense. Each flavor also has a vg/pg mix of 70/30, allowing for great flavor and optimal vapor production.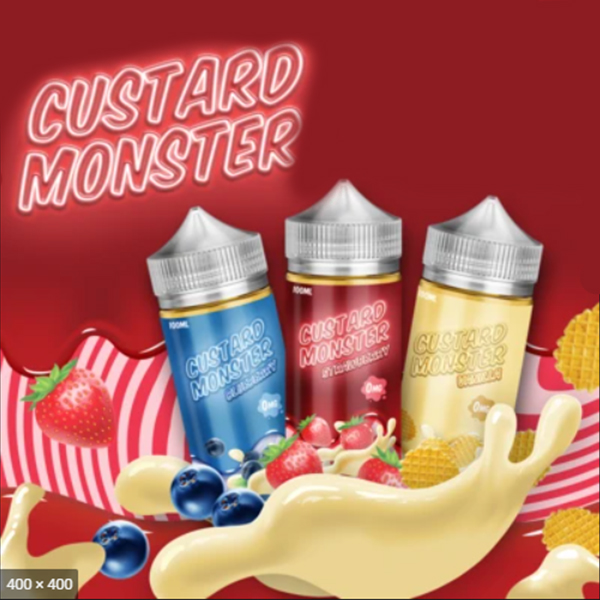 Jam Monster hit it out of the park with the Blueberry Custard in its Custard Monster line-up. With this perfectly crafted flavor, you will taste a blend of sweet, ripe strawberries are juicy and delicious with every draw, and that classic custard taste you've come to know and love. Everything about the Blueberry Custard flavor is over the top in taste.
It doesn't get any more classic than this classic Vanilla Custard flavor. You will enjoy every draw as you pull in the sweet taste of creamy vanilla custard. Your mouth is engulfed in creamy delicious flavor from start to finish and you simply won't believe how pronounced each session will be.
You can pair any flavor with custard but nothing quite compares to a strawberry custard. It's the scrumptious, juicy, luscious flavor combined with a creamy custard that you can't get enough of. If you enjoy strawberry paired with custard, you have got to try this one.
The newly released Custard Monster Butterscotch flavor offers an outstanding taste. It is a uniquely crafted flavor that is incredibly delicious from beginning to end. From the first inhale, you immediately taste loads of rich butterscotch, while the exhale is where the smooth creamy flavor rushes in. You are left with a lingering taste of creamy butterscotch that easily becomes your next all-day-vape.