Adding yet another stellar experience to its line-up, the Delta Extrax God's Gift HHC Disposable Vape can easily become the highlight of your day. The device is super compact, portable, and extremely convenient, making it the perfect option for those that are on the go or those that do not want to fool with cartridges. The device itself isn't the winner in this situation, however, it's the HHC Distillate and terpene infusion that's filled within them.
While it isn't a new device or blend that comes from their collection, it is a strain that deserves attention. Delta Extrax is a leader in developing quality cannabinoid products, and we feel that it's absolutely necessary to share our review so that others know what to expect.
God's Gift HHC Premium Disposable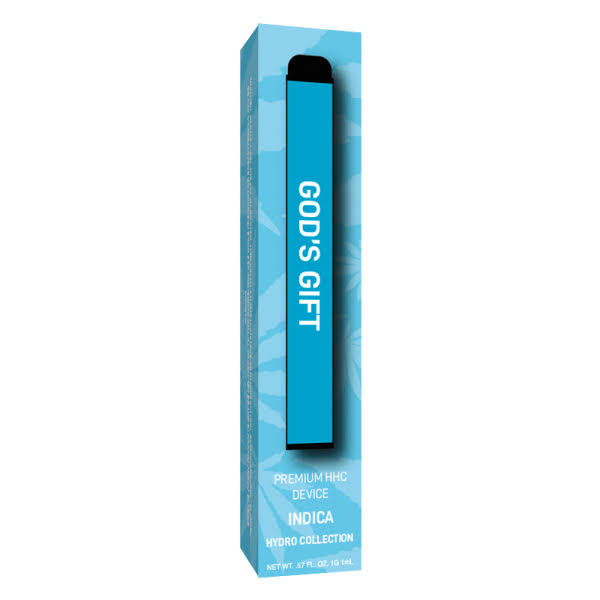 Boasting a compact design, the disposable device is extremely portable. Its size may be small but it's capable of housing an integrated 280mAh rechargeable battery to ensure you receive every last puff. The disposable also uses an automatic firing mechanism that eliminates the need for a button and allows effortless vaping. Nestled within the HHC Disposable Vape is 1-gram of the best HHC Distillate and an infusion of clean terpenes, providing what seems like a gift from heaven.
For those that are uninformed, HHC is a cannabinoid that was developed by American chemist Roger Adams in 1944. What he did was add hydrogen molecules to Delta 9 THC, which converted THC to HHC, otherwise known as hexahydrocannabinol. Things are a little different today, especially in the way that Delta Extrax obtains HHC. A similar process is used, except that it starts with hemp, instead of THC-rich marijuana. It uses hemp, a cannabis plant with a low volume of THC, which happens to be federally legal due to the 2018 Farm Bill.
What you'll experience with the Delta Extrax God's Gift HHC Disposable Vape is similar to that of Delta 8 THC. However, it takes a bit more to achieve the same effects. Although Delta 8 is half as potent as Delta 9, and HHC is even less potent than Delta 8, you can see that the HHC cannabinoid isn't quite known for producing hard-hitting effects early on. We found that this is where HHC has an advantage. There are some people, such as ourselves, that could use a cannabinoid that just takes the edge off with effects that are slightly altering, and the God's Gift HHC Disposable offers just that. It is an Indica strain, which is part of the Hydro Collection of Delta Extrax. God's Gift is a widely known strain, which you'll enjoy a delicious duo of grapes and citrus notes to ensure your experience is a tasty one.
Conclusion
The God's Gift HHC Disposable Vape is an awesome device to add to your roster, especially for the delicious taste that it will provide. The bonus is that the deliciousness comes with the most satisfying effects. Although this disposable may not be for everyone, especially those with a higher tolerance, we feel that it's perfect for people that simply want to take the edge off. If you're one of these people, HHC could definitely be the solution you're looking for, as it was definitely one of our favorites.