With each year we hold the Best of 2014 annual event, I learn about a new company, a new product and new flavors.  During the event this year, many people were taken a bit back by this never heard of e-liquid company dominating the event this year in multiple categories.  Dr. Crimmy's is an e-liquid company that I've never heard of, but that is why the event that Guide To Vaping has held each year since 2011 has become so popular – it's because it's an extraordinary informational source.
That said, it lead me to see what all this "Dr. Crimmy's hype" was all about.  Many have questioned the votes they've received, but after I was invited to the Dr. Crimmy's Facebook Group, I quickly learned that there is a rather large and very loyal following of "crimies" that have captured its own portion of the vaping market.  Continuing, I was eventually contacted by the Crimmy's staff and was basically told that if I wanted to know if this hype was true, that I would have to try it for myself.  As I waited for the e-liquid package to arrive, a local friend let me try a flavor called "Fruity Rings", which happened to be from Dr. Crimmy's.  I spent the next few days with that same flavor lingering in my mouth and urging its way, like I've turned into a Dr. Crimmy's liquid-addict overnight.
So, does the hype match how good the flavor is?  Let's fine out.  Here's the Dr. Crimmy's Fruity Ring E-Liquid Review.
Quality
The way I determine the quality of an e-liquid is by judging its base, its nicotine and flavoring.  With this Fruity Rings flavor, it excels in all of those categories.  The base is mute, meaning there is no out-of-the-way taste coming from the PG/VG that would hinder receiving the full taste in the flavor.  Though my particular bottle is only 3mg, I'm not receiving any off taste from the nicotine.  The flavoring is a combination of flavors, which has been precisely placed and has a premium taste to it.
Something I would also like to include is that Dr. Crimmy's bottles play out with the doctor theme by writing your name beside where it's printed "Patient".  I thought that was pretty cool.  I'm not a fan of the handwritten labels as it appears unprofessional, but they may manually write in everything on the labels to give it that doctor's prescription look and continue with the theme.  The bottles themselves are soft and the dripper tip comes to a point so that you're able to be more precise when filling a tank or lining a coil with e-liquid.
EDIT: I was informed that when ordering from DrCrimmy.com, labels aren't handwritten.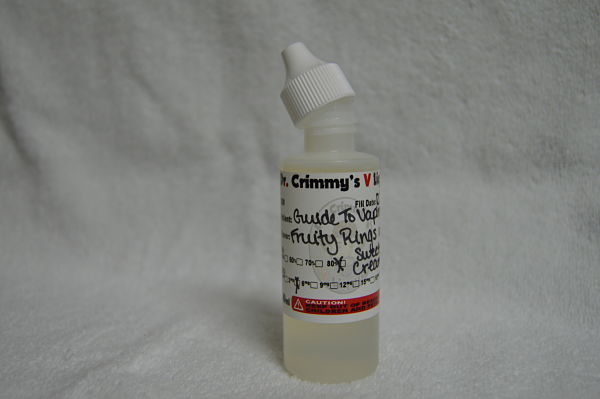 Flavor
To start off with, this flavor is obviously supposed to mimic the taste of fruit loops cereal.  Many e-liquid companies tend to veer away from creating flavors that can be compared to the actual thing since it has to be exactly like that flavor.  Another reason why e-liquid companies do not mimic an original flavor is because it makes customers expect that same taste, and when it isn't the exact same taste, those who made the e-liquid receive a lot of slack for a failed attempt.  That isn't the case with Dr. Crimmy's Fruity Rings.
Let me throw it out there that I am certainly not one to vape flavors like this… I just don't like to vape flavors that I would normally eat.  Dr. Crimmy's has changed that for me, because this attempt to mimic fruit loops, one of my most favorite cereals, was a complete success.  I am honestly stunned at how close this flavor is to the real thing, and I applaud them for attempting and succeeding with such a very complex combination of flavorings.  What's made it even closer to a bowl of fruit loops cereal is that they've added a Sweet Cream flavor that makes it taste like the fruity rings are in milk.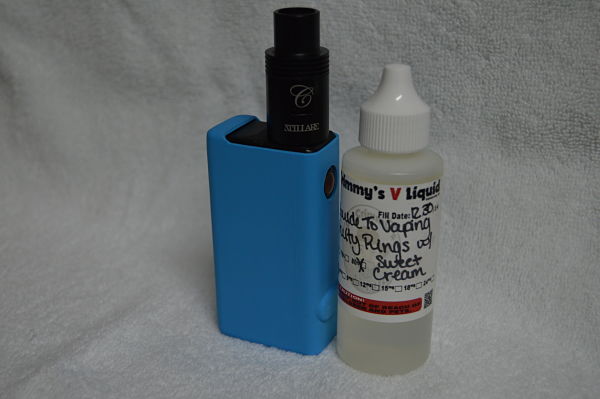 Over the course of these couple of days I've learned Dr. Crimmy's strategy to how it receives such a following and the hype that surrounds the company.  I wondered how they can sell e-liquid for such a low price, which is clearly lower than the markets going price for a bottle of e-liquid.  I'll fill you in on the secret… and I'm sorry Dr. Crimmy's for exposing you like this.  They know their flavors are great, so they lower the cost to the customer, which will allow more customers to purchase.  Once the customer vapes a flavor of theirs, they're instantly hooked and have to come back for more.  After vaping Dr. Crimmy's Fruity Rings I've turned into some sort of "crimatic".
Throat Hit
If you're looking for a throat hit from this flavor, I'm sad to say that you won't find it.  Fruity Rings should be a smooth flavor, and it presents that well with pretty much no throat hit at all. If you're the type that is looking for a throat hit, you may get something when upping the nicotine strength, but for my particular bottle of 3mg strength, it's nowhere to be seen.
Vapor Production
Many e-liquid companies have moved away from allowing you to customize your e-liquid purchase, such as changing what's in the flavor or the PG/VG percentage, but Dr. Crimmy's is one of those that still gives you those options, which I prefer.  With that said, I've decided to go with a high 80% VG blend, which is helping produce some very large and dense clouds.  I'm currently vaping this flavor with a VaporShark rDNA and Stillare rebuildable dripping atomizer. My coil is 1.1Ω and I'm running 23 watts.  This combination that I'm currently using is creating a very solid vapor production.