Our friends at Ejuice.Deals recently announced its new partnership with an unnamed reputable company within the vape industry that has allowed it to quadruple in size. The new partnership allowed the Ejuice.Deals site to further its progression within the market, although it's seen rapid growth in such a short span. Known for its large stock of more than 50 different brands and every day low prices, the company has gained quite the following, as well as a solid track record within such a short time of its existence. To stay consistent, the already large online vape store favored for its great ejuice selection, has just gotten even larger with this new partnership.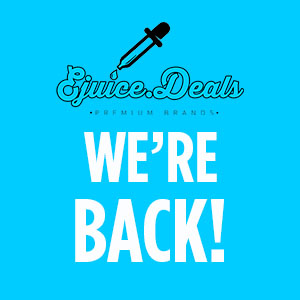 Diving further into detail, Ejuice.Deals has not only gained more staff, a larger customer support team, and better service, but they've also taken a focus on shipping and handling where they're now prepared to handle daily orders, all products are now in stock along with eliminating back ordering, and they've taken a big step towards customer loyalty by developing a new loyalty system. What's even more fascinating about this all is that with the new partnership, they've now added over 300 more products, filling out its hardware section and adding even more ejuice to the large pile of brands it has already accumulated.
And lastly, what's become one of our great friends and most recommended vape sites on the web, has also given their website a major overhaul, changing the entire schematics of the site with a new responsive structure, a clean contrasting design, an enhanced shopping cart, top navigation as well as side navigation, and an improved menu system to cover the added products and categories.
If you haven't already had the chance to visit Ejuice.Deals, we highly recommend that you give them a visit and discover many of the latest and greatest products from the industry's leading brands, which are all tagged with incredibly low prices. We feel turning you onto this site will help you find lower prices on the products you already enjoy, making for a great online shopping experience.