For years you've enjoyed the devices made by EBDesign, one of the industry's largest and most reputable creations of disposable vapes. After developing some of the most popular devices on the market, it has moved its attention towards the Funky Republic TI7000 Disposable Vape. It's a device with a massive capacity, all of the latest features, powder-driven performance, and plenty of delicious flavors to satisfy your taste buds.
The Funky Republic TI7000 Disposable is an amazing device to own and use. Although these devices are for temporary use, they're built for the long game. They feature an integrated 600mAh rechargeable battery and come equipped with a type-c charging port, allowing you to recharge time after time. Alongside a large battery is an absolutely massive 17mL vape juice capacity so that you can enjoy as many as 7000 puffs. Of course, the performance has been elevated by the Quaq Tech mesh coil, while convenience is a focal point due to the draw-activated firing mechanism and a display screen that indicates the current vape juice and battery level. Though the device is truly spectacular, without great flavors, it wouldn't account for much. Thankfully, the Funky Republic TI7000 Disposable Vape has an extensive list of delicious flavors to choose from to ensure your tastes are pleased puff after puff.
Funky Republic Ti7000 Disposable Vape Flavors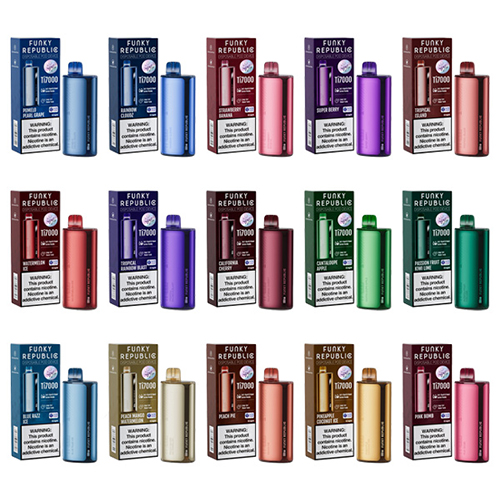 Strawberry Banana: An incredible blend of flavors that pair together juicy red strawberries and ripe bananas.
Watermelon Ice: A perfectly concocted flavor profile that consists of mouthwatering watermelons and cool menthol.
Blue Razz Ice: A duo that comes together to generate an amazing mix of tart blue raspberries and cool menthol.
Peach Mango Watermelon: A complex mixture of flavors that entangles peaches, mangoes, and watermelons.
Tropical Rainbow Blast: A delicious blast of tropical fruit flavors that are sure to become absolute favorites.
Rainbow Cloudz: A colorful, fruity blend of flavors that all join together perfectly for a delicious taste.
California Cherry: An amazing flavor profile that leaves you with the most impressive blend of cherry flavor.
Cantaloupe Apple: An outstanding pairing that joins together delicious cantaloupe and apples.
Passion Fruit Kiwi Lime: A magnificent flavor creation that combines passion fruit, kiwis, and limes.
Peach Pie: A perfectly recreated blend of your favorite delicious peach pie flavor.
Pineapple Coconut Ice: A cool and tasty mix of pineapples, coconuts, and cool menthol ice.
Pink Bomb: A complex and flavorsome blend of raspberries, cream, lemon, and grapefruit.
Pomelo Pear Grape: An impressive flavor profile that mixes pomelo, pear, and grape flavors.
Super Berry: A beautiful mixture of berry flavors that you're sure to fall in love with every puff.
Tropical Island: A blend of flavors that will help you relive the taste of the tropics.
If you have been searching for a vape that will offer it all, the Funky Republic TI7000 Disposable Vape is definitely what you should consider. It is an amazing disposable device that comes with the latest and greatest features, alongside the performance and longevity you desire. To top it off, the amazing list of flavors will surely turn you into a long-time fan of this impressive device. If you want to consider more devices from EBDesign, the lost mary vape is a solid option as well.