Eleaf has certainly made a name for itself throughout the many years, and its iJust series is one that has helped catapult the brand to success during that time. The brand continues to a huge player in space, and it's doing so by continuing the progression of the series with the new Eleaf iJust 3 Starter Kit. It's a fantastic improvement over prior devices, creating a fantastic combination of the Eleaf iJust 3 Battery and the Eleaf Ello Duro Sub-Ohm Tank. It's a pairing designed to deliver a compact setup, with great battery life, and without sacrifice in performance. This is one of Eleaf's best releases yet when it comes to pen-style vaporizers!
The Eleaf iJust 3 Kit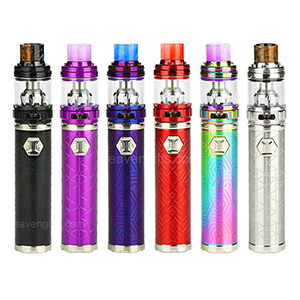 The Eleaf iJust 3 Battery features phenomenal durability, as it's constructed of stainless steel and only has a 25mm diameter base. It uses a single button hexagon firing mechanism to power and activate the device. No adjustment buttons are needed since the iJust 3 Battery boasts a direct voltage output, where the power output is determined by the battery's current state. With a full charge, the iJust 3 battery is capable of reaching up to 80W, and it supports a minimum resistance as low as 0.1 ohm. To stay current with the battery's current state, a four-color LED battery light indicator is equipped. The battery that is capsulated inside the iJust 3's housing is an integrated 3000mAh battery that can be recharged via the equipped micro-USB port.
Its perfectly matched partner, the Eleaf Ello Duro Tank delivers a slew of features that are just as impressive. It has an interesting appearance, a compact design with a 25mm diameter, and it's constructed of stainless steel — fitting closely in quality and durability. Along with a resin wide bore drip tip and dual adjustable bottom airflow control, you'll find that the Ello Duro Tank provides ample airflow to allow for a huge vapor production. It also sports a retractable top-fill design, which makes refilling the tank super easy. Speaking of the tank, it has a large 6.5ML e-liquid capacity, so that means less time refilling the tank and more time doing what you enjoy most, vaping! Where this tank gets it fascinating performance is from the use of Eleaf's HW series coils, which consists of the HW-M multihole 0.15 ohm Kanthal coil rated at 50-100W, and the HW-N net 0.2 ohm Kanthal coil rated at 40-90W.