Introducing the next addition to the more than pleasing Pico series manufactured by the Eleaf brand, which is the new and innovative Eleaf iStick Pico Baby Kit! It's another heavy hitter mod that sports a compact design, an integrated battery to deliver the most convenient experience, and presents the most stellar performance in its class. The Pico series has certainly come a long way, and this easy to use iStick Pico Baby is surely a testament to that. It's a kit that consists of the Eleaf iStick Pico Mod and the GS Baby Tank. Continue reading to learn more about this fascinating device!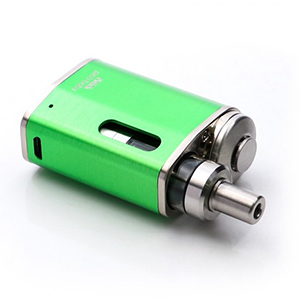 Its design is rather unique, interesting, and certainly plays a huge role when it comes to the convenience of vaping. It has an all-in-one design, though the tank can be detached as with any other two-piece device. Instead of the tank resting on top of the device, a slot has been set with a threadless magnetic 510 connection, which will allow enough room for the easy installation of a tank.  Both sides of the device share an open slot to view the tanks current e-liquid level as well. The top of the Eleaf iStick Pico Baby has a threaded lock push button to activate the device.  The Pico Baby is a direct output device, meaning the power is based on the current battery state. With a 1050mAh integrated battery and a 0.4 ohm minimum resistance, you can achieve as high as a 25W output. An LED battery life indicator allows you to keep a close watch on your battery's current state.
The GS Baby Tank that comes included in this kit has a 14mm diameter and offers a very compact design, perfect for the Eleaf iStick Pico Mod. It also has a threaded bottom fill system, and boasts a 1.8ML e-liquid capacity. To enhance its airflow and performance, it comes equipped with single bottom airslots, which are adjustable, and a 5mm bore drip tip. The GS Baby Tank also utilizes the GS Air Coil Family, which consists of the 1.5 ohm Coil capable of reaching up to 20 watts, and the 0.75 ohm Coil capable of up to 25 watts.