Elf Bar has become one of the vaping industry's leading choices when it comes to disposable vapes, as they've already created as many as twenty-five different devices. While they all come in different shapes and sizes, and vary in battery capacity, vape juice capacity, and puff count, the Elf Bar BC5000 Disposable Vape has gained the most popularity. The Elf Bar Vape is one of the most impressive devices we've seen yet, and we're going to tell you all about it in this review.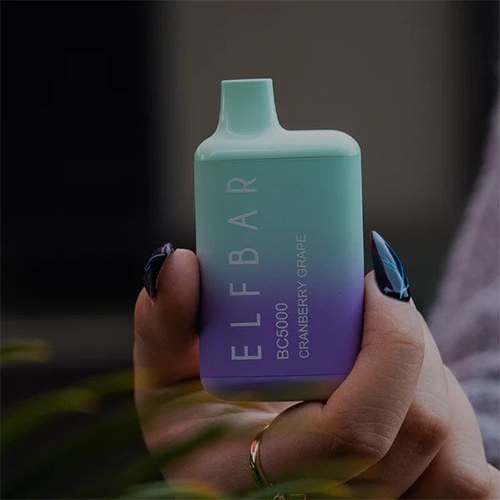 What Is The Elf Bar BC5000?
The Elf Bar BC5000 is a premium disposable vape that is incredibly compact. Despite its small size and its ultra-portability, it comes with a slew of features that have gained it so much success since its launch onto the market. While it doesn't have quite the size that others have, it still manages to come with a large integrated 650mAh rechargeable battery, which can be charged very quickly to resume use. With very little room, it also houses a massive 13mL vape juice capacity, giving you several vape sessions.
Although the device is incredible to use, as its structure is solid, delivers a long battery life, and has a hefty capacity to ensure you receive many vape sessions, it is the flavor options that make the Elf Bar so pleasing. As of this time, there are as many as 19 different flavor options to choose from, and they all are made to provide a complex taste. You can experience everything from a Rainbow Candy to Peach Mango Watermelon, giving you an array of tastes to suit whatever preference you may have. To ensure your satisfaction each time you take a puff, the Elf Bar BC5000 Disposable Vape is an infusion with 50mg of salt nicotine.
Strawberry Kiwi
Leaving you with a long-lasting and enjoyable taste that is sure to soothe your taste buds and keep you satisfied from one puff to the next, Strawberry Kiwi is just the flavor you want. It delivers a mouthwatering blend of juicy red strawberries and tangy kiwis. It's an all-day vape that we cannot wait for you to explore.
Watermelon Ice
Blasting your airways with tons of flavorful tastes and a cooling sensation that will surely linger in your mouth, urging you for more, Watermelon Ice is just the flavor we think you'll be most impressed by. The delicious blend of flavors combines a mouthwatering watermelon flavor and an ice-cold menthol flavor, making for a refreshing vape.
Peach Mango Watermelon
Bombarding your airways with a delicious combination of flavors, you aren't going to want to miss out on this flavor concoction. Peach Mango Watermelon is a fascinating discovery of flavors that have been mixed together in a one-of-a-kind trio. It jumbles together juicy peaches, sweet tropical mangoes, and mouthwatering watermelons, leaving your mouth watering.
Mango Peach
Offering you a magnificent taste and an experience that will go down as one of your all-time favorites, Mango Peach is the blend you'll always remember. It consists of a tropical mango flavor and a mix of juicy peach flavor, giving you tons of satisfying flavor. This brilliantly crafted blend will certainly become one of your most favored vapes yet.
Kiwi Passionfruit Guava
Bombarding your airways with loads of subtle notes of flavor, Kiwi Passionfruit Guava is just the blend everyone looks forward to. It is an amazing balance of tastes that is comprised of various flavors, including tangy kiwis, sweet passion fruits, and exotic guavas, earning you a masterful taste that will never grow old.
Lemon Mint
Sharing the most flavorful vape, here is one you'll definitely want to consider. Lemon Mint is a vape juice blend that we absolutely love, and it's thanks to the remarkable blend of zesty lemons and refreshing mint, offering you a taste experience that could do down as one of the favorites.
Blue Razz Ice
Earning you yet another all-day vape experience, this mixture of flavors will be all that you ever ask for. Blue Razz Ice is one of our favorites, and we're sure it'll be one of yours too. It is a mixture that brings together a blue razz candy flavor and a bone-chilling menthol flavor, which will definitely hit the right spot.
Energy
Leaving you pleased from one puff to the next, Energy acts as your next favorite vape. It's a blast of a flavor and creates the most memorable taste, giving you an all-day vaping experience that you'll want to explore any chance you get.
Strawberry Mango
Lathering your mouth with tons of extraordinary tastes to experience, Strawberry Mango will easily become one of the only flavors you truly appreciate. It is a magnificent duo of flavors that pairs together juicy red strawberries and a tropical mango flavor, giving you a relaxing vape juice blend that you'll want to experience over and over.
Cranberry Grape
Just when you thought there wasn't anything more pleasing to explore when it comes to flavors, you discover this highly intoxicating blend of tastes. Cranberry Grape is a brilliant blend that you'll find incredibly pleasing, as it offers a mix of cranberry and grape flavors.
Red Mojito
If you are looking for a flavor that will satisfy you and keep your taste buds entertained, Red Mojito is a flavor concoction you should look forward to. It is a recreated mixture that gives you the taste of a red mojito. It is a unique blend that you'll absolutely love.
Sakura Grape
Giving you light and crisp taste that is airy, Sakura Grape is sure to make it into your list of favorites. It offers tons of flavor and we just know this is one you're going to love. This fabulous concoction is a flavor that we cannot wait for you to try for yourself.
Sweet Menthol
Everyone loves the cool and refreshing taste of menthol, and there is nothing better than this blend of Sweet Menthol. It provides a cool, icy, sweet rush of menthol that will chill your taste buds and leave you blowing clouds of ice sicles.
Rainbow Candy
Loading your mouth with a fun and exciting flavor that will never get old, you're going to go crazy for this flavor. Rainbow Candy is an awesome vape that features a delicious mix of candy flavors. It is an all-day vape that will go down as one of your all-time favorites.
Tropical Rainbow Blast
Just as you begin losing your love for vaping, you experience this delicious Tropical Rainbow Blast. It is a flavor that offers all of the right notes, perfect for summertime vaping. This blend features a tasty blast of mixed fruits we just know you'll enjoy.
Sour Apple
Rushing over your taste buds and leaving you thoroughly pleased from one puff to the next, there isn't anything quite like Sour Apple. It is an amazing mixture of flavors that recreates the sour taste of a green apple, which we're sure you'll find incredibly satisfying.
Watermelon Bubblegum
If you can remember the thrilling taste of juicy Watermelon Bubblegum, you'll know exactly what this flavor is like. It recreates that classic flavor, boasting a mouthwatering watermelon flavor and just the right ratio of bubblegum flavor, perfectly executing your favorite chew in vape form.
Triple Berry Ice
Enjoy an amazing mixture of berry flavors all thrown together to create a blend that will go down as one of your favorites. You'll appreciate every moment with this blend of berries that is finished off with an ice-cold rush of menthol you're sure to savor.
Pineapple Coconut Ice
Refreshing your mouth with another blissful flavor experience, Pineapple Coconut Ice is just the flavor you'll want to keep by your side at all times. It brings together an awesome trio of flavors, which consists of pineapples, coconuts, and menthol.
Conclusion
If you are wanting to buy Elf Bar vape online, West Coast Vape Supply is a solid choice you should consider. The Elf Bar Vape 5000 comes with everything you could want, including convenience, reliability, flavor options, and performance. We think highly of this vape and would recommend it to anyone wanting a new disposable vape to try. If you want the latest and greatest Elf Bar, the newly launched Elf Bar VPR Ultra Disposable Vape, which comes with great tastes, a large battery, and can dish out 7000 puffs.